A home should be as unique as its inhabitants. However, it takes a skilled and talented interior designer to channel that uniqueness and turn it into a luxurious and flawless reflection of its proud owners. Luckily, the metro area is home to some of the most talented designers around, which is exactly why we're proud to celebrate their work with the Ladue News Design Awards.
Throughout September, the area's thriving design community was encouraged to submit its individual members' best projects from the past year in six categories: bathroom, bedroom, dining room, kitchen, living space and outdoor space. A panel of independent judges, all members of the American Society of Interior Designers (ASID), reviewed the outpouring of impressive applications to narrow each category to three finalists.
This year's winners will be announced at the 2018 Ladue News Design Awards on Oct. 25 at Palladium Saint Louis and will also be featured in the Oct. 26 edition of Ladue News. Without further ado, it's our pleasure to congratulate and introduce the finalists!
---
Bathroom
---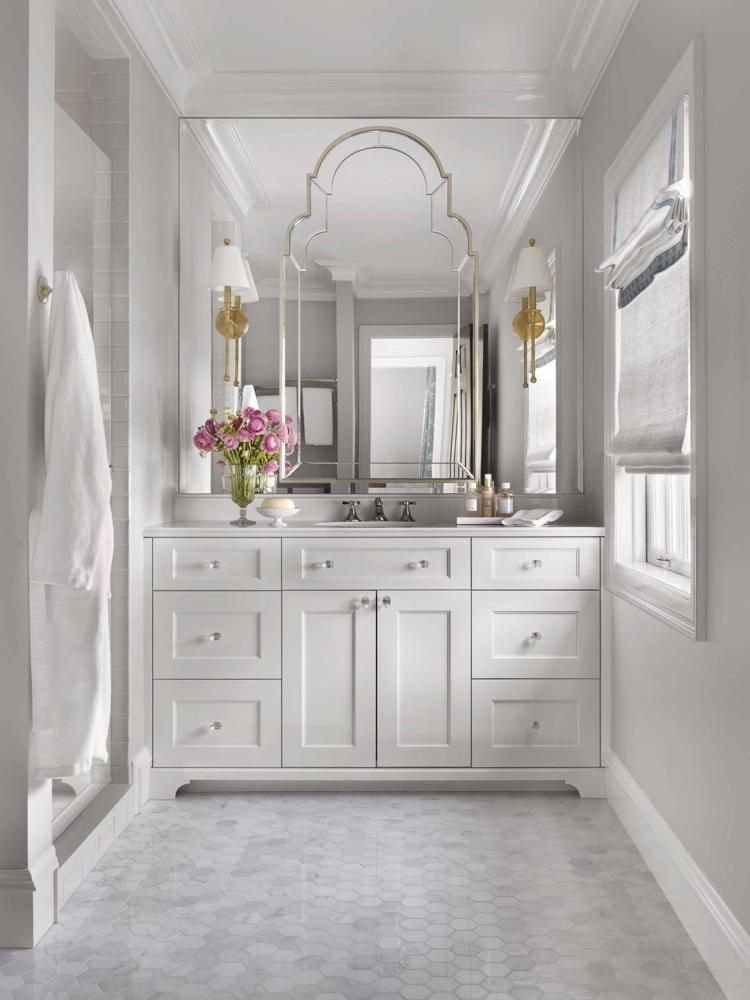 Alspaugh Kitchen & Bath - Chris Paul
Good things come in small packages – or in this case, gorgeous things.
Alspaugh Kitchen & Bath designer Chris Paul made every inch of this 109-square-foot bathroom count. From the marble hexagonal floor tiles to the sparking crystal knobs adorning the hand-brushed white cabinets to an antique brass chandelier from Paris hanging delicately above the bath, flawless features abound throughout – and the judges took note.
"Simple elegance and color palette lend to a small space looking much larger," remarks one judge.
The statement piece in the space is a beautifully shaped metal-framed beveled mirror mounted on another mirror, also flanked by unlacquered brass torchiere-style sconces.
---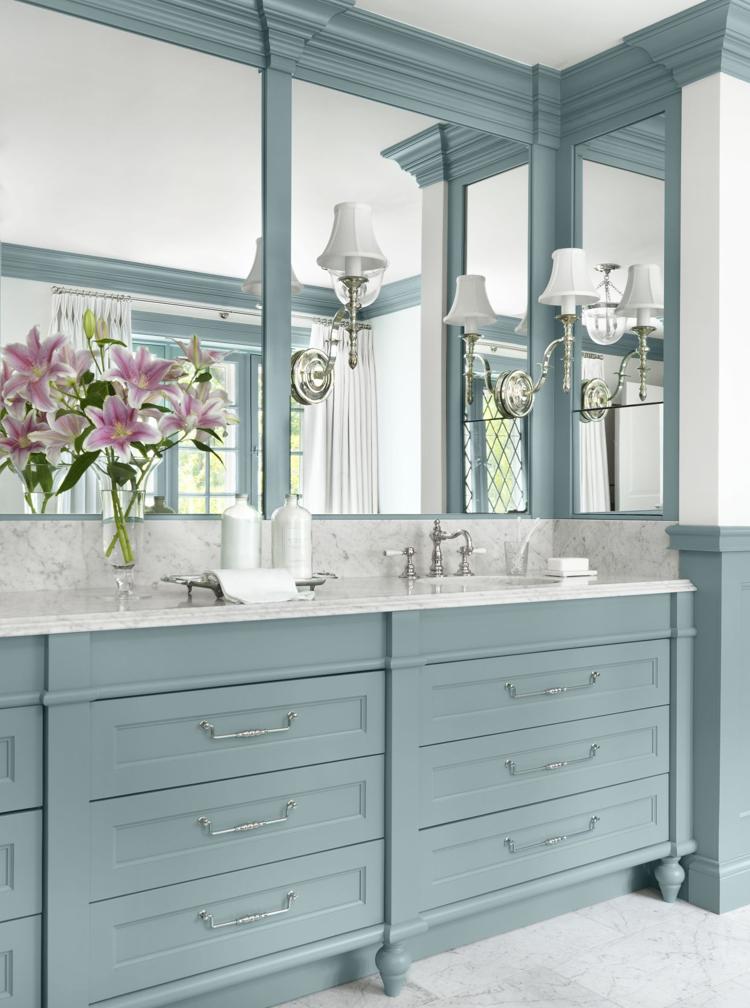 Amy Studebaker Design - Amy Studebaker and Jamie Reeves
Effortless elegance is what Amy Studebaker and Jamie Reeves set to achieve with this beautiful bath – and achieve it they did! Per the clients' request, the duo carefully carried both color and texture from the adjoining master bedroom.
"Instead of putting color on the walls, the millwork and the elegantly designed vanity were painted in a warm blue that pulled from the wallpaper in the master bedroom to create a soothing and serene feeling in the space," notes the designers. Their effort paid off, as judges applauded their work.
"The use of color in this space truly sets it apart," notes one judge.
---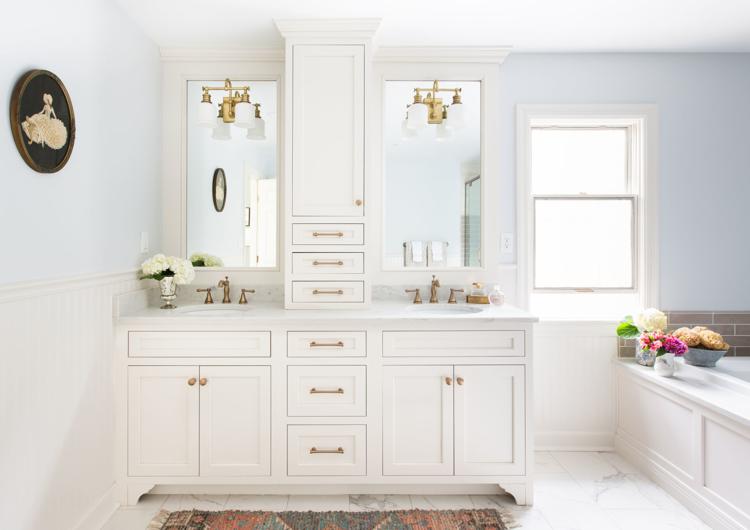 Karr Bick Kitchen & Bath - Rebekah Murphy
When a client of Karr Bick Kitchen & Bath requested an oasis, an oasis is what she got.
"She wanted her space to be light, bright and cheerful, yet simple and classic," designer Rebekah Murphy says, "not overadorned with design accoutrements that can quickly outdate themselves."
Murphy selected beautiful brushed-brass fixtures and champagne gold hardware to perfectly accent the champagne glass mosaic tile, while adding wainscot wood paneling and custom mirrors to make the space feel luxurious and balanced with timeless simplicity. "It truly is a charming space, perfectly reflecting the unique charm of the homeowner herself and the beautiful home she resides in," adds Murphy.
---
Bedroom
---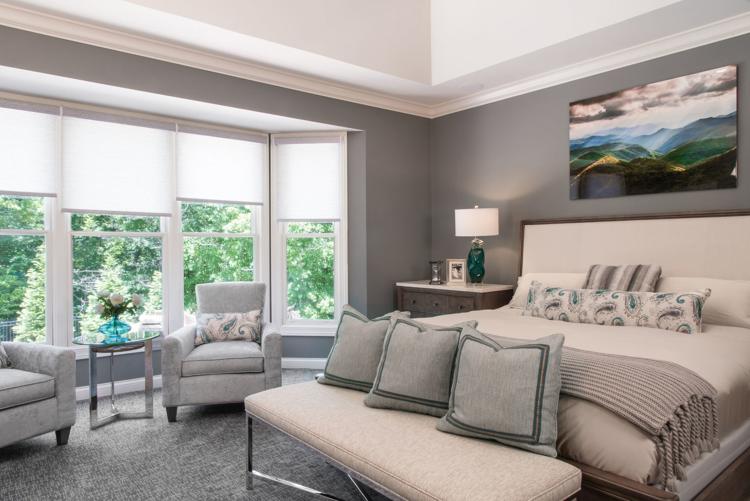 Beautiful Rooms Design - Nancy Barrett
When her Wildwood clients requested a quiet retreat, designer Nancy Barrett of Beautiful Rooms Design used neutral tones and natural views to her favor.
"When working with a neutral color scheme, it is important to provide an abundance of texture to make it interesting," Barrett says. "The paint color on the walls created a cozy feeling, but the room was brightened by light neutral bedding, [an] upholstered headboard and bench."
However, the clean lines and textures throughout – from the patterned carpet to the tastefully textured mirror hanging opposite the beautiful bay window – are what the judges felt made the space "super inviting."
---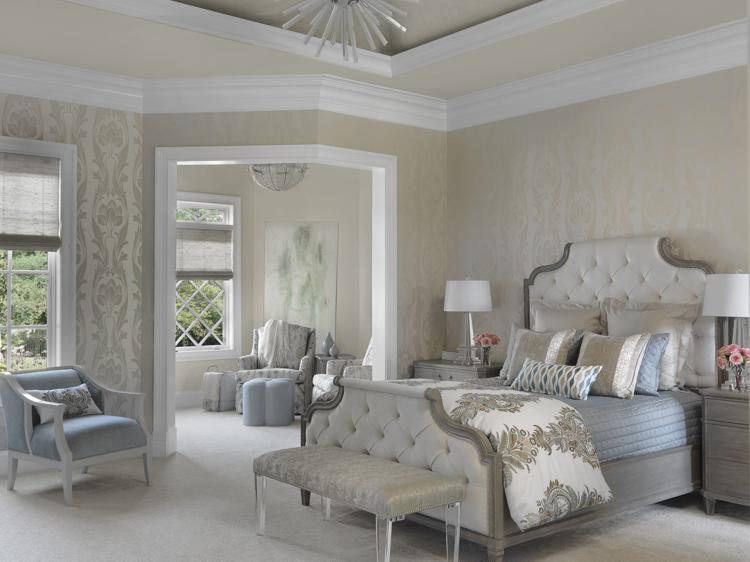 Castle Design - Laurie LeBoeuf
"This room defines both fashion and function," states a judge regarding this master bedroom designed by Laurie LeBoeuf of Castle Design. "The architectural elements here are a true focal point."
LeBoeuf's goal for the space was to celebrate simple elegance, bold patterns, classic shapes and architectural embellishments, which she expertly executed in the room.
"Adding a fresh sense of glamour, crystal chandeliers are suspended throughout the space to set the tone for formality while also providing striking focal points," she says. "The finely crafted furniture is elegant and inviting with soft seating and graceful lines."
---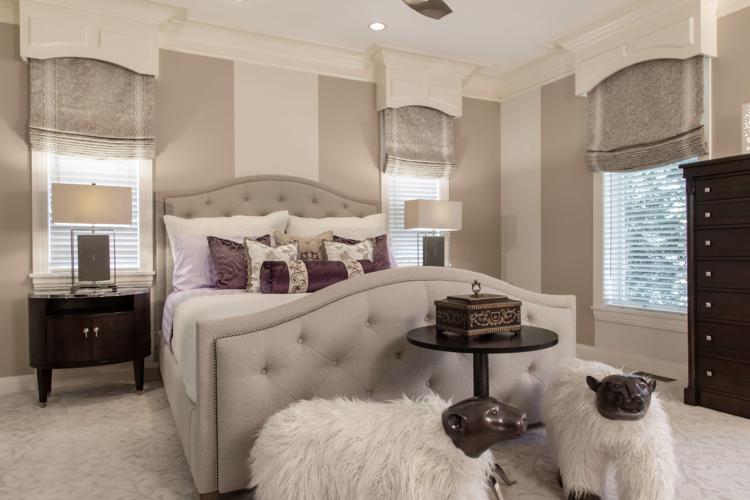 Yours by Design - CJ Knapp
When designing this master bedroom, CJ Knapp of Yours by Design installed a light patterned carpet against a light paint scheme featuring oversize stripes that truly set the tone for this neutral, yet regal, room.
"The wide stripes really set the tone here," a judge notes.
Knapp even revamped the window seat by designing mini headboards to mimic the main bed in the space and also integrated fewer cushions and more custom throws for a more comforting feel. Plus, who can resist playful polar bear benches at the foot of the bed? The judges certainly couldn't.
"A fun and comfortable bedroom design," a judge notes.
---
Dining Room
---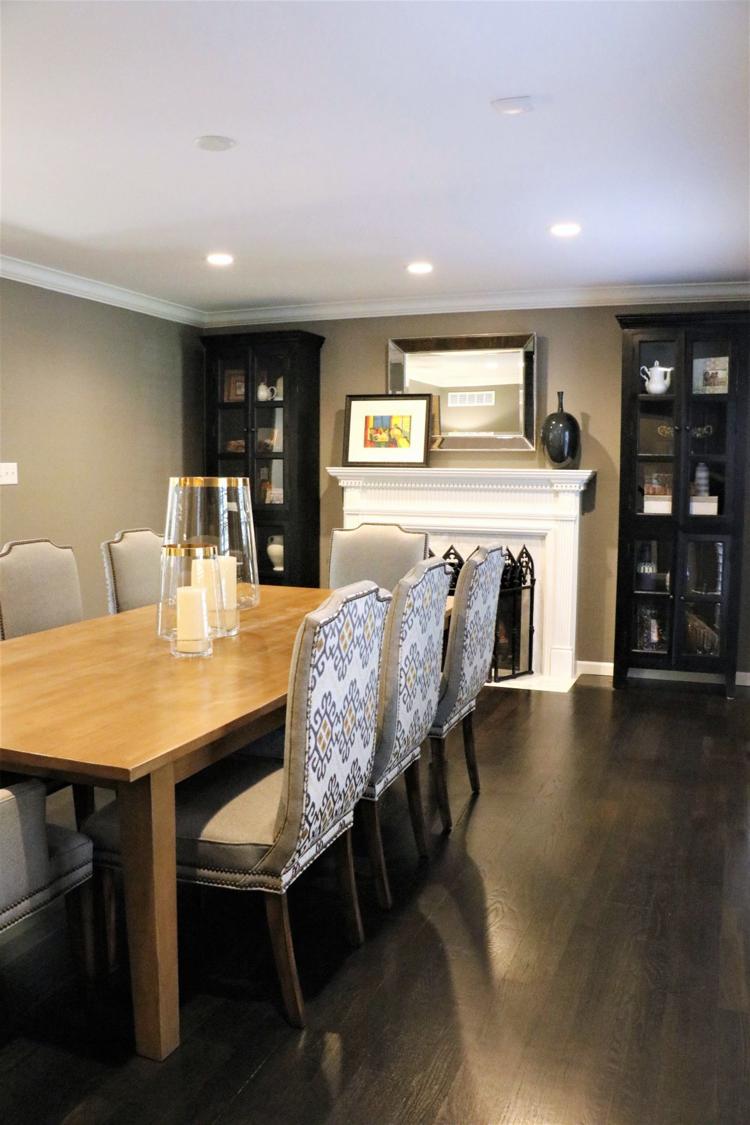 Cure Design Group - Cori Dyer
When Cure Design Group's Cori Dyer was tasked with designing an oversize dining room, she chose clean lines and a crisp color palette to anchor the space.
"Dark espresso wood floors [and] a cool-hued tone to the painted walls offer a neutral backdrop to the custom dining chairs and refinished wood dining table in a fawn finish," Dyer says. "Pops of original artwork add character and interest while allowing this traditional space to take shape."
The custom dining chairs truly spoke to the judges. "The chairs are a lovely accent that brings this room together," a judge notes.
---
Gigi Lombrano Interiors - Gigi Lombrano
When Gigi Lombrano was asked to repurpose a library into an elegant dining room that also showcased the clients' antiques, she created a space fit for royalty.
"A grand traditional dining room design," one judge notes. "The architectural elements are highlighted nicely with the artwork."
Lombrano, of Gigi Lombrano Interiors, started with the statement-making damask fabric showcased on the backs of the dining chairs, adding the fuchsia embroidered silk panels to the windows and the deconstructed fuchsia area rug to tie the space together.
Painting the once-dark paneling with metallic paint, though, is what truly brightened the room, with assistance from a stunning crystal chandelier.
---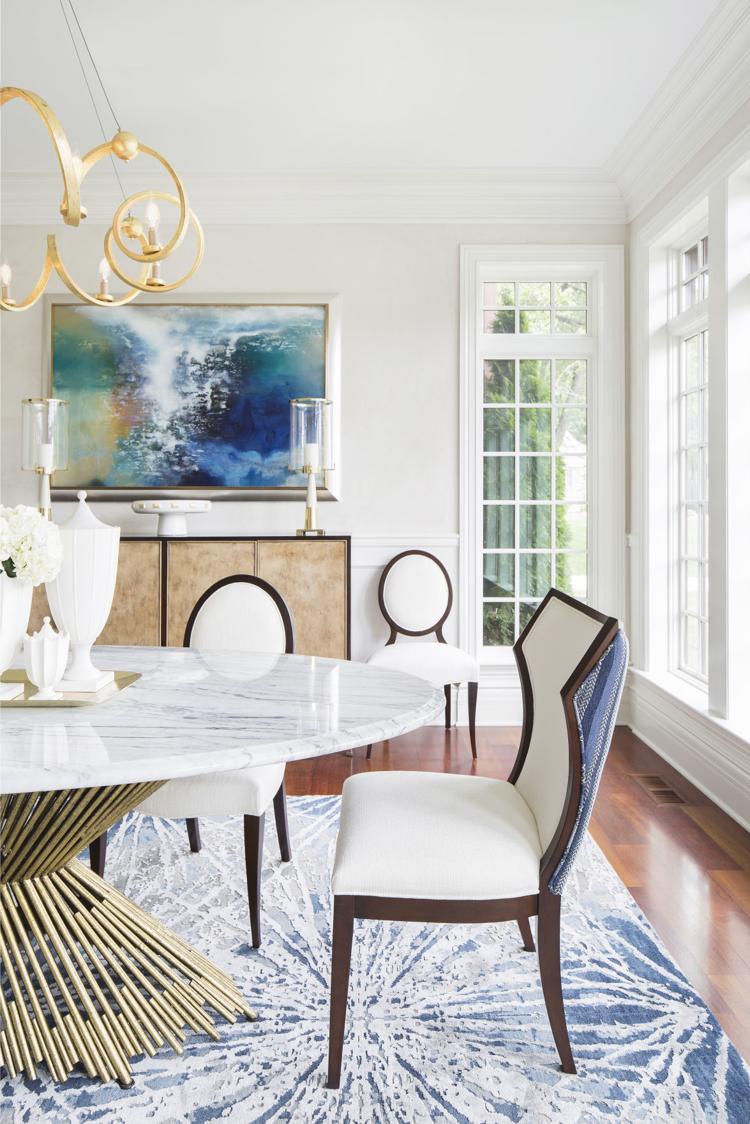 Savvy Surrounding Style - Brett Clark
What started with a client's desire to have a dining table with a treelike base grew into a dramatic design that beautifully blends nature and texture.
"We set out to blend the timeless with the unexpected," says Brett Clark of Savvy Surrounding Style. "We achieved this dichotomy by combining both classic materials and traditional silhouettes with more unique geometry and a play with color and textures."
The room is now appointed with a marble-meets-gold dining table against traditional round dining chairs and a contemporary chandelier. With plenty of natural light accenting the space, Clark achieved a dramatic balance of nature and contemporary nuance.
"Color, pattern, texture – it all works in this space," a judge reflects.
---
Kitchen
---
Alspaugh Kitchen & Bath - Ken Henry
"Rustic meets glam" describes the approach Ken Henry of Alspaugh Kitchen & Bath took for this kitchen design.
"Because the kitchen is in the center of all the indoor living space, appliances were concealed whenever possible," Henry says. "The house features a rustic design with chunky, truss-style beams in the adjacent great room, so a glazed, distressed cabinetry finish was selected."
The kitchen's statement pieces are the dual islands – the outermost island featuring a farmhouse sink, dishwasher and seating and the innermost island designed as a large food-prep station.
"[It's a] great mix of wood tones and whites," one judge notes. "Mix-in countertops [are] well done."
---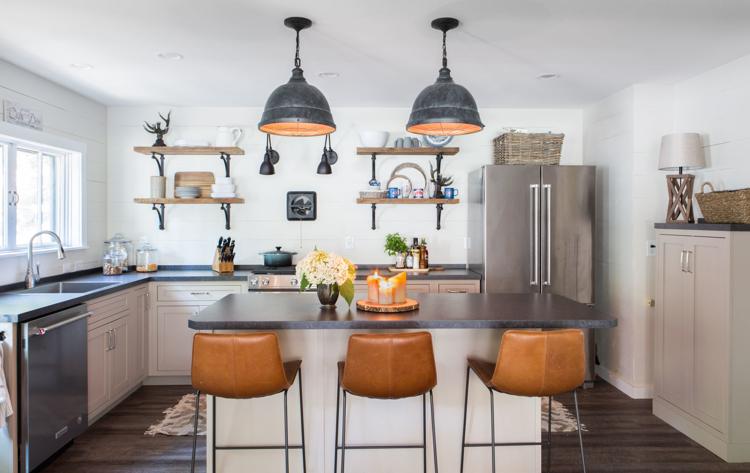 Karr Bick Kitchen & Bath - Jenny Rausch
One would never imagine that this simple yet stunning space was "rebuilt from the rotting floors up!" as described by Jenny Rausch of Karr Bick Kitchen & Bath.
Although the designer mentions a good chunk of the clients' budget being eaten by the construction phase, the judges didn't seem to mind.
"Sometimes it's more difficult to design on a budget than one with no budget," one judge notes. "This is the reality of design, and in this case, [Rausch was] spot on!"
Rausch added shiplap to the walls for texture and interest, shelving instead of cabinets and laminate countertops due to budgetary constraints.
"Can a laminate-counter kitchen win?" Rausch asks hypothetically. "We shall see!"
---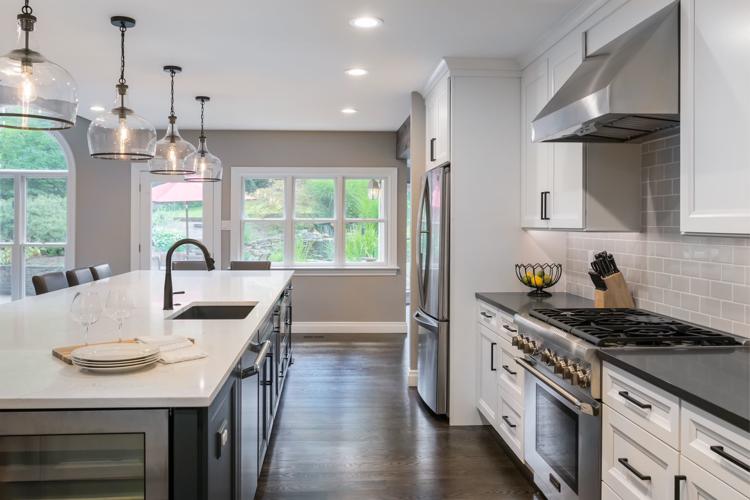 LU Design Build - Jennifer Chapman
Simple, clean and chic may not seem like strong adjectives on their own, yet together they describe a stunning kitchen most wouldn't mind claiming for themselves.
"It was important to choose finishes that would [not only] stand the test of time, but that [also] would stand out," LU Design Build designer Jennifer Chapman says.
The clients wanted a kitchen perfect for entertaining, so they requested a large island to accommodate guests. "We designed this island at 186 inches long," Chapman says.
And the judges certainly appreciated the uniquely spacious selection. "Impactful," states one judge of the island. "Fresh, streamlined, clean."
---
Living Space
---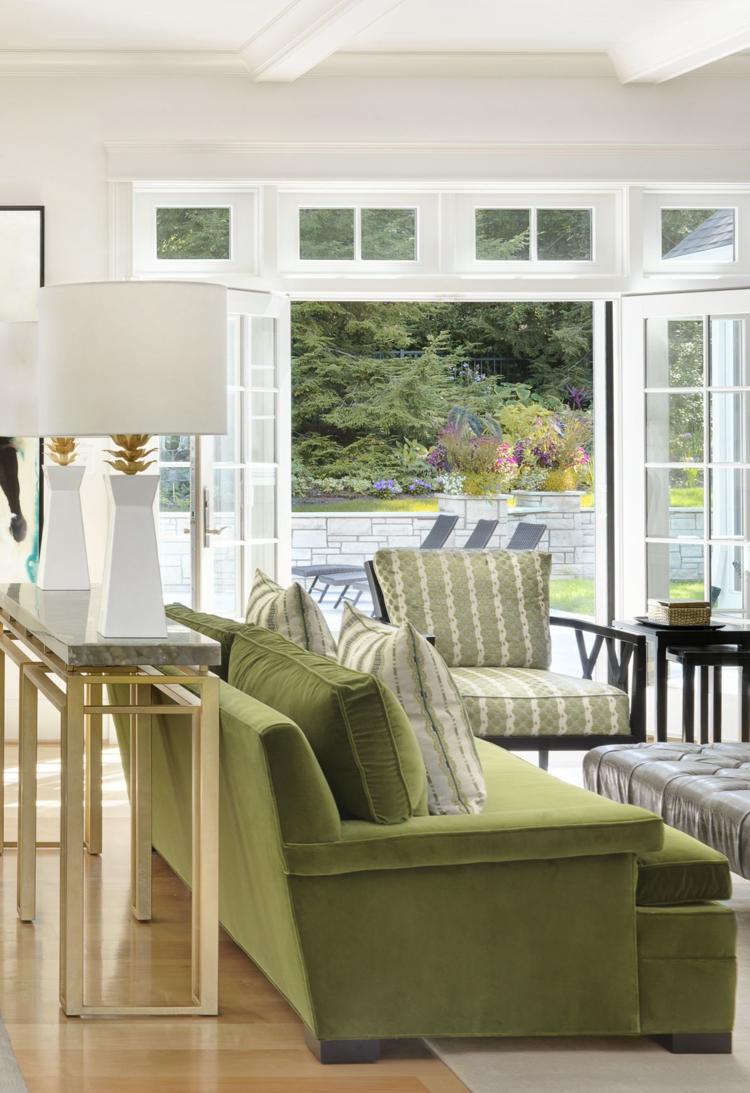 Amy Studebaker Design - Amy Studebaker and Jamie Reeves
Some might not be so quick to toss out the old if they knew it so elegantly accented the new, as displayed by designers Amy Studebaker and Jamie Reeves of Amy Studebaker Design.
"This space is a fabulous mix of old and new that flows together cohesively and creates an elegantly relaxed atmosphere," the design duo states. "We were able to refresh many of their existing pieces while also mixing in new pieces and antiques found during a buying trip to Atlanta."
The walls of the living space were kept white to allow for color and pattern in both furnishings and accessories, and the judges applauded this decision. "Stunning use of color," one judge remarks.
---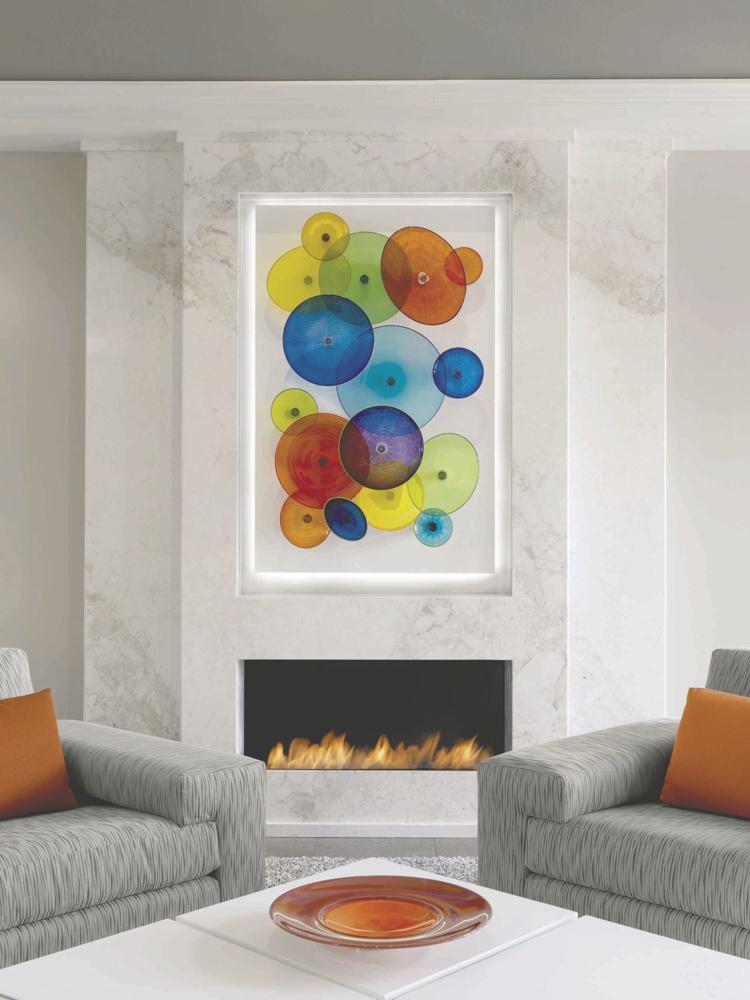 Directions in Design - Jane Ganz
Art is truly the heart of this living space by Directions in Design designer Jane Ganz.
"Our clients expressed a simple request for their living room makeover: an area with a soft, peaceful palette as a background to the vibrancy of their art," Ganz says.
Ganz first updated the fireplace by raising the base and creating a linear display. One wall was then "stair-stepped out" and covered in marble for a sleek, contemporary look.
"The artwork steals the show – as was the plan," one judge notes. "Great use of lighting as a frame and built-ins as display."
---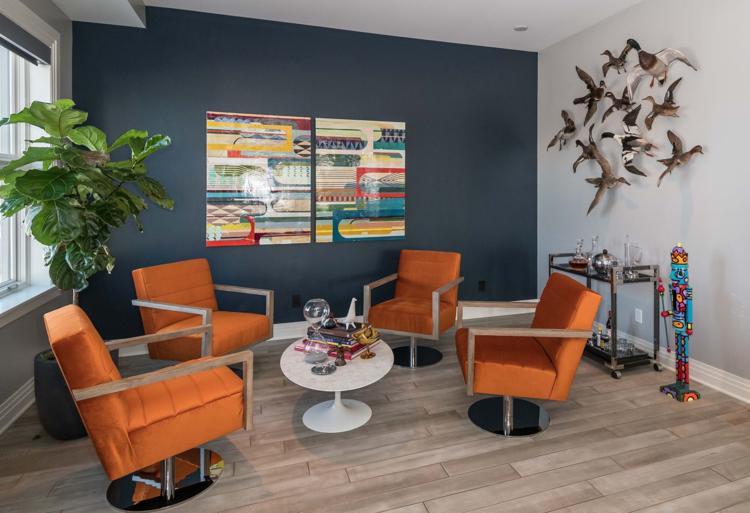 Next Project Studio - Dana King and Meg Wilson
"Sophisticated and playful" is a hard balance to strike, but Next Project Studio Designers Dana King and Meg Wilson married the two as if they were meant to be all along.
"Our clients... One likes a very modern industrial vibe, and the other loves playful and color," King says. "They wondered how the two styles could blend to create their living spaces, [and] I think we hit the mark."
King updated the paint, lighting, furniture, accessories, shelving, motorized shades and fireplace, and her hard work was recognized by the judges. "The fireplace is a simply beautiful focal point in this room and really makes the artwork shine," a judge says.
---
Outdoor Space
---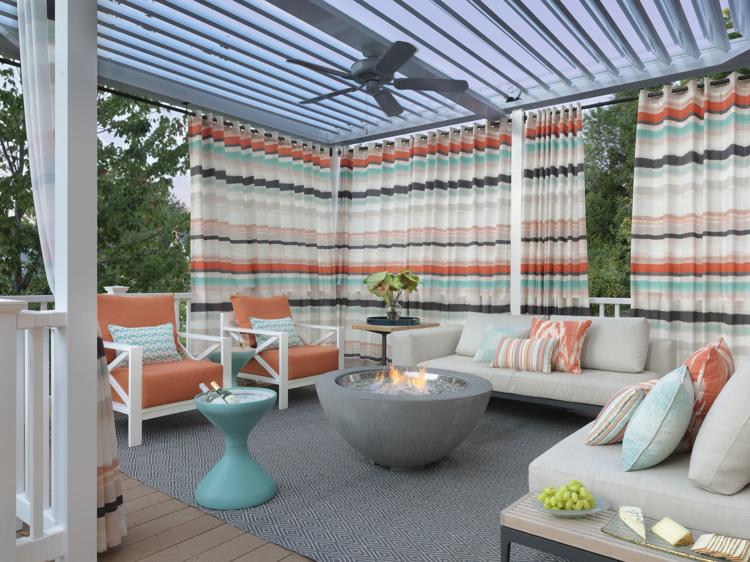 Castle Design - Meghan Heeter
When designing the outdoor space for a 1930s bungalow for clients with three teenagers and three dogs, Castle Design's Meghan Heeter seamlessly extended the living area from inside out.
"Rather than pack up and move to a larger home in the burbs, this young family decided to invest in their cherished home and create an outdoor living space where they could entertain, relax and enjoy time together year-round," Heeter says. "This was a true extension of this charming home."
Judges especially loved Heeter's use of color in the transformed retreat. "'Soft and bright' makes an outdoor living space a true extension of this home," notes a judge.
---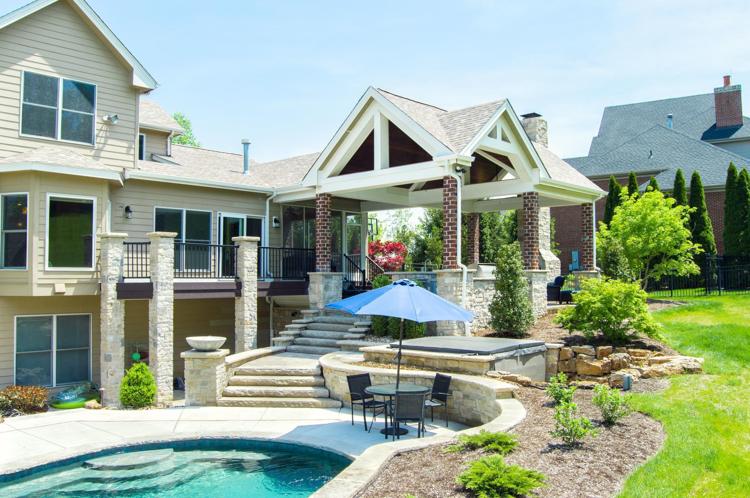 Chesterfield Valley Nursery - Jim Graeler
You know an outdoor renovation is strong when it looks original to the space's design and build. That's exactly what Jim Graeler of Chesterfield Valley Nursery aimed to do with this home.
"The pavilion's stonework was designed to mimic the brick-and-veneer combination that the main house features in the front," Graeler says. "From the covered kitchen, large natural stone steps descend down to a second level which consists of a large concrete patio, hot tub area and natural waterfall flowing into the pool."
What Graeler described as one of his "biggest undertakings" was also described by the judges as "lovely, beautiful and fantastic."
---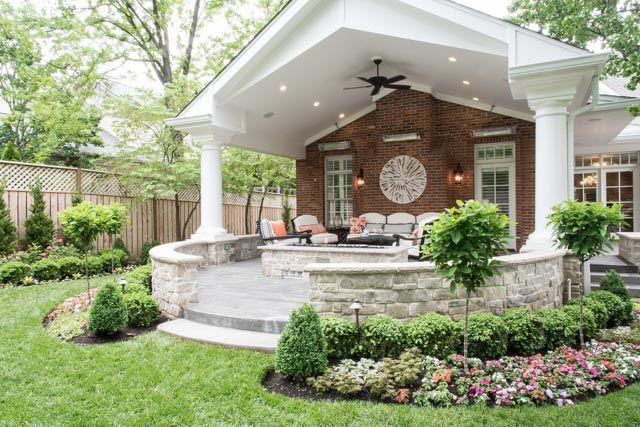 Gigi Lombrano Interiors - Gigi Lombrano
The lush landscape of this outdoor space would give even The Secret Garden, the 1911 classic children's novel by Frances Hodgson Burnett, a run for its money.
"Given that the backyard wasn't overly large in size, careful planning to meet the code requirements was the first priority," Gigi Lombrano says. "Once the footprint of the loggia was established, the seating area could be designed to incorporate comfortable lounge seating, a fire pit, a ceiling fan and wall heaters for added comfort and warmth in the winter months."
The Gigi Lombrano Interiors design team's intricate planning paid off.
"The charming cottage feel really invites you to want to relax and enjoy this space for hours on end," a judge says.