Since joining the St. Louis Blues in the 2012-13 season, Vladimir Tarasenko has dominated the ice.
Born in Russia, the hockey right-winger serves as alternate captain for the Blues and helped lead the team to win its first Stanley Cup in NHL history during the 2018-19 season. With a growing family, though, Tarasenko and his wife, Yana, were ready to move on from the custom-designed home in Creve Coeur they've occupied since 2014.
For potential buyers, that property provides a once-in-a-lifetime opportunity.
"I can't think of anyone who wouldn't love this home," says Krista Westfall, director of marketing at Gerard Realty Group, which lists the property. "Obviously, anyone who is big into fitness and athletics would get a lot out of the home, with the gym, sauna and steam room. Someone who likes to entertain would enjoy the large eat-in chef's kitchen, the open spaces and the backyard with pool, deck and lounging areas."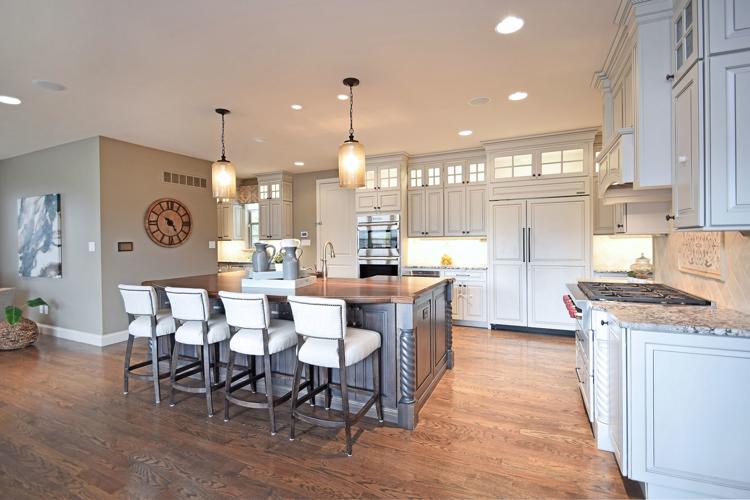 The house, at 232 Mulberry Row Court, occupies the high-end Enclave Bellerive subdivision. Westfall points out that members of the nearby Bellerive Country Club would make perfect fits as new owners. Five bedrooms, eight bathrooms, hardwood floors, a fully finished basement and other features make it a house that any family could occupy right away and immediately feel as if they belong.
"You'll find extra-tall box-beam ceilings and herringbone and custom-tile floors," says Westfall, who lists such additional features as a study with custom paint and built-in bookcases, lighted glass cabinetry, high-end custom lighting, custom iron stairs, bow and bay windows, and a private backyard with a pool and fire pit.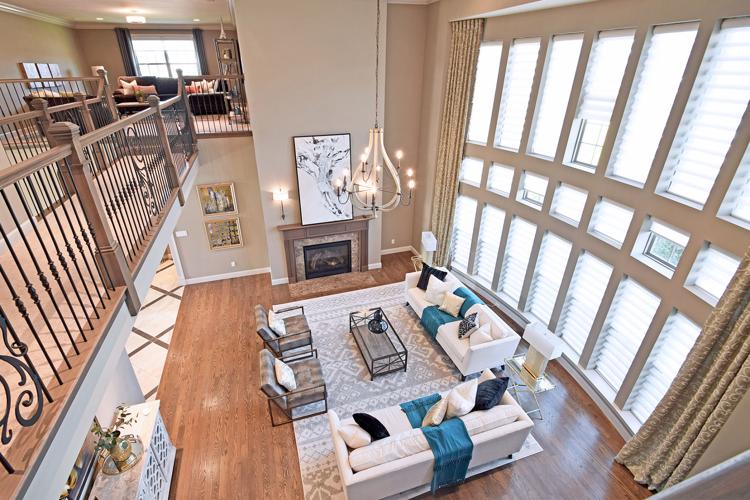 All things considered, though, the previously mentioned steam room and sauna (beside the gym in the basement) really catch the eye, in what Westfall describes as an "exclusive spa."
Oh, and there's a hockey rink – because, of course, there is. Although it should come as no surprise that the home of a Blues player would include one, potential buyers will appreciate that aside from being unique, the synthetic rink (made from a solid polymer designed for use with normal metal-bladed ice skates) needs no upkeep – just another detail that makes this luxury house stand out from the rest.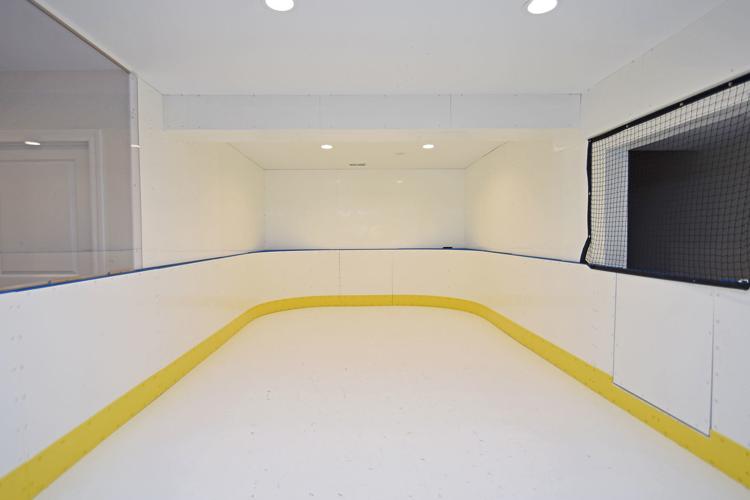 "This home is the real deal, with more features than I could even list," Westfall says.
The Tarasenkos helped designed the residence themselves, via collaboration with the custom division at Fischer & Frichtel Homes, a Chesterfield-based firm that's served the area since 1945. And the team did an incredible job. Although constructed to accommodate a professional hockey player and model, the house has something for everyone. Also, according to listing specialist Heather Laudie, despite boasting nearly 6,000 square feet, the house really does feel like a home.
"This house is all about elegance combined with family life," she says. "The open floor plan is the perfect setting for formal dinner parties, along with more relaxed family gatherings. The biggest thing I noticed with this home is that even with almost 6,000 square feet, you still get that warm, cozy, 'family home' feeling without losing the details that make this home stunning."
A tour of the place somehow makes Laudie's description seem an understatement. Further proof: Westfall says that although every room in the house is special, the master suite really ranks as exceptional.
"It's huge, with tall tray ceilings, custom lighting and electric shades, so you don't even have to get out of bed to close or open your shades," she says. "The master bath is spectacular, with a beautiful freestanding soaking tub, two separate vanities, a giant floor-to-ceiling tiled shower and a custom walk-in closet that I can only imagine filling all of my shoes with."
As of December 2019, the property was listed at just under $2 million. Gerard Realty Group owner and broker Damian Gerard reiterates that the Tarasenko house would be ideal for professional athletes, business owners and Bellerive Country Club members, and that the neighborhood helps the property shine.
"This luxury home is located in an elite new neighborhood in the award-winning Parkway School District," he says. "The gated community offers privacy, proximity and wonderful amenities such as walking trails, lakes and a neighborhood gazebo."
Even those somehow unfamiliar with the name Vladimir Tarasenko should be amazed a house like this exists – making it easy to envision oneself living there.
Form Skybar at the Hotel St. Louis, 705 Olive St., 16th Floor, St. Louis, 314-241-4300, hotelsaintlouis.com/form