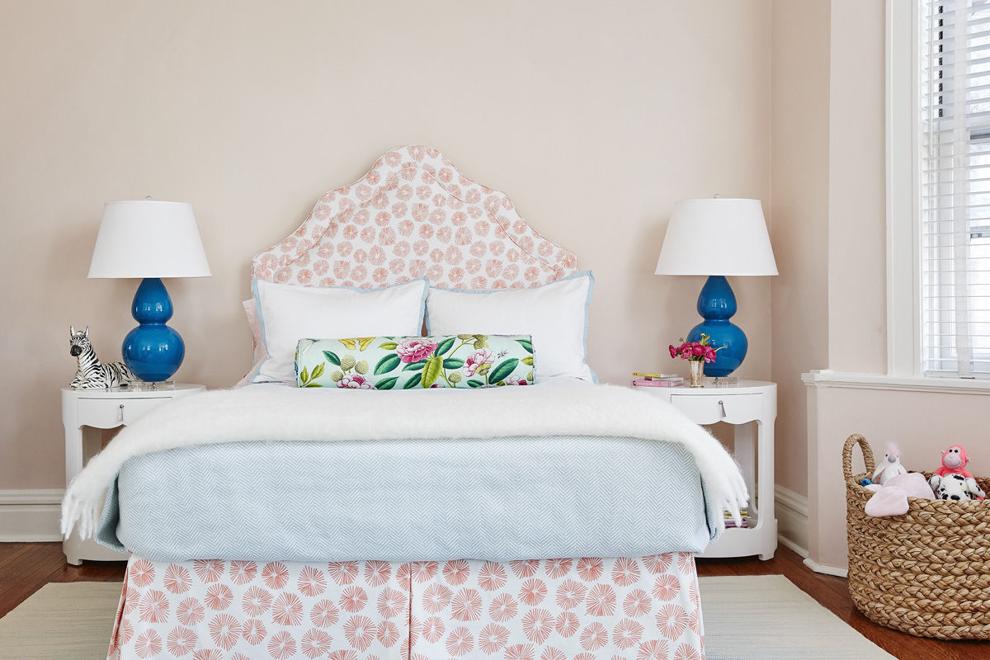 For kids' bedroom décor, there's a pretty thick swath of time between the nursery and teen years that becomes almost a "no parent's land" of style. You can predict what the older version of your kids will like in hopes they won't demand an overhaul a few short years down the road, keep them in their "baby" room a little longer or take the advice of the two designers LN enlisted to help navigate this style wilderness, in order to create a dreamy space that will grow with your child.
Step 1: Create a vision
Having even baseline ideas, such as colors or themes, can be a great place to start. "There is a multistep process involved in designing any room – even a kid's room!" says Amie Corley of Amie Corley Interiors in the Central West End. When working with clients, she begins with presenting big-picture ideas, usually pulled from photos on idea-sharing social media such as Pinterest and Instagram, and then moves into design schematics and design boards with furniture, fabric and wallpaper selections, as well as floor plans and wall elevations.
Similarly, senior designer Cori Dyer at Cure Design Group begins with an in-home consultation with all "decision-makers" for the space – in this case, both child and parent. That consultation considers the client's wants, needs, budget, time frame and lifestyle – kids' bedrooms are, by necessity, multifunctional, serving as play spaces and study areas as well as sleep zones – before creating digital design boards based on these. Teen clients typically come prepared with room inspiration via their Pinterest boards. "Ultimately, they get to live in the space long after the design process is over," Dyer says. "We want this to be enjoyable and a reflection of them for years to come."
Step 2: Anchor the vision in reality
In creating the initial vision, it's important to bear in mind that tastes change as kids grow. "All kids and teens have personal interests and style," Dyer says. "Our job as designers is to translate those interests into a timeless design that will be able to grow with them for years to come."
Corley recommends injecting some timelessness into kid tastes to extend the lifetime of the design, as she did for one local client, incorporating ultrachic blush walls with soft matching window treatments. "I love painting walls in a more grown-up shade of blush pink rather than the bubblegum shade a little girl would most definitely pick from a paint deck," Corley says. "A little pink goes a long way."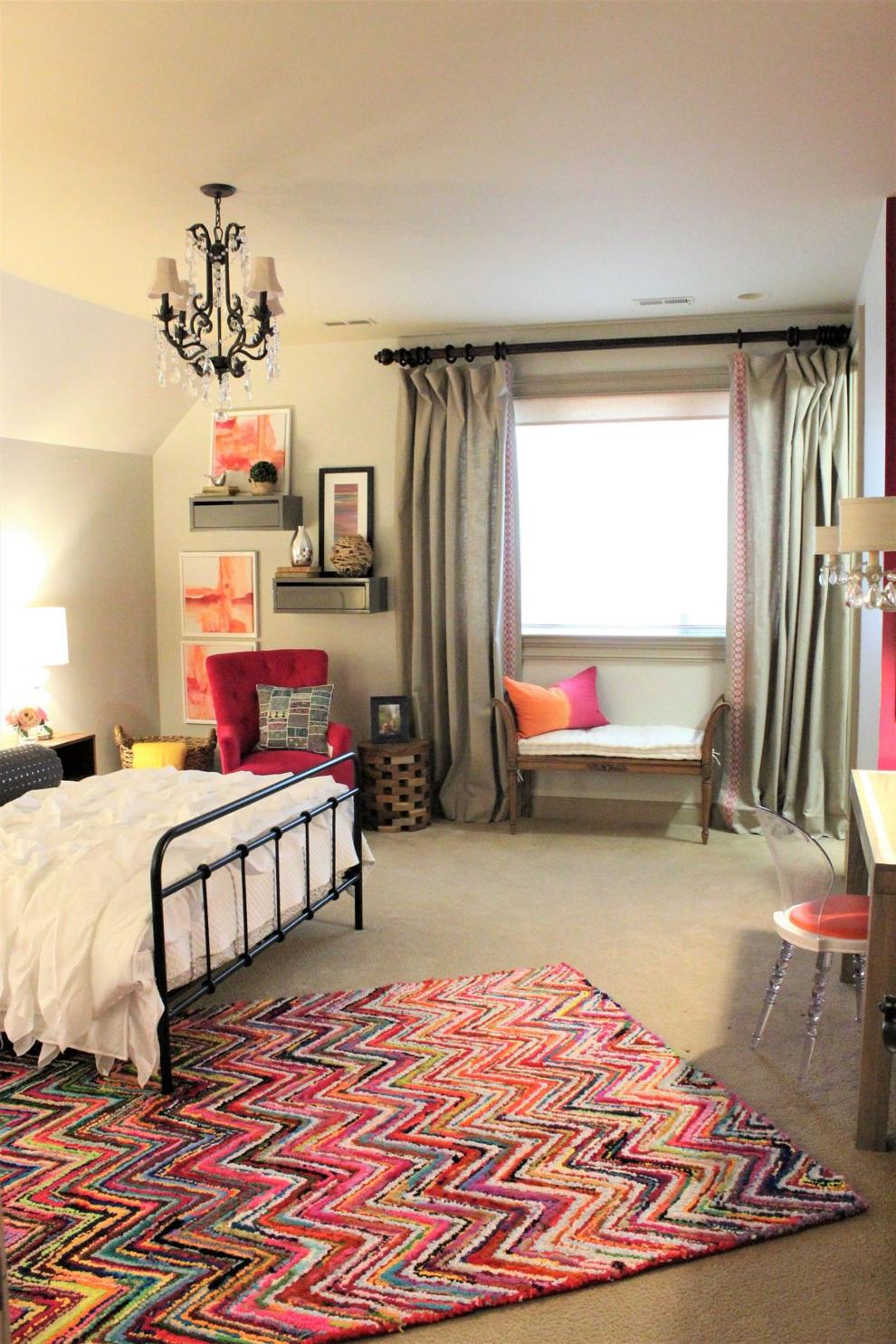 Step 3: Think outside the box
Although many home-styling articles advise ensuring continuity of color and style throughout the house, kids' bedrooms aren't held captive to this guideline – they can be colorful and fun and don't necessarily need to "communicate" with the design in the rest of the house, Corley says. "It's a room that can be full of pattern and whimsy – as parents, we spend so much time in our kids' rooms, and making their rooms beautiful and fun is always a priority," she adds.
Corley also encourages parents and kids to go bold in their rooms. "I'm a big fan of pattern on pattern, and balance is the key to making it work," Corley says. Countering a small-scale print, such as the small animal-print rug used for her client, with a larger-scale pattern, like the blue floral print bolster and desk chair, is key. "I love a fun wallpaper in a kid's room," she adds. "If you're nervous about wallpapering a whole room, do the ceiling instead. It will give them sweet dreams to see something pretty on the ceiling. I've done everything from stars to clouds to animals on ceilings in kids' rooms. It's a fun way to add in pattern."
Dyer echoes Corley's sentiment in a trio of room redesigns she did for a St. Louis family with teen triplets. Each space reflects the individual girl's interests and styles. One of the sisters, Elizabeth, loves the contrast of black and white. Dyer incorporated black sparkle wallpaper on the ceiling and a Stray Dogs chandelier to add drama and whimsy to Elizabeth's lime green walls, adding even more special touches with bright custom window treatments by Designers Guild and a custom fur poof chair at Elizabeth's desk.
Elizabeth's sister Anna, an avid skier, had her room accented with Designers Guild wallpaper reminiscent of the blue skies of Anna's favorite ski slopes in Sun Valley, Idaho, which serves as the backdrop to a bright CR Laine custom magenta headboard. A scalloped light fixture over the bed contributes to the feeling of open sky.
The third sister, Catherine, wanted her space redesigned in orange and pink. With most of the room painted in Sherwin-Williams' neutral Agreeable Gray, Dyer incorporated Catherine's style with pops of color throughout the room – a bright pink accent chair, orange and pink throw pillows and wall art, and high-gloss pink walls in Catherine's study nook.
Creating "zones," Dyer says, allows for easier transitions in style. "Creating a homework zone or hangout/lounge zone for friends is a great way to establish the functionality of a space," she says. "Starting with a good base design allows for the design to easily change color palette or accent pieces in a few years without starting all over again."
Step 4: Invest
Any room overhaul is an investment, but often, inexpensive shortcuts end up costing more in the long run, especially when furniture lifespan is limited by quality. "Don't buy 'kiddie' furniture because it's cost-effective," Dyer advises. "The best way to create a timeless space for kids and teens is to start with furniture they can transition into."
"Invest in classic pieces that don't go out of style," agrees Corley, recommending custom curtains with blackout liners for a guaranteed extended nap time and more grown-up lighting. (Corley loves the scalloped lights from Coleen and Company.) Patterns should also reflect youthfulness without echoing nursery styles. "No bouncing elephants," Corley says.
As personal interests are ever-changing, Dyer suggests incorporating these with accent pieces, accessories or artwork rather than big-ticket items, which reflect the kids' style in a much more cost-effective way. "Establishing good quality and timeless pieces of large furniture is often the starting point, and then layering in age-appropriate interests in the finishing touches is where we make the space unique to them," she says.
Corley agrees. "The less expensive things – artwork, linens, accessories – can be more age-specific, as they are easy to switch out."
Amie Corley Interiors, 5235 Lindell Blvd., Central West End, 314-496-6022, amiecorley.com
Cure Design Group, 118 Roxbury Drive, O'Fallon, Missouri, 636-294-2343, curedesigngroup.com