Emily Hall Interiors is mixing modern finishes with alluring antiques to create ravishing and romantic spaces throughout the metro area.
"I truly believe the magic is in the mix," the firm's namesake says. "It looks more comfortable and lived-in – more fun, exciting and interesting."
This marvelous marriage of styles actually came about from Hall's own marriage.
"We have very different styles," Hall says of her and her husband.
"He is very modern, contemporary. I am more Parisian-style."
Hall says the couple's wedding two years ago coincided with the blossoming of her business.
"He has a really good eye," she says. "He's a Realtor and started asking me if I could do some staging for him. I did a few things but felt like, 'This isn't what I want to be doing. I want to be doing my own thing.'
He told me, 'Go for it. I want you to do this.'"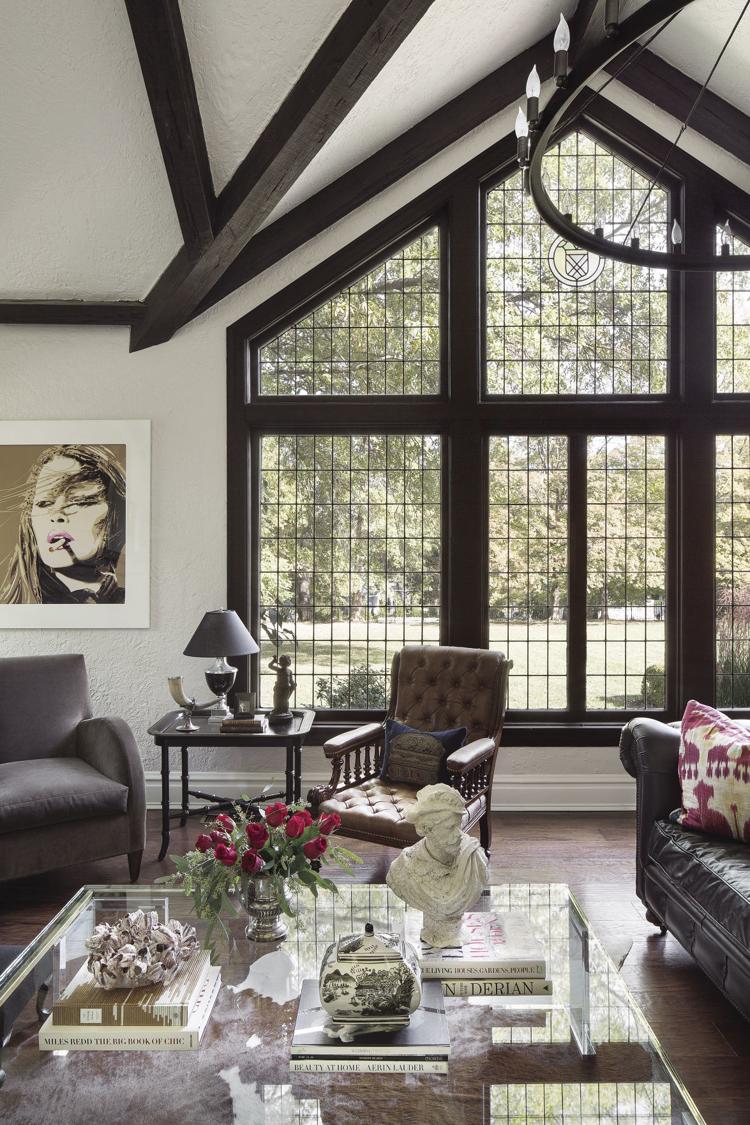 Hall says with her husband's encouragement, she started Emily Hall Interiors and hasn't looked back.
"I love to be creative," she says. "I love to be able to create a functional and beautiful space for my clients – something that they can truly enjoy."
Hall's first big client allowed her to masterfully design a moody entryway, dining room and living room in his home on Warson.
The entryway, by way of illustration, has dramatically dark navy walls with charming curved archways and dark wood antique accents, with pops of white present.
"It was fun because he has a love for antiques, just like I do," Hall says. "He loves kind of that dark, dramatic look that I love to do."
The client in question has since moved and has again hired Hall for his new space, in Ladue.
"It has been a work in progress because we are using a lot of antiques," she says. "It takes awhile to source those things, but we are about to start the basement, and we are going to do a cigar room down there and just make it very cool. It's fun that I've been with them for so long."
Thus far, Hall says most clients have come via word of mouth or her notable Instagram page, which features clean-lined designs and a beautiful balance between old and new.
Such projects, Hall says, begin with a consultation.
"I really try to get to know the client, look at the space and talk to them about how they want to use the space and find out how their family functions," Hall says. "I would get to know what they like – colors, textures – just really get a feel for their style."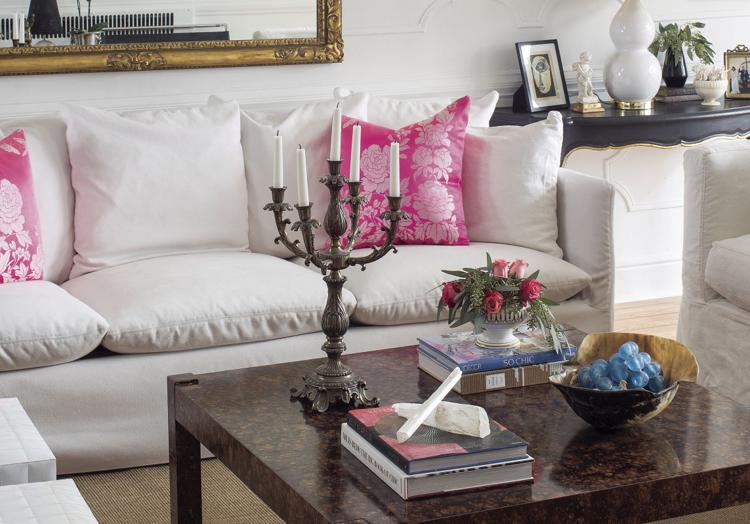 From there, Hall creates mood boards and gets rolling – conceptualizing the client's desire is the dream of the job.
"I love the challenge of having someone that has an idea of what they want," Hall says. "That's always fun, to be able to bring someone's vision to life."
Hall says she often finds inspiration from her travels, but also loves flipping through old editions of Architectural Digest, Elle Decor, House Beautiful and more.
"I have quite the collection of magazines," Hall says with a laugh, adding, "I love to work with original pieces of art, too. Those always inspire me and really bring a room together. I feel like art can really make a space."
Art is stunningly showcased throughout Hall's home, especially in her master suite, where she turned a nook into an inviting home office. The office walls feature a collection of gold frames and mirrors from her favorite area antique shops and playfully pull the eye to a glass-topped table featuring a gold base that fantastically accents the frames.
"It's nothing fancy, but I love it," she says.
After just two years, Hall has hustled and created countless stunning spaces.
"My grandmother always had antique shops when I was growing up, and my mom loved decorating," Hall says. "I've always been around [interior design], and I've always appreciated and loved it. I just love it." 
Emily Hall Interiors, 314-494-6232, emilyhallinteriors.com,