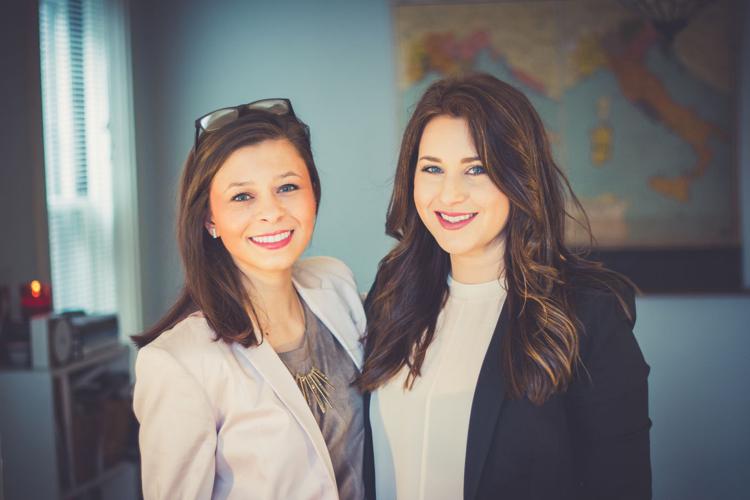 Channing Glover and Maria Lesko describe themselves as two women who befriended each other while persevering through design school. They bonded over a shared love of classic white peonies and billowy drapes. Eventually, after "dozens of pots of coffee," they launched C&M Interiors in St. Louis. Ladue News recently caught up with the duo to learn more about their work and design aesthetic.
When and how did C&M start, and what inspired its creation?
C&M: We befriended each other in design school and worked together under a local residential designer, where we discovered our mutual love for beautiful spaces and functional design. Thoughts were tossed around for years about starting our own business, and we finally took a leap of faith at the beginning of this year and purchased our limited liability company. Our two unique design styles have always been in sync with each other, and we knew that we could give clients their dream home if we had the chance. Now we have the chance we've been dreaming of and are beyond excited to continue this new endeavor.
What is your overarching design philosophy?
C&M: Our design skill sets and inviting personalities make it easy for clients to express what they want in their space. Once we understand what our clients are looking for, we help them interpret their wants and needs to develop a cohesive design strategy not only through pleasing aesthetics, but also functional attributes.
Do you have a special expertise in the event or business-design field?
C&M: We specialize in residential design. The commercial design portion of our business includes hospitality-design consultation. We tend to work with owners and developers to help further their projects and enhance the overall feel of their space. We are always looking to get our hands into a new project type to help owners develop creative ways to enhance their business through decoration and design.
You describe your strengths on your website in different terms: Channing is "modern with a twist," and Maria is "timeless and classic." Do you collaborate to bring these together, or does one of you take the lead?
C&M: We feel that we produce our best work when both of our hands have touched a project, but there are certainly circumstances where one of us will take the lead. We feel strongly that all of our work is a happy marriage between our design voices and enhances our client's story. This is what makes us unique and develop successful projects that our clients will love for years. We have successfully come together and created a style that represents both of us on an individual level and as design partners.
Your mission mentions a "contemporary take on sophisticated living." What are some examples or descriptions of that type of design?
C&M: Everyone deserves to live a sophisticated life, with fine china, white billowy drapes and fresh peonies. While we can certainly achieve that for our clients, we understand it's not a completely realistic lifestyle for all families. Our contemporary take on sophisticated living takes into consideration the day-to-day lifestyles of the home's inhabitants. From the simplest things, like a hook for your dog's leash, we make sure it's incorporated into the design of our client's home so that it doesn't feel like an afterthought.
What's the most important thing you'd like our readers to know about C&M Interiors?
C&M: Our No. 1 goal is to finish projects with incredibly satisfied and beaming clients. We are striving to develop relationships that will last 30 years as our clients' lives evolve and change: We want to be there every step of the way.
4355 Maryland Ave., St. Louis | 314-920-3020 | candmstudio.com | instagram.com/channingandmaria