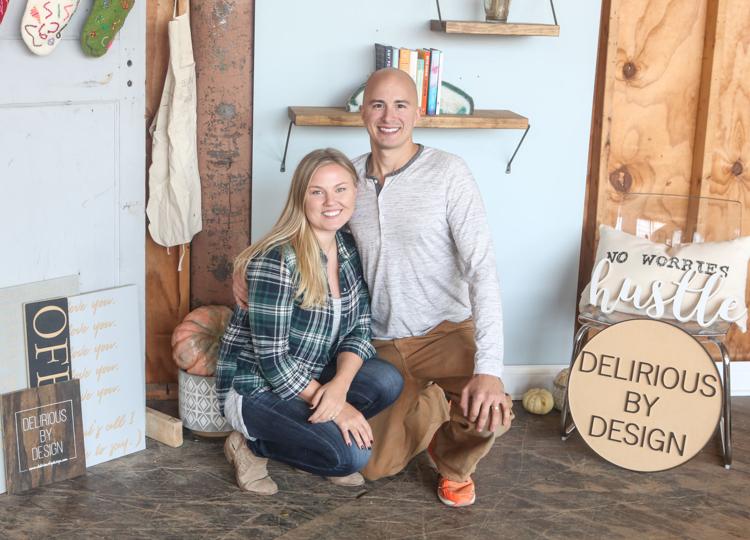 Hannah LaRose believes in surrounding yourself with things that make you happy. "A home shouldn't be decorated; it should be collected," the local artisan says. "When you look around a room, it should remind you of a certain person, travel or a good memory."
That sentimental design principle is the basis for the 2-year-old, St. Louis-based home-décor company, Delirious by Design, co-owned by LaRose and her husband and business partner, Nick.
With a mix of modern, boho and farmhouse styles, the local small business offers wall art, including wood-carved décor, woven wall hangings and framed prints; wood furniture, such as floating shelves, bookshelves, stools, side tables and coffee tables; and home décor, from throw pillows and tea towels to decorative mirrors, wall clocks, rugs, table runners and planters. "We have fun gift items and conversation pieces to have in the house," LaRose notes, adding that the unique home décor line is inspired by relationships, books, music and memories, with an emphasis on love and laughter. "We use a lot of inspiring quotes, and funny plays on words – we try not to take ourselves too seriously."
In that vein, the company's new line of textiles includes tea towels with quotes from authors like Virginia Woolf ("One cannot think well, love well, sleep well, if one has not dined well") and F. Scott Fitzgerald ("Too much of anything is bad, but too much Champagne is just right") to throw pillows celebrating the holidays, with sayings such as "Gather," "Give Thanks" and "Noel."
LaRose, who comes from a family of entrepreneurial woodworkers and interior designers, handles the creative side of the company, while her husband, a "perfectionist with patience," takes on some of the more meticulous woodworking. The pair, which started the business as a hobby out of their basement and garage in November 2015, currently crafts their home-décor line full time in a workshop space at the Lemp Brewery in St. Louis' Soulard neighborhood.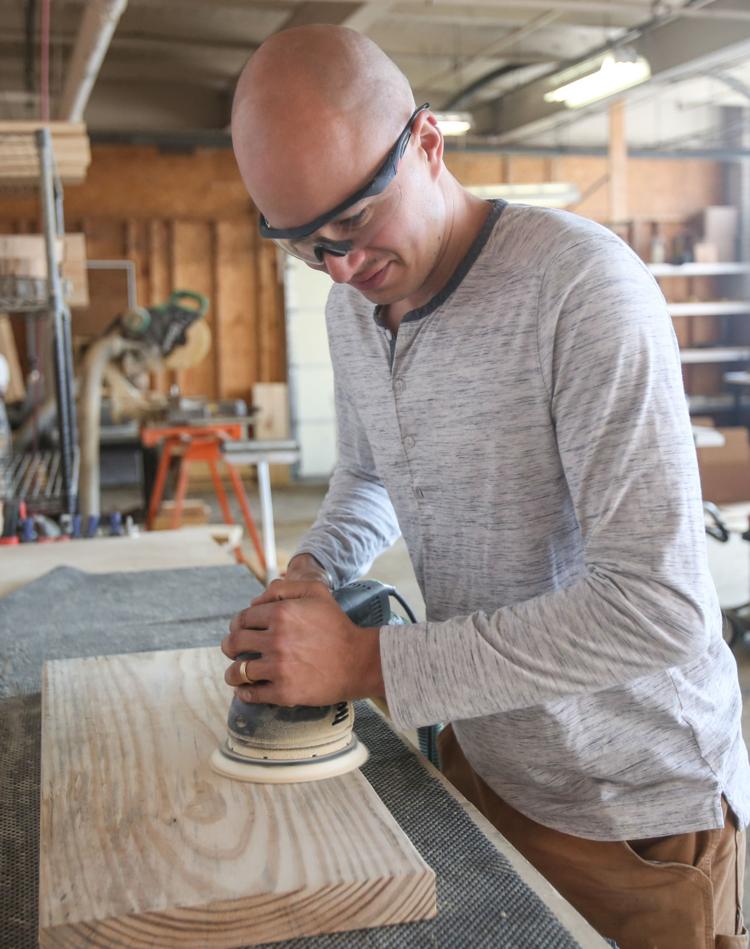 For Delirious by Design's popular wall art pieces, for example, LaRose creates the design, then she and her husband finish the item. "I come up with a concept and design and make the design using computer software, which gives a mock-up picture of what it will look like, and then we carve it out using a CNC [computer numerical control] machine, paint it and frame it," she says.
The crafty company also creates custom orders. The process begins with a customer reaching out through email or social media with an inspirational idea, photo or quote, LaRose says. "We talk about the size, color and vision for the piece, create a mock-up to make sure everything looks good, create it and ship it to them," she explains, adding that custom orders typically take two to three weeks, while noncustom orders take one to two weeks.
Recent custom creations have included wall art featuring Mother Teresa and Mark Twain quotes, as well as wedding gifts personalized with hand-carved dates, initials and song lyrics, LaRose says, adding, "It's fun to see customer requests, and if it sells well, we'll add a similar item to the line."
Delirious by Design's full line of home décor is available on its website, while its wood-carved art and floating shelves also are available on Etsy.
Most of the wooden home décor items, including the popular wood and industrial-pipe floating shelves, are made from locally sourced pine, birch and raw steel, also available in gold or brass finishes. "Our customers can feel good about purchasing local, shopping small and supporting a local business in St. Louis," LaRose says. "We have a really good, curated selection of home décor items on our website, so we make it easy for our customers to find what they're looking for."
She credits Delirious by Design's rapidly increasing repeat business to being a customer-focused company that implements feedback from clients, who range from homeowners, home-flippers and home-stagers to interior designers. "We really do care about our customers and what they think," LaRose notes. "We're always designing new items for our home décor line to keep things fresh and exciting for our customers."  
Delirious by Design, www.deliriousbydesign.com