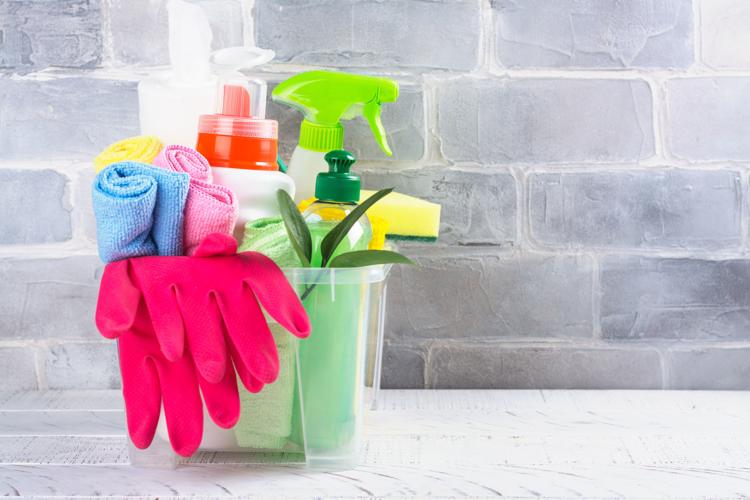 After years of working in the residential cleaning field, using everyday household products, Linda Dazey had begun to sicken with respiratory issues from asthma to sinus infections.
That's when the owner and operator of Dazey House Cleaning in St. Louis began researching every ingredient in common cleaning products. "They are all toxic, cause cancer, asthma and skin irritations, and get into our water supply, thus affecting everything around us," Dazey says.
Indeed, many of today's consumer market's cleaning products commonly used in our homes contain toxic chemicals, such as ammonia, bleach and volatile organic compounds, that can cause health issues from irritated eyes or throat, headaches and even cancer, according to the American Lung Association.
That's why several local cleaning companies have gone green – to protect clients and themselves – from the negative consequences of using harmful household products. "My employees' health is by far one of the most important responsibilities I have," Dazey says. "I maintain strict guidelines for them and ensure their health and safety at all times. In doing so, they ensure our customers a great cleaning experience – one free from toxins."
Dazey House Cleaning uses a minimalist approach when it comes to its cleaning products: baking soda scented with essential oils, Thieves all-purpose (essential oil-infused) cleaner and Environmental Working Group-certified Biokleen and ECOS dish soap. "Our products are never tested on animals, and they are approved by the Environmental Working Group [a nonprofit organization dedicated to protecting human health and the environment]," Dazey says, adding that her company also has been named by the social and environmental standards group Green America as a Green America-certified business for its sustainability practices, which include implementing sustainable products, such as cotton cloths and biodegradable trash can liners, and purchasing locally made equipment, including Simplicity Vacuums from Fenton.
At Green Angel Cleaning Services of St. Louis, owner Stacey Wilund and her staff also use all-natural, nontoxic cleaning products. "My mom, [who] was already cleaning homes when I started Green Angel … always used harsh chemicals, and I could see how unhealthy it was for her," Wilund says. "We use a local company who has successfully developed several safe, plant-based products that work amazingly well."
The use of eco-friendly products benefits employees and clients and their families, as well as their pets, Wilund notes: "Our clients can come home confidently, knowing their children and pets can safely live in their home without the worries of harsh chemicals being left on all their surfaces." Wilund does add, though, that clients can also request her team use the clients' preferred products. "In that event, we can't guarantee the safety of the product," she says.
When a house is cleaned with nontoxic products, clients also notice it doesn't have a heavy chemical aroma when they come home – but, instead, a light, clean scent, Dazey says. "No longer do they come home to the heaviness and toxic fumes of bleach," she says. "Their children and pets can crawl around on floors knowing [there is] no more chemical residue on the flooring."
This concern for the well-being of family is what drew Angela Ricketts and her husband, Matt, to co-found their St. Louis-based green cleaning company, Better Life Maids. "It started when our first child was born," Ricketts says. "As we began to child-proof our house, we saw that under our sink was probably the most dangerous part of our house."
Ricketts found a green solution to this issue in Better Life, a locally based line of all-natural, nontoxic cleaning products available online at cleanhappens.com and stocked at local grocery stores, including Dierbergs, Schnucks, Straub's and Whole Foods Market. "They are made from plant-based ingredients and are independently verified to be both safe and effective," Ricketts says. "In fact, they clean surfaces more completely than most traditional toxic chemicals and leave behind no toxic films." The green products don't build up in your home over time like traditional cleaners that can make your inside environment more polluted than the outdoors, Ricketts continues. "That is why picking green products is important," she says. "It is not just about saving the world with idealism – it really is about reducing your exposure to toxins in your home."
Better Life Maids also uses five-stage HEPA (high-efficiency particulate air) filtration vacuums, which force air through a fine mesh that traps harmful particles, such as pollen, pet dander, dust mites and tobacco smoke. "The vacuums have powerful motors and powerful filtration," Ricketts says. "That way, the dust we collect doesn't get put back into the air through the vacuum's exhaust. Many vacuums are good about picking up the big particles, but they put a lot of small particles back into the air that is then breathed in. A good vacuum will greatly reduce that."
In addition, Better Life Maids implements high-quality, long-lasting and reusable tools and equipment, reducing waste. "We also have zero paper waste in our cleaning process," Ricketts says. "We use only high-quality microfiber products like dusters, mops and cloths that last for hundreds of washes."
Small changes can lead to big results, Ricketts notes. "Over time, homes' chemical loads will be greatly reduced if [homeowners] eliminate all of the harsh, toxic cleaning products," she says. "This can have the effect of improved health if they were suffering from any chronic illnesses." And most important, prevent future health issues, she adds: "We don't think people need to wait till these kinds of products make them sick to take action."
Better Life Maids, 314-288-0659, betterlifemaids.com
Dazey House Cleaning, 314-898-3524, dazeyhomecleaning.com
Green Angel Cleaning Services, 314-712-1108, greenangelcleaning.com