Don't settle for stale spaces when the metro area is bursting at the seams with such intrin-sic interior talent – and the proof is just below.
Throughout September, the area's thriving design community was encouraged to submit its individual members' best projects from the past year for the 2019 Ladue News Design Awards. A panel of distinguished judges reviewed the outpouring of impressive applications in six categories – bathroom, bedroom, dining room, kitchen, living space and landscape – to nar-row each category to three finalists.
This year's winners will be announced at the 2019 Ladue News Design Awards on Oct. 24 at Vue 17 and will also be featured in the Oct. 25 edition of Ladue News. Without further ado, it's our pleasure to congratulate and introduce the finalists!  
Bathroom
Amy Studebaker Design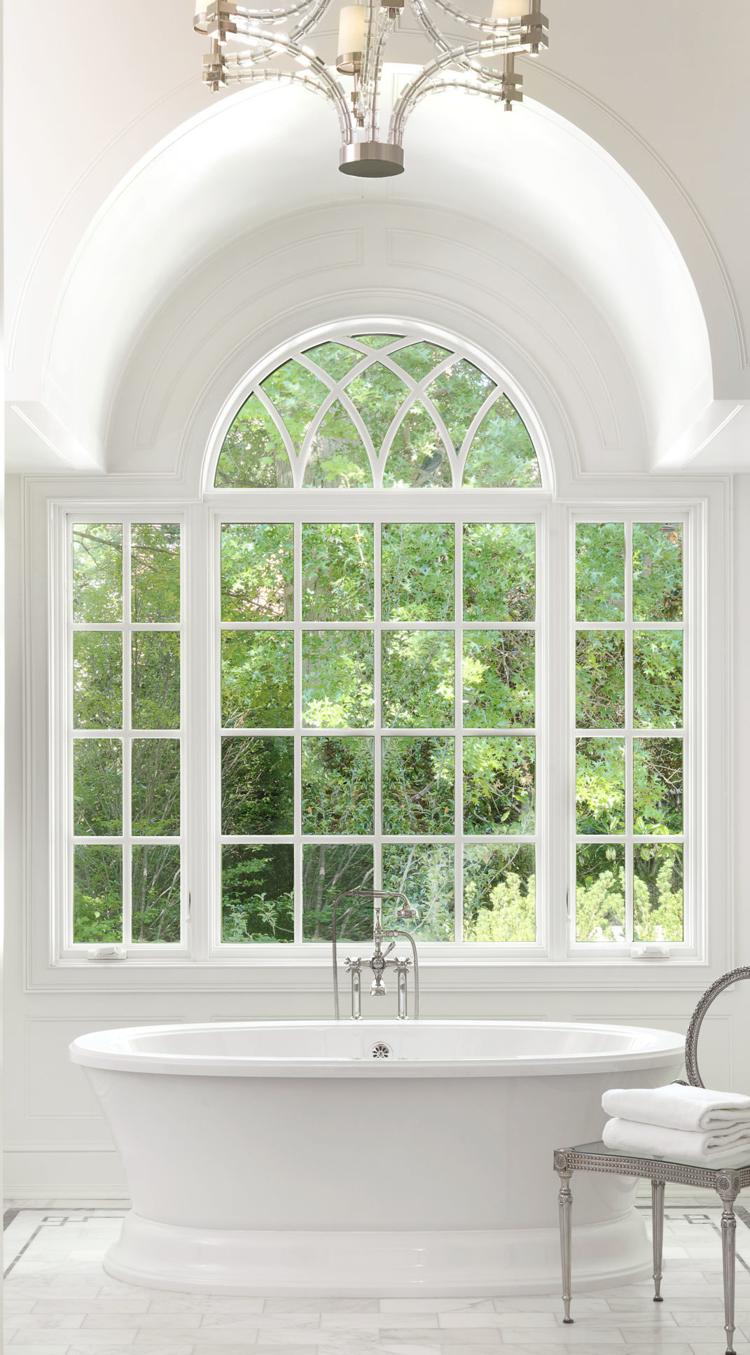 One could say this design by Amy Studebaker of Amy Studebaker Design is one of epic proportions.
"Because the ceiling peaks at 14 feet, the proper proportion and scale of this design and placement of the vanities were imperative," notes Studebaker. Because of this, stunning soffits were thoughtfully placed above each vanity.
Studebaker also used a rich, detailed paneling on the ceiling and walls, while selecting magnificent marble with an inset border for the floors – a component judges appreciated.
"[The space is] clean, calming and serene," notes one judge. "[I] love the placement of the bathtub under the open window with a beautiful view. Inset border on the floors is a special detail and breaks up all of the white a bit."
Castle Design and Alspaugh Kitchen and Bath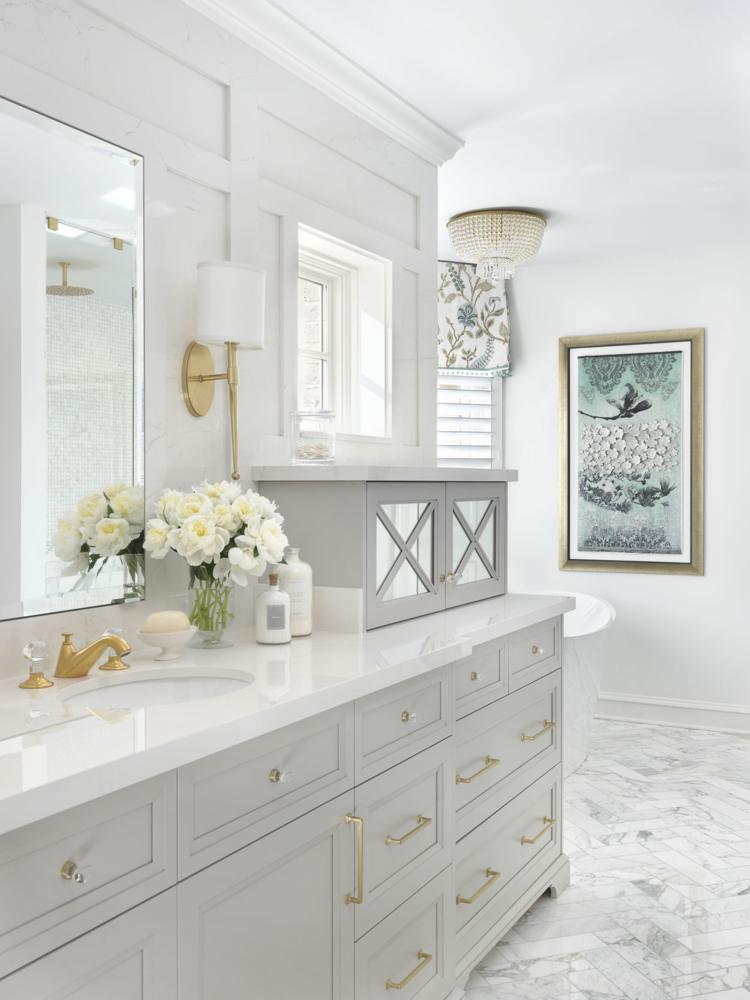 Judges agree that Laurie LeBoeuf of Castle Design and Jim Howard of Alspaugh Kitchen and Bath struck gold with the remodel of this 1930s master suite – elegantly marrying the homeowner's modern lifestyle needs with the home's rich heritage.
"The fixtures are all gold, and drawer pulls and faucet handles feature crystal detailing – a nod to the home's original brass-and-crystal hardware," say the designers.
Marble herringbone floors, a shimmering basket weave mosaic made of Calacatta gold and Botticino marble and custom gold plating are just some of the fine finishes used in this space.
"This bath promises to age well and gracefully, and will stand the test of time," says one judge.
Anne Marie Design Studio, LLC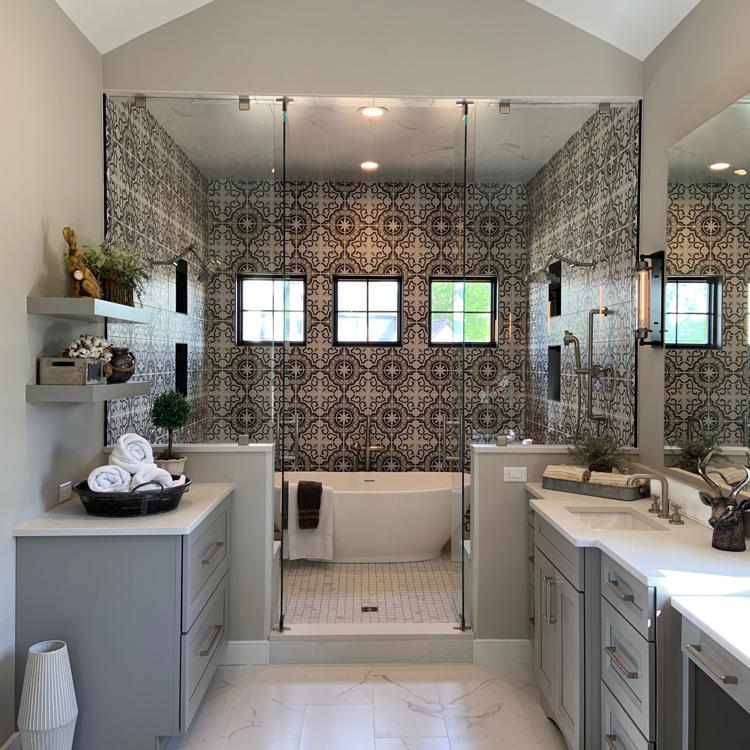 Anne Marie Boedges of Anne Marie Design Studio, LLC wanted the shower in this master bathroom to steal the show – and that it does!
The shower features three showerheads, body sprays, two bench seats, a beautiful bathtub and, certainly of note, hand-painted tile.
"Love the painted tile of the shower against the otherwise plain design of the rest of the room," notes one judge. "[It] allows the shower to shine."
"The room feels light and airy, but makes you feel you are staying at a fancy resort!" says Boedges. "(That they get to use every single day!)"
Bedroom
Mitchell Wall Architecture and Design
Simple and stately best describe this bedroom designed by Thomas Wall and Rachael Dolan of Mitchell Wall Architecture and Design, who revived the rich historical heritage of this abode while making judges swoon.
"I like that the designer didn't try to reinvent the wheel here and worked with the existing architectural features," one says. "The design of this bedroom respects the home's historic status."
The Wall team updated the intricate paneling and crown within the bedroom, enhancing the original fireplace even more, while using a crystal chandelier to make a simple yet stunning statement.
Gigi Lombrano Interiors
This moody marvel by Gigi Lombrano of Gigi Lombrano Interiors will have guests waking in wonder if they're at a five-star hotel rather than in a family or friend's spare room.
"This former boy's bedroom became a welcoming guest retreat for these empty nesters," says Lombrano of the space. "The room received a total makeover, including the addition of a sparkling chandelier." Judges loved the modern chandelier and especially the color palette.
"The pop of color creates a dramatic contrast against the grey," notes one judge, while another adds, "It is a daring color palette. Very glamorous."
Amy Studebaker Design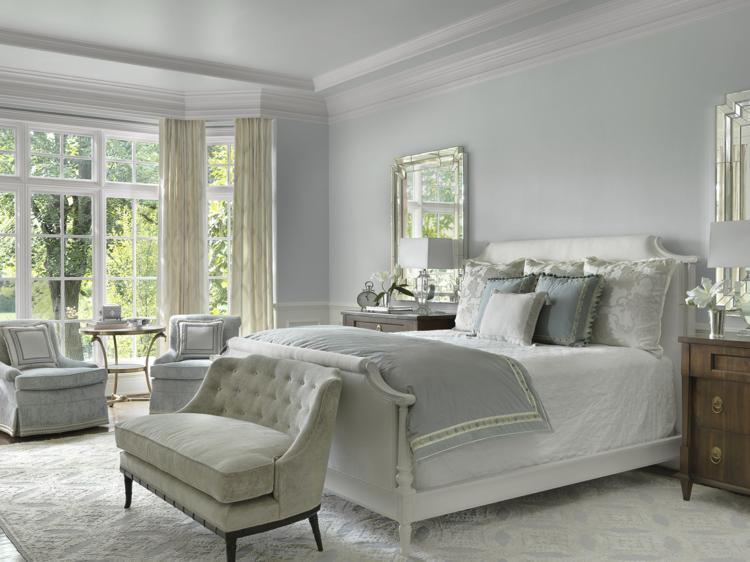 When Amy Studebaker of Amy Studebaker Design is asked to create a space to rival a Fifth Avenue luxurious accommodation, she delivers a space with sophistication.
Studebaker used a soft palette of blues, whites and subtle beiges, while incorporating a variety of textures by using silk, velvet and linens that judges adored.
"Light and bright with a wonderful and soothing color palette and rich materials," says one judge. "Great attention to detail. Elegantly understated in all respects."
An adjoining dressing room is just as glamorous, with a stunning chandelier with hints of blush for a feminine feel with delicate hardware.
Dining Room
Gigi Lombrano Interiors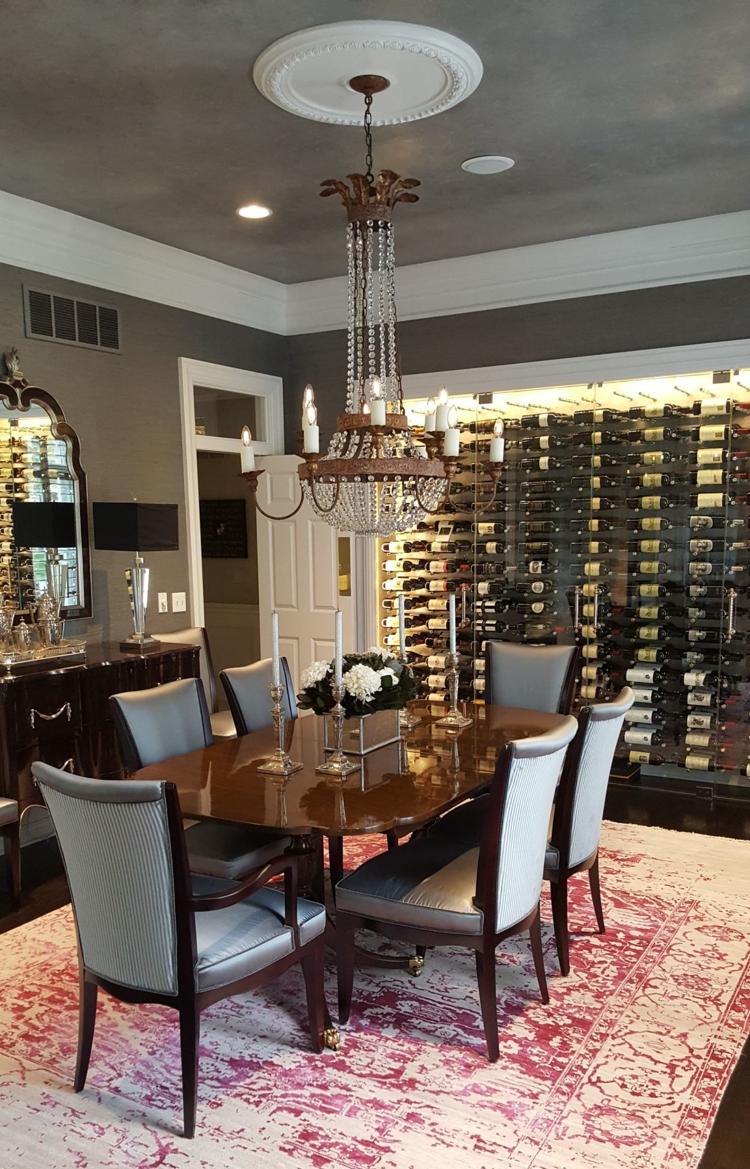 When a couple loves to wine and dine, Gigi Lombrano of Gigi Lombrano Interiors beautifully marries the two.
"The back wall of the dining room had the typical arched niche," Lombrano explains. "The husband dreamed of having a wine cellar, so why not convert it into a wine cellar and create a fabulous statement wall?"
Judges called the space an "entertainer's dream," noting how the wine cellar doubles as a statement and a work of art.
Lombrano also reupholstered the chairs, added the grasscloth wallpaper, statement drapery, a pop of color with the deconstructed area rug and more.
Castle Design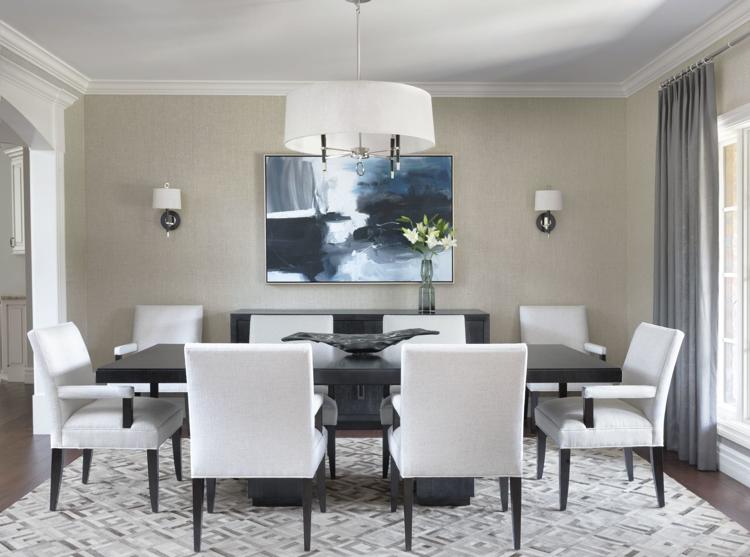 A request for an effortless look resulted in a divine dining space of elegance.
"As is often the case, the homeowners' style evolved over time, and they were ready for an updated, effortless look," says Lauren Sweet-Schuler of Castle Design. "Taking the formerly red-toned dining room to a lighter, more contemporary look with rich neutrals, clean lines and layered textures was the first step in transitioning the rest of their home into this new style."
Judges loved the simplicity of the space, calling it "bright, airy and beautiful," adding, "Just a good, solid dining room design that will stand the test of time."
Castle Design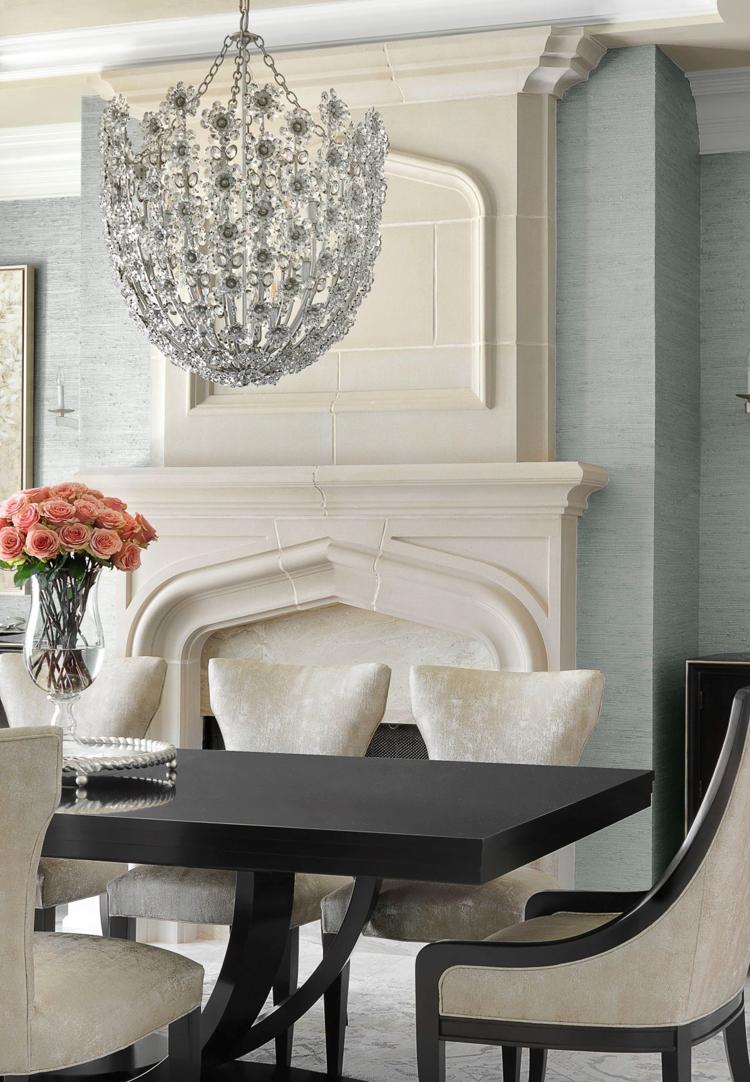 Some make a grand gesture with flowers, but Laurie LeBoeuf of Castle Design makes a grand gesture with not one but two floral crystal chandeliers that steal the show in this dining room.
"The chandeliers are stunning and add high drama," notes one judge.
In addition to the chandeliers, LeBoeuf introduced three-piece crown molding, a tray ceiling and traditional archways to the space to perfectly frame the room while adding more texture to the space with a metallic grasscloth wallcovering and shimmering custom paint treatment on the ceiling.
"It's a wonderfully glamorous room," notes another judge. "The color palette is beautiful."
Kitchen
C&M Interiors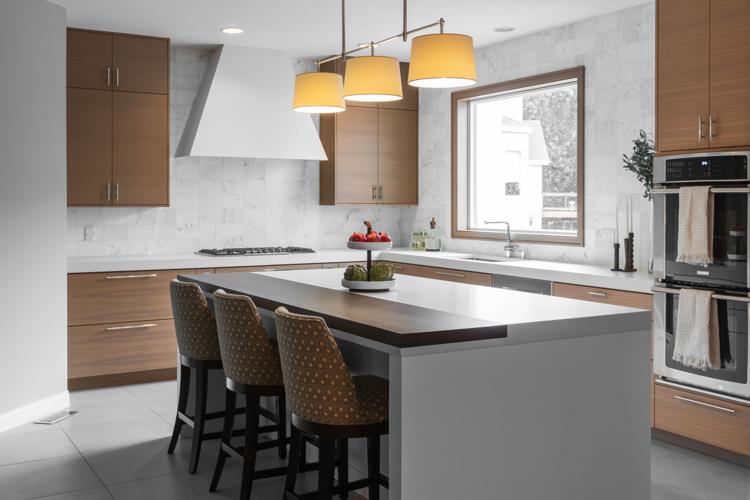 Clean and contemporary perfectly describe this kitchen by Channing Krichevsky and Maria Hogrefe of C&M Interiors.
"The beautiful finishes were painstakingly achieved," notes one judge.
The dynamic duo used seamless cabinetry that was balanced by quaint lighting. The showstopper of the space, though, is the stack of marble countertops that climb to the ceiling – adding luxury and lightness in contrast to the custom stain finish of the cabinets.
The judges call this space a "perfect execution of modern aesthetic both in form and function" that creates "mood [that] is very serene and contemplative."
Alspaugh Kitchen and Bath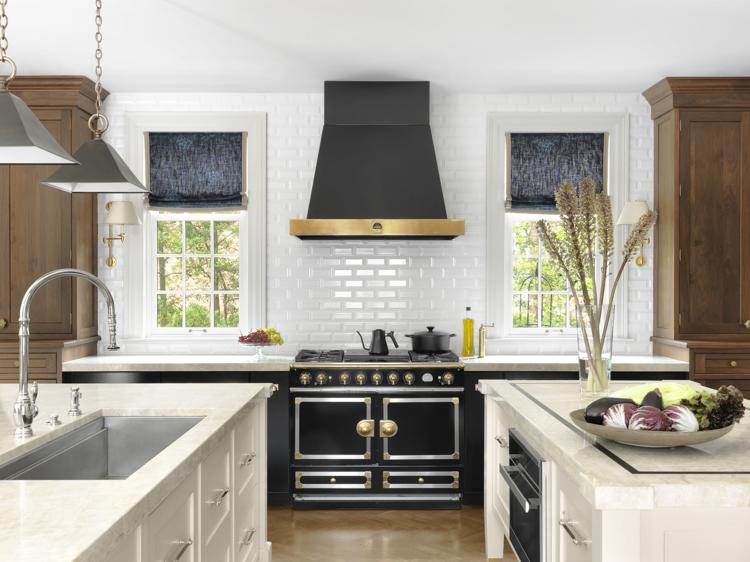 For this 1900s home, Chris Paul and Ann Cortinovis of Alspaugh Kitchen and Bath were asked for a modernized space that paid homage to its historic roots while incorporating the homeowners' love of all things unique.
The Alspaugh team used traditional framed cabinetry with a hand-brushed finish to salute the home's era, but a distinctive La Carnue range and hood steal the show.
"The stove and vent hood are a stunning focal point," notes one judge, while another calls it a "true work of art."
Judges appreciated the white backsplash, which allowed such features the appropriate place to shine.
Karr Bick Kitchen & Bath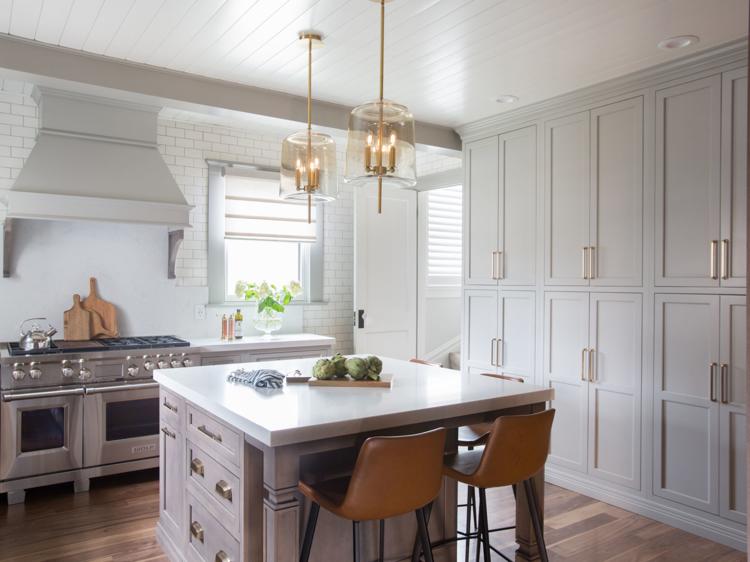 When Rebekah Moor Murphy of Karr Bick Kitchen & Bath is tasked with creating a kitchen with a minimal approach, she ensures minimal is also marvelous in this 100-plus-year-old home.
Murphy used soft, two-tone colors for the cabinetry, beautifully accentuated with gold cabinet pulls. Extra-thick marble quartz countertops make a statement and were extended to the backsplash for a simplified look. The tiled walls, though, bring a century café feel and cohesiveness.
"This kitchen design is understated, high end, and highly functional," notes one judge, while another adds, "Minimalism abounds in this beauty. Love everything about it."
Landscape
Frisella Landscape Group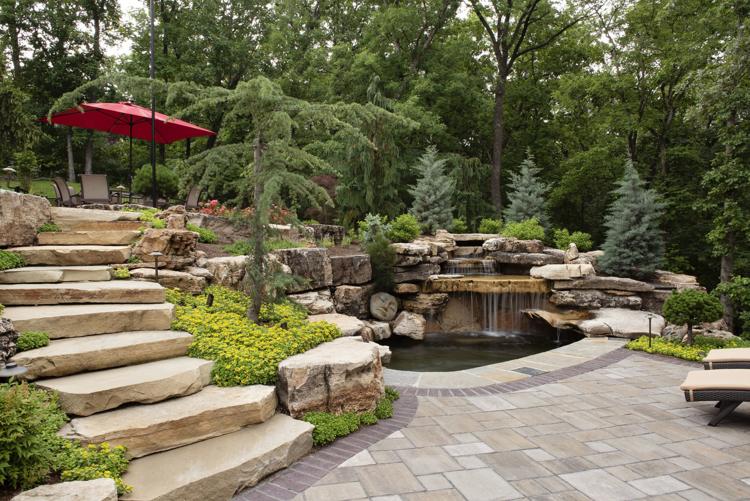 Tony Frisella of Frisella Landscape Group used the steep hill on this wooded ground to his advantage in creating a tranquil space perfect for entertaining.
Frisella created an outdoor kitchen with a raised garden bed and a gas fire pit with built-in seating, a waterfall and a BioNova natural pool that looks like a pond but has a natural filtration system, making it acceptable for swimming. The stars of the space, though, are the irregular-edged, natural stone stairways.
"The designed space seems to blend right into the wooded area behind the home," notes a judge. "This is a beautiful outdoor retreat."
Quiet Village Landscaping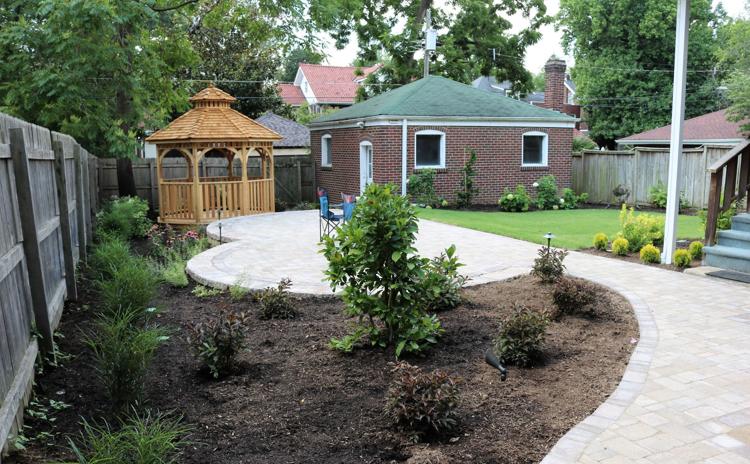 Karen Soracco of Quiet Village Landscaping was tasked with creating a tranquil backyard at this University City home, and judges agreed, the space will flourish for years to come.
Soracco leveled the lawn, then added a gazebo, outdoor lighting and a stone patio.
"The curved walk and patio are a nice contrast with the strong angular shapes of the house and garage," notes a judge.
Soracco also added a variety of new plants that include natives and beneficial pollinator plants.
"Nice improvements and upgrades to a basic backyard of what appears to be a turn-of-the-century house," notes a judge.
Chesterfield Valley Nursery
Judges felt Bob Graeler of Chesterfield Valley Nursery added the perfect pop of color to bring this space to life.
Graeler added grasses, evergreens, flowering shrubs, a unique Japanese maple and more to liven up the landscape of this abode.
"Great mixed use of plantings," notes a judge.
Graeler also created the grand staircase using natural stone and small stone cobbler accents that judges adored.
"The natural stone stairs and in-ground pool combine to make this terraced outdoor space a world apart," notes a judge.
Living Space
Castle Design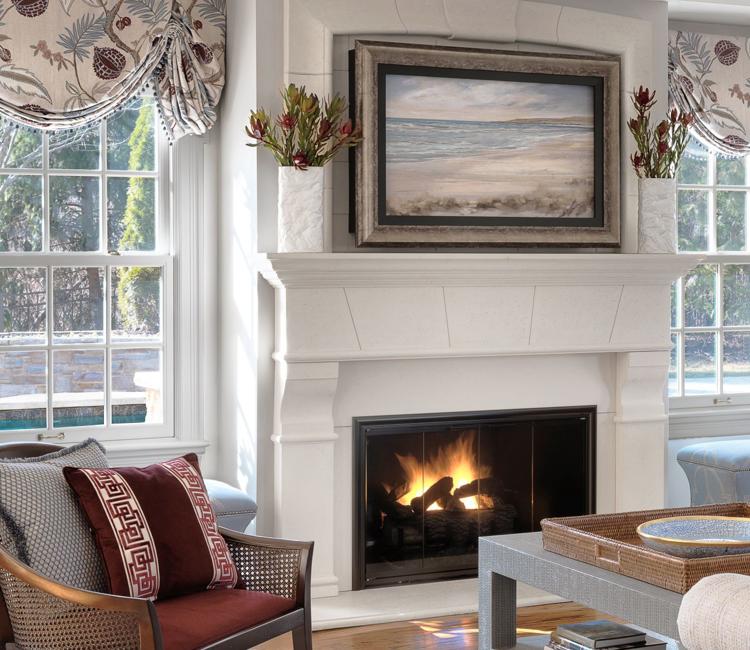 Laurie LeBoeuf of Castle Design set out to transform a dark and heavy space into a light and bright space full of inviting textures, and the verdict is in: She succeeded!
LeBoeuf reworked a heavy stacked stone fireplace with a custom cast-stone surround and mantel that judges loved.
"The reworked fireplace blends perfectly with the style of the room and is a worthy focal point," one judge notes.
LeBoeuf also added new built-in cabinetry and painted the millwork ceiling to lighten the look further.
"The white gloss millwork is clever, giving this room the lift it needed," notes a judge. "Love the mixture of textiles and patterns. It's a beautiful room!"
Jessie D. Miller Interior Design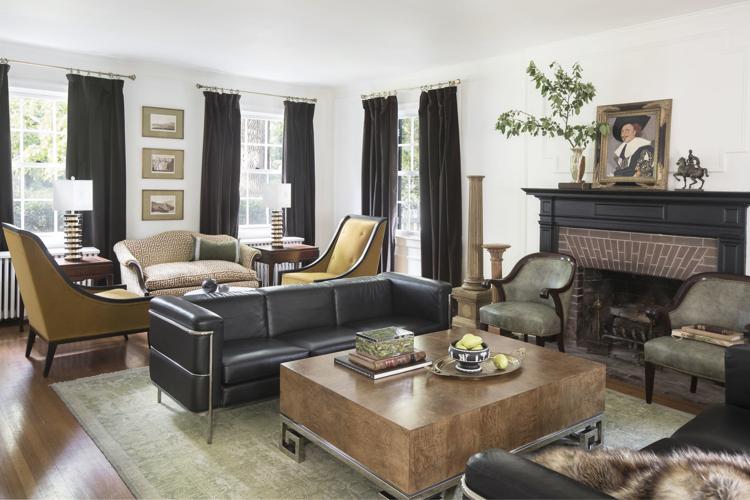 When Jessie D. Miller of Jessie D. Miller Interior Design is tasked with creating a modernized living space for a bachelor's Webster Groves home, she shows him how to successfully marry eclecticism with edge.
"What a great room," notes one judge. "The pair of classic midcentury leather sofas with silver metal frames have great lines and are perfect for a bachelor's home."
Miller used the client's collected antiques and oddities with vintage and custom-made pieces to bring a fresh perspective to the space, which judges loved.
"The mix of fabrics and textures is perfection," notes one judge.
The Design Source Limited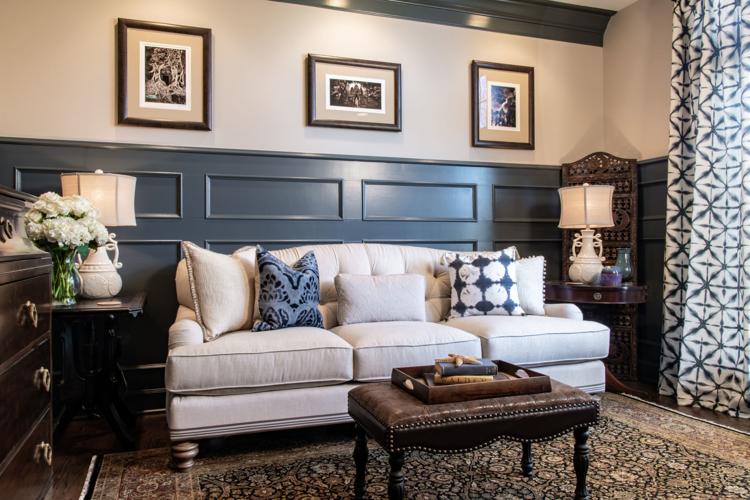 Kristine Keller and Jessica Laurinaitis of The Design Source Limited revived this study into a light and bright living space.
The Design Source team removed dark paneling and added new, taller millwork.
"The millwork is stunning in this beautiful shade of blue and adds the right amount of interest to this seemingly small space," notes a judge. "It serves as the perfect backdrop to the cream sofa."
The design duo also introduced new colors to the space in addition to bold patterned drapery.
"The cream sofa, bold patterned drapery and a classic oriental rug tie the room together in a most pleasing fashion," notes another judge.