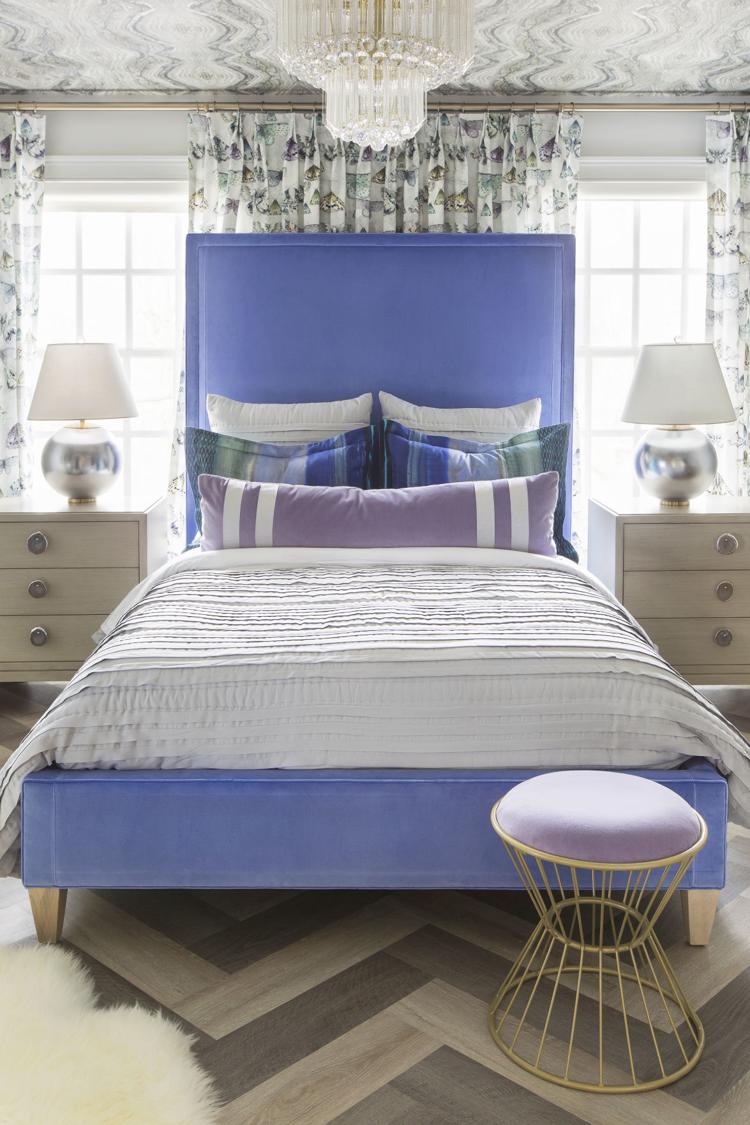 Last winter, Jessie Miller of Jessie D. Miller Interior Design was presented with a unique challenge: create a calming retreat for a local teenager with a rare medical condition that leaves her homebound.
"Caili has a disease that makes her restrained to the confines of her home," Miller says. "She hasn't gone to [a brick-and-mortar] school since second grade because she needs to be protected from exposure to strep A, a bacterial infection. The treatments use immune suppression agents which make Caili even more susceptible to infection, and any infection she is exposed to can cause an exacerbation, or flare, of the encephalitis."
The 14-year-old has autoimmune encephalitis, a condition that occurs when the body's immune system mistakenly attacks healthy brain cells, resulting in severe neurologic, cognitive and psychiatric symptoms, which usually resolve with treatment. The treatment and recovery period can take years.
"Because she's in her house 24/7 and can't go out until we get a handle on the disease and she is in remission, it's really important for her to have her own space," says Carmel Henges, Caili's mother. "So this [redesign] was really a statement of who she is."
Another local designer, who is currently working on another large design-and-build project for the Henges family, recommended Miller, who was not a carrier of the bacteria that could affect Caili's condition and, therefore, was able to be around the teen and in her room for the revamp.
"We need to make certain that any adult Caili is exposed to has not had a diagnosed strep A infection as an adult and that they have not had contact with other children prior to seeing Caili that day," Henges says. "At this point, Caili's immune system reacts to any pathogen present so everyone has to be 100 percent healthy to avoid an exacerbation of the autoimmune process. Caili is also undergoing chemo treatments every three months in Washington, D.C., which severely suppresses her immune system, making exposures to any illness even more problematic."
To dramatically transform the suite into a space that was as unique as Caili, Miller met with the teen to get to know her personality and passions, as well as review some inspirational images that evoked her sense of style. "She's special in the sense of how creative she is," Miller says. "She has a wild imagination, and it's so fun to work with someone so free-spirited, just letting her be herself, letting her feel comfortable. She is very attracted to nature and all things mystical – fairies, butterflies, dragons and dinosaurs – so that began her design story for me."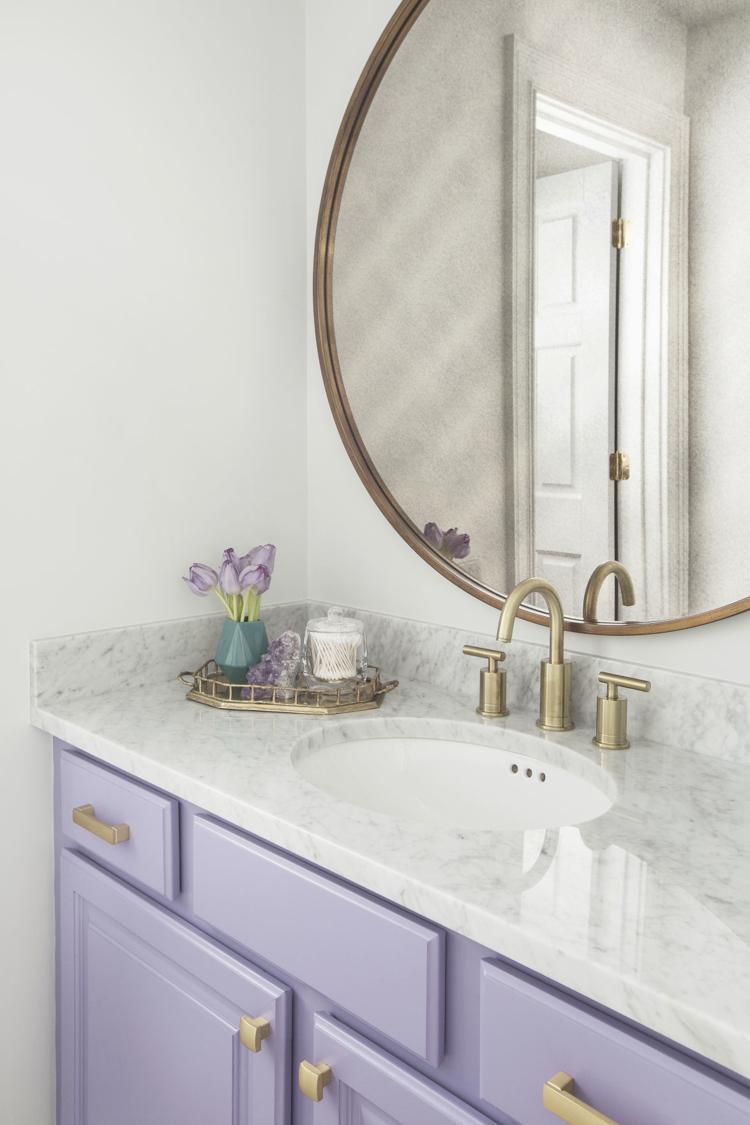 The revamp included a bedroom connected to a recreation room by a Jack-and-Jill bathroom. "I found a paper butterfly Christmas ornament at a local shop, Holliday, that reminded me of Caili when I saw it," Miller says, "so I gathered a collection of them in the color palette she loves – teal and purple."
Miller also found butterfly-patterned fabric, which matched the ornaments, and used that for the drapes behind the headboard of Caili's custom-made bed.
Continuing this whimsical theme, Miller chose a wallpaper resembling reptilian skin – an homage to Caili's love of dinosaurs – for the bedroom ceiling. Chevron-patterned wood planks in alternating finishes – one of Miller's signature design moves – were incorporated into the bedroom flooring.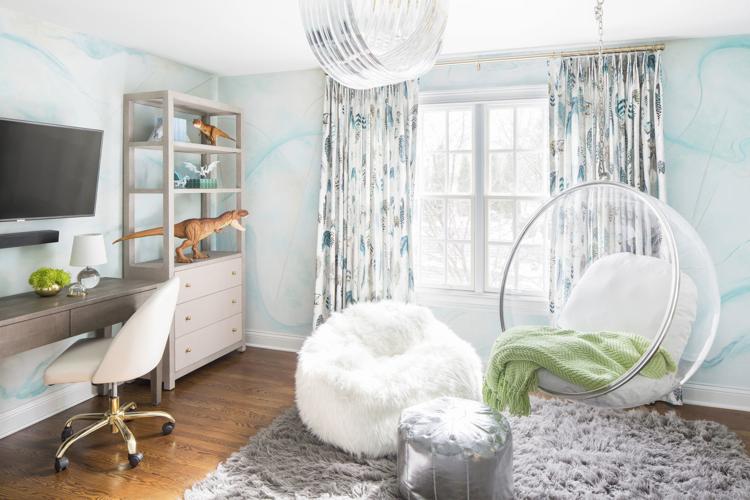 In the rec room, local artist Susan Greene of Paint Imagery created an astonishing aquatic mural inspired by Caili's passion for sea life. "She has these fish tanks that she's extremely proud of, and she loves the fish like they're her children," Miller says.
A serene atmosphere, including soothing lighting, is important for Caili's condition, so Miller selected special fixtures for the redesign. For the bedroom, she found a vintage chandelier from The Green Shag Market in St. Louis and a ribbon chandelier from "chic and unique" home décor site Chairish.com for the rec room.
"The ribbon chandelier lived in my foyer years ago and has been waiting for its forever home, and when I saw Caili's space, I knew I had found the perfect home for it," Miller says. "I collect so much furniture – they're like my foster babies, and I'm finding their forever home."
The imaginative suite is complete with Caili's personal requests. "Caili said she wanted a shelf for her dinosaurs and her fish tanks," Henges says. "And the bubble chair was a must-have for her."
After a whirlwind month of design work last February, it was time for the revamped room's big reveal. The finished project was a total surprise to Caili, who had been in the Northeast for almost a month to receive medical treatment.
Because of a snowstorm that was closing in on St. Louis, Miller and her design team left Caili's home before she arrived – but with the magic of technology, the designer was still able to witness the teen's "amazing" reaction through FaceTime as she walked through the suite. "She was ecstatic," Miller says. "It was pure joy to watch her mind absorb all the different elements of the space. She homed in on every detail … and especially loves the mural. She kept saying it was the most surreal moment of her life."
Since the redesign, Caili adores spending time in her new space, Henges says. "She is a creative child who loves science and nature, writing and filmmaking, and there is even a lightbox to do her filming," Henges says. "In what she calls 'the hangout room,' she loves sitting in the beanbags, playing an online game or being on FaceTime with her friends, or watching a movie."
Miller really understood Caili and bonded with her, Henges says. "It was important that I created a room she wanted to spend time in," Miller says. "Caili now has a space to display all her collections, a comfy place to study, and hopefully is on her way to recovery so she can soon have sleepovers again."
Every night before bed, Henges says she asks Caili about the revamp: "Are you sure you still love it?" And the teen replies, "What's not to love?"
Jessie D. Miller Interior Design, jessiedmiller.com