With just 48 hours of boots on the ground – or more likely, sandals on the sidewalk – local designers Diane Mantovani Fogerty and Brett Clark transformed a Newport Beach, California, vacation home for a family of St. Louisans.
Mantovani Fogerty, owner and principal at Savvy Design Group, says her clients wanted a place to escape to during frigid Midwestern winters, so they enlisted a team to create a home away from home.
"The home had not been updated in 25 years and needed everything," Mantovani Fogerty says.
Deep blue and neutral tones are prevalent in the estate, complementing the ocean view and elegant outdoor pool.
"The inspirations for this design were coastal colors and comfortable gathering spaces," Mantovani Fogerty explains. "Being mindful that the clients would be relaxing and inviting friends and family to enjoy this beautiful estate, our goal was to create a serene retreat with larger gathering spaces full of comfortable seating, natural light and, as always, easy function."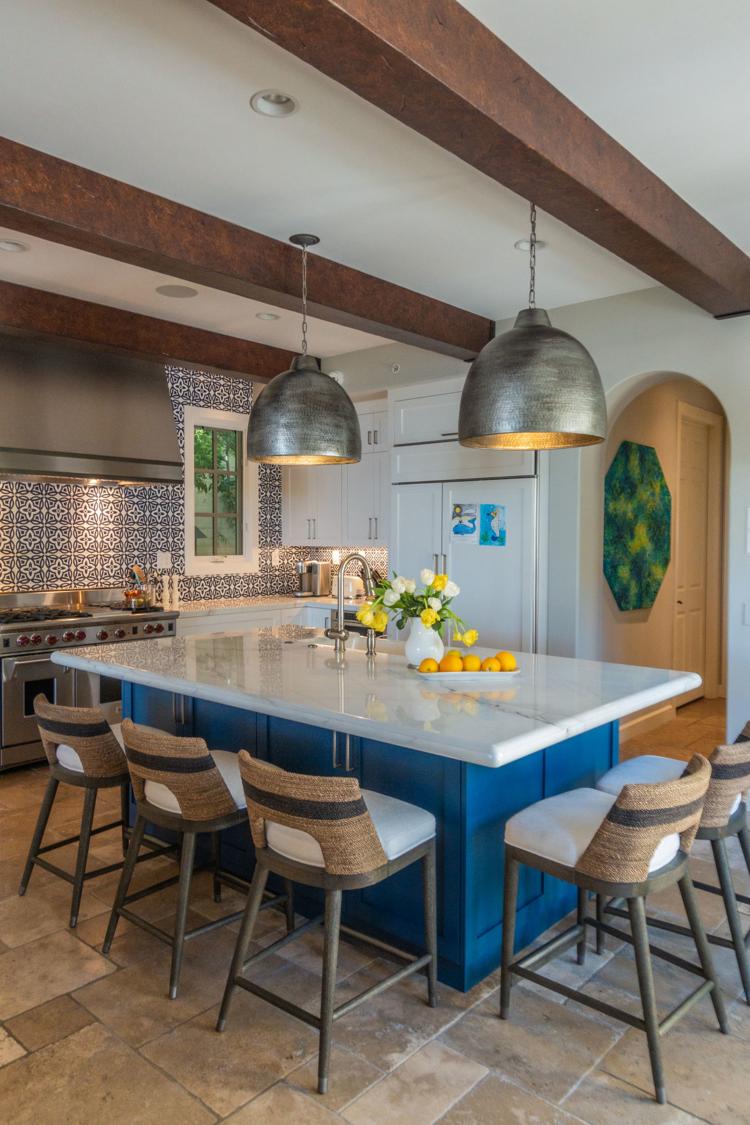 Mantovani Fogerty describes the kitchen as "the heart of this home." A deep blue custom kitchen island with a marble top draws immediate attention. The space is bright, with clean, white cabinets and Carrera marble countertops, as well as sleek Sub-Zero and Wolf stainless steel appliances. And you can't ignore the tiled backsplash.
"The custom, brilliant, blue-and-white tile creates a focal point and brings life to the appliance walls," Mantovani Fogerty says. "The oversized pendants illuminating the kitchen island are unexpected and supply wonderful task lighting."
For casual meals, Mantovani Fogerty and Clark incorporated a large dining table that bridges the kitchen and family areas.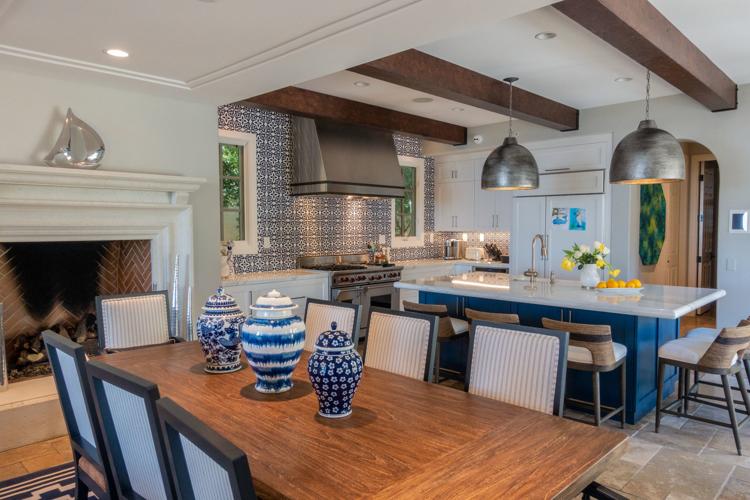 After a year of designing, sourcing and managing construction from St. Louis, install day in Newport Beach finally came.
"Install day is a magical day in our world," Clark says. "You finally get to see all your design decisions come to fruition. It was particularly special with this project since we didn't have the opportunity to do regular site visits."
Once on-site, Clark and Mantovani Fogerty had only about two days to finish the project.
"After cleaning up the last signs of construction, overseeing the last window treatment installation and coordinating a delivery, we explored the local design community for bedding and accessories," Mantovani Fogerty said. "We found some fantastic resources that had perfect one-of-a-kind pieces to bring more of the West Coast influence into this coastal estate."
Savvy Design Group, 9810 Clayton Road, St. Louis, 314-432-7289, savvyladue.com