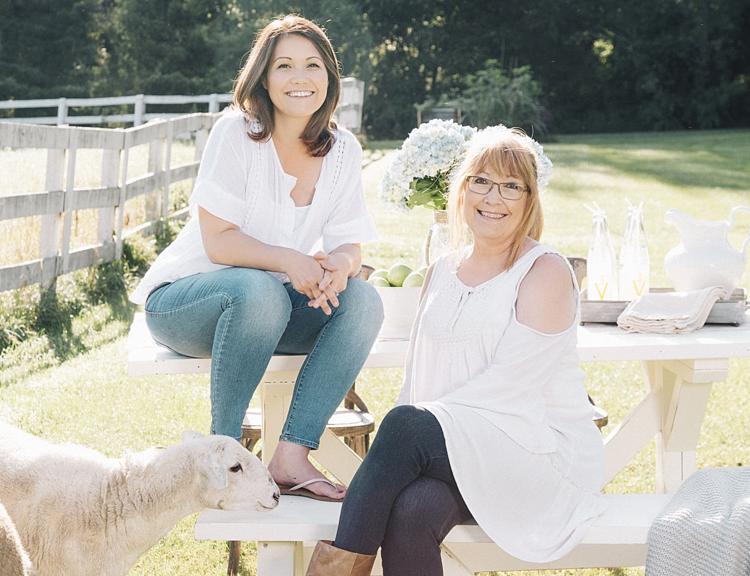 For more than 40 years, Angie Mathey has been a collector. With a keen eye for antiques that can be freshened up with a little paint and TLC, she "Angifies" spaces, arranging and displaying favorite pieces to create bright, creative interiors. Almost 12 years ago, she teamed up with daughter Lindsay to bring her love of reworked antiques to the public by opening The White Rabbit. Ladue News recently talked with Mathey to learn more about her design style.
How did your interest in antiques grow into a business?
My mom and I used to strip and stain antiques and then sell them in garage sales in the '70s. I loved it so much that I ended up getting a booth at an antique mall, which turned into a double booth. It was mostly just for fun, but it made me want to open a real store.
I opened a small basement store, the original White Rabbit, in 2001 and started painting furniture instead of stripping and staining it. I soon moved the business to Brentwood, and Lindsay joined me in 2005 after she graduated from UMSL. She took an interest in the business side of The White Rabbit, and together we have grown the store and ourselves more than we ever imagined in the beginning.
What inspired the name of your business?
When I was little, the Easter Bunny brought me an adorable white rabbit that I named Lucky. As I was trying to think of a name for the store, he popped into my head, and I thought The White Rabbit would be a cute name, especially since I was painting everything white.
What is your process of finding and transforming antiques? How do you know what has potential and what to do with it?
I've been buying antique and vintage furniture for more than 40 years, so I've learned what to look for and what our customers want. It changes over time, so we pay close attention to what our customers are asking for and adjust our buying accordingly.
One of our biggest rules for buying is that we have to sniff inside of drawers before we buy furniture. People think we're crazy, but there's nothing worse than a musty or smoky piece in your home!
As far as the style, anything with a lot of detail looks amazing with a couple coats of paint. We still paint everything by hand with a brush. Now that we're busier, we also have an awesome picker who finds pieces for us. She has a great eye and always seems to know what we want.
You and Lindsay recently introduced your own furniture line of pieces made of reclaimed wood. How did that come about, and what does this new addition to The White Rabbit include?
We added The White Rabbit Home Collection to our store to give our customers a locally made furniture option that they could order in different colors. We noticed that new furniture was being made with particleboard, and we wanted to give St. Louis families an option to buy pieces made with real wood that didn't cost a fortune.
The collection is a cozy, farmhouse-inspired style that our customers have been loving lately. It includes pieces like a farm table that can be ordered in any length up to 10 feet, a media console and a kitchen island with storage and space for seating. We have samples in the store so customers can see them before ordering in their color choice.
What are some of the décor trends you saw for 2017 when you made your recent buying trip, and how can people incorporate them easily into their homes?
We went to AmericasMart Atlanta in July to order our new accessories for spring of 2017. We saw more gold than ever before and the addition of brass accessories and lighting. We also noticed that warmer colors were replacing the gray and cool tones we've been seeing for so many years. White was still everywhere, but it was paired with a lot more color than ever before. We plan to keep using our favorite white paint but pair it with brass accessories and warmer colors to keep it feeling modern. We often tell people to pay more attention to what you love than what's trending, though. If it makes you happy, it should be in your home!
What is the most important thing you want our readers to know about The White Rabbit?
Our family and our amazing team are really dedicated to finding the best one-of-a-kind furniture and handmade items from local artists so that our store is a place that makes St. Louis proud. We are very grateful to be in a city that's so supportive of small businesses, and our customers' enthusiasm makes all of the hard work worth it. Every day someone tells us that our store is their "happy place," and we wouldn't trade that for any corporate salary!
The White Rabbit, 9030 Manchester Road St. Louis, 314-963-9784, thewhiterabbitstl.com