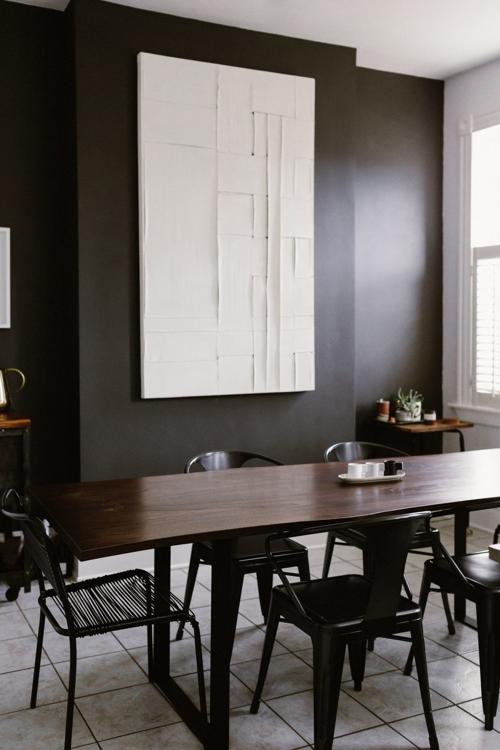 As a graphic designer, Audra Hubbell knows well how the interaction of shapes, space and color affects perception.
The Washington University in St. Louis senior lecturer, wife and mom of two kids (and two cats) says she doesn't have formal training in interior design but has leaned on her graphic design background when renovating her own home.
"In my graphic design, I find myself drawn to space," she explains. "I love signage, and I love kinds of environmental graphics or exhibition design, like in a museum."
Hubbell and her husband moved into their house in St. Louis' Benton Park neighborhood about five years ago after living in a similar loft space in Chicago. She says she's accustomed to tall ceilings and open areas that welcome natural light, and she likes to fill the space with oversize artwork.
The large, white canvas in the dining room provides clean lines to complement her minimalist style and color palette. She created it herself by stretching canvas over a wooden frame and ripping it for a textured look. "I always find myself working with lots of textures, layers and monochromatic palettes, and it gave me a lot of space to play with shape," Hubbell says.
Much of the house is white and bright, so the black accent wall serves as a modern juxtaposition. "I wanted the black wall because I just needed some drama," Hubbell says.
The live-edge dining table and asymmetric seating give the space some personality. The matching chairs came from big-box furniture stores, but the two end chairs were unique finds. Hubbell says the one-of-a-kind table came together by choosing the unfinished top and legs separately.
Renovating the home has become a means of self-expression for Hubbell. She says it's important for her to find a balance between items with sentimental or creative value and those simply chosen for their look.
Hubbell advises people who are designing their own homes to have patience while they figure out what they want inside. After all, when it comes to your home, you make the rules. 
Be the first to know
Get local news delivered to your inbox!