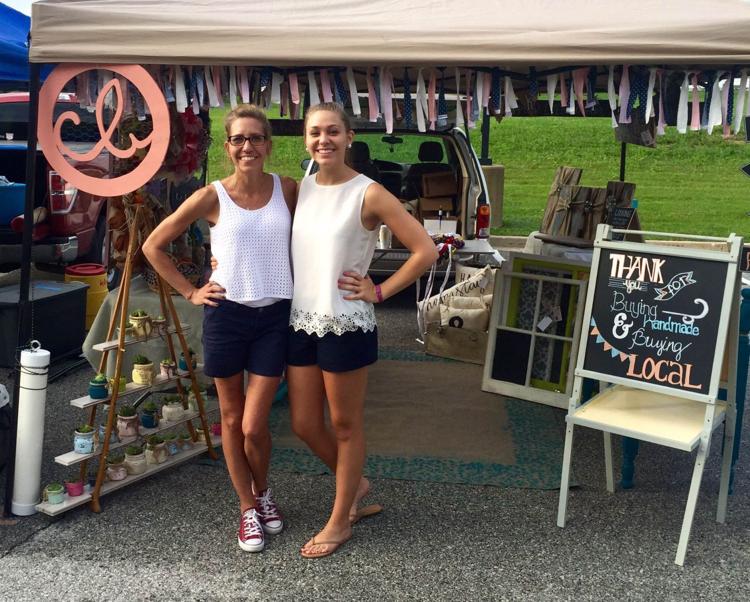 Mother-and-daughter creative team Jennifer and Evyn Brown launched Chic Beak Boutique in January of this year, selling refinished, upcycled furniture as well as hand-painted and handcrafted pillows, canvases and wreaths, both ready-made and custom orders, at area farmers markets and community craft shows. For those of us who love DIY, "maker"-type pieces in our homes, but lack the vision, patience or skill to pull it off well – Chic Beak could be a valuable resource. We spoke with Evyn Brown to learn more about Chic Beak's products and plans for the future.
What do you sell?
We only sell goods handmade by us. We specialize in refurbishing goods, like the headboard benches my mom makes, and household décor items like our hand-painted pillow that I create. Our items are both on-trend and customizable, allowing us to create products that are unique to the one buying them. We do our best to try and make our pieces individually so that when purchased, you have a one-of-a-kind item to display in your home.
What is your background – any formal training?
No training – growing up, my parents were always making stuff, so I got my creativity from them. My mom's always been really creative, always crafting, always doing something. I had some really great birthday parties.
Where do you find your pieces for refurbishing?
Thrift stores, we do a lot of Goodwill shopping, antique shops, flea markets, garage sales – most of the things we have are not brand-new, and they're always reimagined. We find something that strikes our eye – sometimes I bring it home, and I'm not sure what to do with it yet, but I'll stare at it until it comes to me.
You also mentioned home demonstrations?
We have plans to offer home demonstrations for anyone who wants to learn how to create something on their own. We'll have different options of things to create seasonally, so that it is something to fit every budget and ability, and stay on-trend with the season. These demonstrations would be all-inclusive, so we would come to them with the materials and show the group how to create something that is unique to them. It's something that we are really excited about launching!
Any future plans? A brick-and-mortar location, perhaps?
Eventually, that's our goal. Right now we're trying to concentrate on Etsy and more local shows to see what our retail customers are really interested in, what catches their eye, and concentrate on those items. Hopefully, with brick-and-mortar, we'll be able to offer classes in the store. Eventually, we'd like to do children's parties, too.
facebook.com/chicbeakstl | instagram.com/chicbeakstl