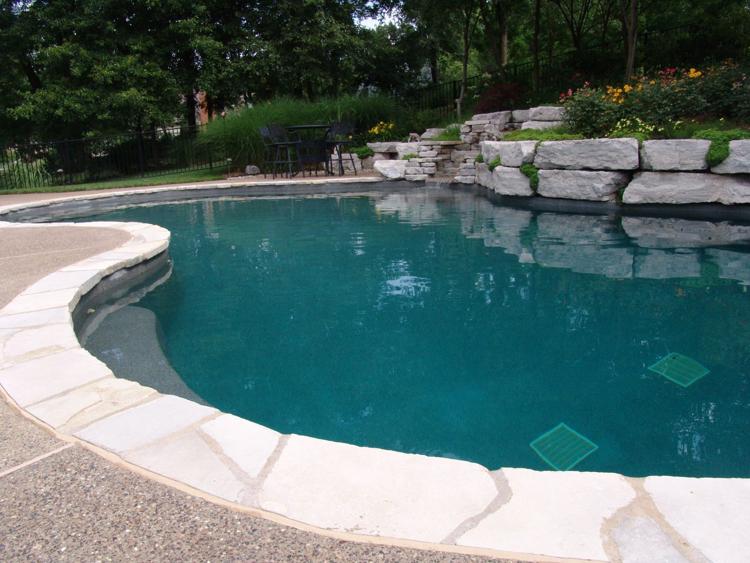 While we shiver through winter, it's not too soon to be dreaming of summertime. In fact, if a pool is on your radar, this is a prime time for planning a new project. Ladue News spoke with Wayne George, vice president of Westport Pools , about winter pool maintenance, as well as planning and possibilities for a summer of cool, splashy fun.
When is the best time to start planning for new-pool installation?
As soon as you can. It's a process to meet with clients and come up with designs and concepts. There are generally several revisions, and typically there is site-work that has to be looked at. We can't come out on Monday and start digging a hole on Tuesday. There are a lot of considerations, so the sooner you can get the planning done, you'll be ready to go when the weather clears. Once the ground starts to thaw, guys are out there digging holes in backyards.
It is very, very busy in our industry as soon as the ice starts melting. Folks who have planned ahead are usually swimming by summer.
So what does that planning process look like as far as how you work with someone to design their pool?
We need to know from the client what they want. A traditional kidney-shaped pool? A custom pool? What kinds of features are they looking for? What will the yard accept? There are some limitations with site conditions. Do we need to put up retaining walls? Do we need to reroute drainage? What are the limitations on setbacks?
In the last couple of years, what types of features and materials have you seen trending in popularity?
The more natural-looking pools with a waterfall and heavy landscaping are popular. Darker finishes on the pool and stone around the edge of the pool as opposed to a traditional rectangular pool with brick and tile and white finish on the bottom. Those still look great. You'll get a beautiful blue color and a shiny, pretty pool, but most clients are looking for something a little bit more custom that has a water feature integrated into the pool. Fire is a big attraction these days. Fire bowls with waterfalls in them are very cool. Colored lights are very popular.
There are lots of innovations. There's some technology coming to the pool industry now that's very interesting. Lots of automation is available for the pool heater, the chemical controllers, the lights. All these things can be controlled with a switch by the pool all the way up to an app on your cellphone. You can turn the spa heater up on the way home from work to make sure it's nice and hot when you get home. You can sync two or three lights in the pool to change color in sequence. You can turn the pump on and off at certain times of day so it's not running all the time. It's all programmable.
What are the most important things people who already have pools should remember for winter pool maintenance?
Maintenance is very important over the winter. We offer a winter maintenance program that includes checking the pool cover and making sure there's not too much water and leaves accumulated on it and it's still secure; we take a look under the cover and check the water chemistry to make sure it's still where it was when we closed the pool; we make sure all the winterizing plugs are still in place. Just because it's shut down doesn't mean it doesn't need to be checked on.
Winter is also the best time to do renovation work on pools, especially if we can get started in the fall. Tile, coping [the finished edging], decks, plumbing, etc. If you want to add a feature like a waterfall, that can be done once the pool closes. Weather dictates how much we can do over the winter, but the worst thing you can do is decide you want to start renovation work in early April. Pool opening season is very, very busy, and scheduling renovation work in the spring is usually pretty difficult.
What's the most important piece of information or advice you'd like to leave our readers with?
Start early and deal with a pool company that you have confidence in. There are a number of companies in St. Louis that have been around for 30 or 40 years, and there are some that are here today and gone tomorrow. Staying with someone reputable is the best thing you can do.
156 Weldon Parkway | 314-432-1801 | westportpools.com