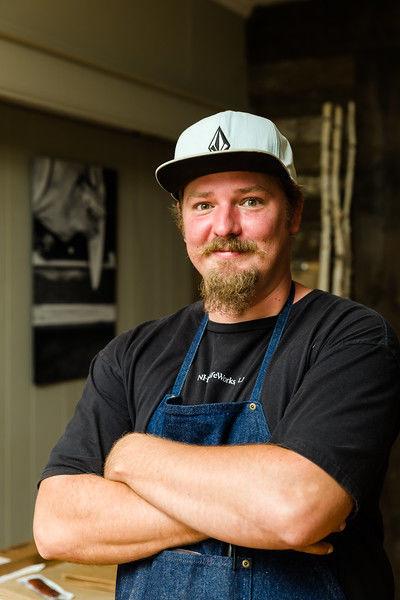 NHB KnifeWorks offers customers a wide range of distinctive and intricately designed knives to adorn their kitchens – and they're not just for show. These handcrafted knives are both functional and fierce. Recently, NHB KnifeWorks announced its move "underground," a decision to vacate the Maplewood brick-and-mortar location and become a fully online store. Ladue News chatted with Nate Bonner, knife-maker and co-founder of NHB KnifeWorks, to find out what the future holds for the company, what types of products will be sold online and the knives that should be in every kitchen.
We heard NHB KnifeWorks is moving out of its brick-and-mortar store and going "underground." What exactly does this mean?
It's kind of a joke. A little bit of a pun because we are literally going to a [work]space underground. I'm leaving the rest of my craft up to the imagination. I want to focus on creating and not focus on the business and selling end. I want to grow as an artist and be in a space where I can't be bothered. I'm going to take the next year and practice on higher knife-making, with Damascus-style steel and pattern-welded steels, and travel around the country to meet "been there, done that" knife-makers.
What inspired this change, aside from wanting to grow as an artist?
I had a horrific knife injury in my right hand, and I'm right-handed. It needed surgery and took six months out of my knife-making, and that really sucked. It was hard to bounce back. It's a part of my story now for sure – it set me back some – but you always get better from these experiences, and I'm ready to reset the good parts.
In terms of online inventory and offerings, what shifts should customers expect to see?
It's going to be really knife-heavy and less home stuff, which I'm going to miss because our home stuff is so cool. I'm still going to have the cutting boards and the tools and the knives – the cutting boards are a hit, No. 1! And I might branch out to more metal-and-wood tools in the future.
How do you see being "underground" enhancing your business?
Mainly, I'm downgrading so much. It's just going to be me. And for me, it's a real, true test on what I have learned in the last seven years and how far I've come. This isn't about how many knives I can make in a day, because this isn't a career for me – it's a lifestyle. Anybody in the knife-making business isn't in this for money. I'll take that hit if it means satisfying my soul.
What new products should we expect to see from NHB KnifeWorks in the future?
I'm completely redesigning all of my knife shapes. I'm also working on building a relationship between hand-grinding and the shape of the knife. Everything is going to change. I'm radically changing the way I'm building the handles, and I want to make them more structurally sound. My goal of all of this is to take the craft for what it is: It's a craft. I have a good shot at being a true professional knife-maker, and this is my make-it-or-break-it.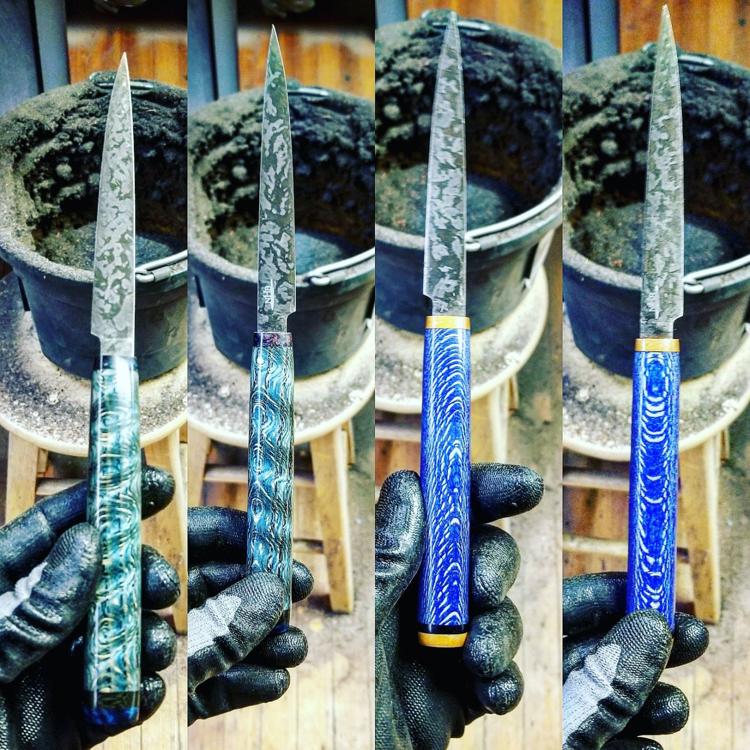 Almost every single knife on your website is sold out, so obviously they are all very popular. What is your best-seller?
The knife that I never wanted to make was the chef knife, all-purpose, 8-inch, and now it's become the No. 1-selling knife and my favorite knife! I didn't want to make it at first, I didn't know if I was ready for it, and I didn't think it was going to be very fun. But now I am having fun with those knives!
You're a former chef and now a knife-maker; it's safe to say you know your way around the kitchen. What three knives should be in every home – regardless of if the owner's an advanced or amateur cook?
I'd say the No. 1 knife is a traditional chef knife. It's a power slicer, it's not big, it's easy to maneuver, and it's the difference between a four-wheel truck and a Mazda Miata. I also recommend a super-paper-thin, totally flexible paring knife, like ridiculously flexible. We live in the Midwest – we aren't eating mahi-mahi every day. It's good for the fish that we have here, but they get more use in the home than you think. My grandma used to peel potatoes with a paring knife. OK, honestly, I almost don't even think you need three knives. But I always have a total beater 6-inch chef knife. You can use this beater knife on a big chunk of Parmesan that would break any other knife you have, or you can use it to cut winter vegetables like rutabaga or squash.
That's the other thing I get to do next year– I can make a beater knife. I can make a knife out there that can last for the ages, a knife that you are fearless to use on anything – and I can make it a cheaper price point. That's the point in this whole change in business: I'm going to restructure how I make the knives and how much I sell them for. 
NHB KnifeWorks, nhbknifeworks.com