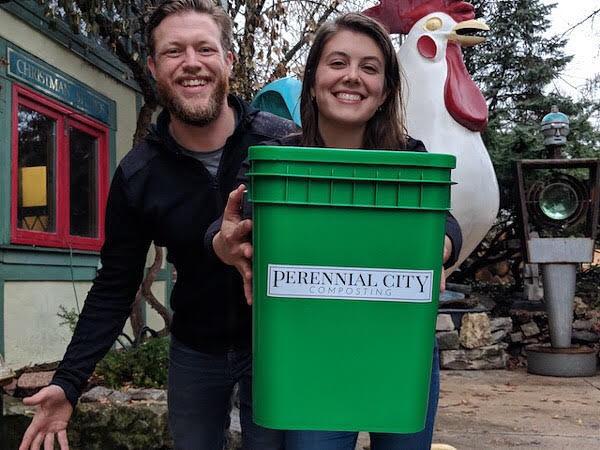 The ancient practice of composting is regaining more than a little popularity in the metro area partly through the efforts of Perennial City Composting.
The basic premise of composting is simple enough – certain goods and products are made from organic matter and can be broken down for use in soil – but it can be difficult or time-consuming for some. Perennial City Composting founders Beth Grollmes-Kiefer and her husband, Tim Kiefer, set out to change this when they launched the company in January 2017.
"It's really on people's consciences now," says Grollmes-Kiefer. "They're wanting to make small changes in their life, and we offer a really simple solution for that."
The company operates like any other recurring delivery business. The team drops off 4-gallon buckets at customers' doors, and individuals fill their buckets with compostable materials. Then, either weekly or biweekly (depending on subscription), the Perennial City Composting crew picks up a household's bucket — Ladue's pickups are on Wednesdays — and whisks it away to its compost site in St. Louis' West End and Visitation Park neighborhoods.
Many subscribers are initially shocked at what can actually be composted. Everything from vegetable scraps and cardboard to biodegradable coffee cups and paper plates can go in the bucket.
"If it grows, it goes," says Grollmes-Kiefer. "A lot of people are surprised because we can compost meat, dairy, poultry, everything like that."
When the compost arrives at its designated site, the real work begins.
"Once it gets back to the farm, we need a mix of green materials, or food, and brown materials like wood chips, leaves and cardboard," says Grollmes-Kiefer, who adds that the chickens the couple raises pick through the compost and eat the bugs and microbes that sprout from the pile each day, which further facilitates the composting process and produces happy, healthy chickens.
The results are pretty stunning. Composting can turn vacant lots in the area into workable land, which the couple will use to grow produce and flowers by summer 2019. Customers will even have the option to receive items like these in their weekly drop-offs and their own compost after six months. It's part of the couple's long-term goal of creating a closed-loop food system, where the community's scraps are turned into ingredients for nutritious meals – and back again to the compost pile.
"We're preventing those things from being shipped into someone else's backyard, but we also use it as a medium to grow food, and this provides a creative reuse of those vacant lots for urban farming," says Grollmes-Kiefer. "Composting is the foundation for that because the land needs some love, and that love is composting."
Households can subscribe to four different membership tiers, with prices lowering as monthly commitments increase. As for ways to contribute, spreading the word always helps.
"Word of mouth is my favorite way of being referred, because I know that people are excited about it and talking about," says Grollmes-Kiefer. "People are doing it, keeping with it, and they're telling their friends." 
Perennial City Composting, compost.perennial.city