Since 2015, the C&M Interiors team – comprising two ladies whose first names contribute the initials that form the first half of the company's name – has been creating clean-lined contemporary spaces for clients throughout the metro area. Most recently, though, they've launched a stunning shop of fine furnishings, styled online as the duo's "Shoppe."
"The items we gravitate toward are not cookie-cutter, and you can't find any one of these pieces online or in a showroom," says C&M Interiors' Maria Hogrefe of the Shoppe. "We are carefully crafting the design of each reimagined piece so anyone can have true designer products in their home."
The products in question will be available to view at the duo's University City studio on request.
"We encourage anyone interested in purchasing our products to come view them first to see the attention to detail that we have carefully added to each piece," says Channing Krichevsky, Hogrefe's partner. "By appointment only, we also work with clients on small-scale projects to reimagine existing heirlooms. They may need assistance in selecting a fine fabric, trim, or refinishing the wood, for example. We make it a one-stop shop for those looking to add new life to something they already own and cherish."
Ladue News recently caught up with Krichevsky and Hogrefe about their Shoppe.
What inspired you to launch the C&M Interiors Shoppe?
CK: We had a desire to develop a curated resource where clients and viewers alike could purchase one-of-a-kind products with a C&M design aesthetic. Maria and I love to hunt for unique finds on a local and national level, but often, the treasures we find need a little love. With this Shoppe, we have the opportunity to share the objects we love most with our community!
Tell us about the products that can be found in the Shoppe.
C&M: Found objects and vintage furniture pieces with refinished materials and new upholstery can be found in the Shoppe. We love the concept of revitalizing unique chairs, tables and much more by giving them an updated appearance to extend their lifespan and help them find a new home. We are big proponents of utilizing found pieces while mixing with new furnishings in many of our clients' homes, as well as our own.
How would you describe the overall aesthetic of the Shoppe collection?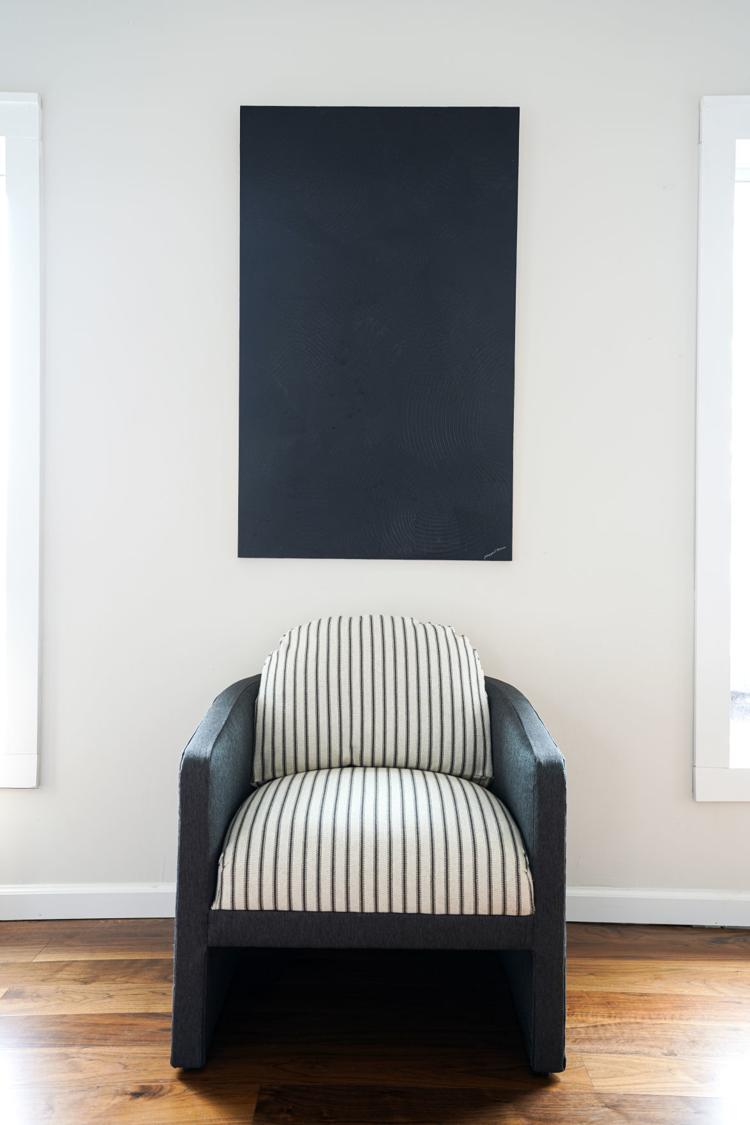 MH: We would describe the Shoppe's aesthetic as classic contemporary. Channing and I are making an attempt to highlight our personal aesthetic through the offerings that are available in the Shoppe. Sometimes it's as simple as creating a custom pillow with a custom upholsterer just because we love the fabrics. We want to share our aesthetic and brand with the community.
How often are you hoping new products will be added?
C&M: We plan to continue adding product throughout the year and hopefully longer. We noticed a demand in the desire for custom pieces in the furniture and décor market, as well as a curated place to shop for aesthetically pleasing items. Viewers can expect to see a variety of custom pillows, decorative accessories, artwork by local artists and reimagined furnishings as we develop them. It takes our local craft partners time to help us bring certain pieces back to life, but that's the fun in the process.
C&M Interiors, 937 Midland Blvd., St. Louis, 314-328-1923, candmstudio.com