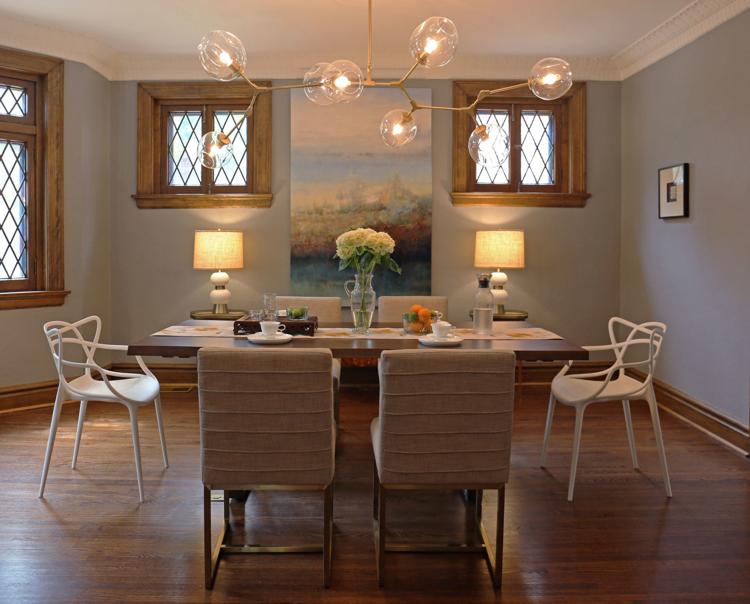 This dining room is a divine combination of old-home charm and modern features with warm and cool tones – an inviting space that is both glamorous and organic.
The home in Claverach Park in Clayton is owned by two architects who spend part of their year in Beijing and part of their year here, where their son is a student. Gigi Lombrano, ASID, of Gigi Lombrano Interiors was tasked with designing a space that was "East meets West" – an amalgamation of his clean, minimalist architecture style and her love of details and pretty aspects.
"It was about creating this usable, elegant space," Lombrano says. "Comfort was key and not just getting something that looked pretty, but was also functional."
Lombrano explains that it is very important in her clients' culture to have a space where the dining room is for more than just food – it's a place where friends can come over, family games can be played, tea can be served, conversations can be had.
In order to create this ideal, harmonious space, Lombrano had to work with what was already there.
"The house that they purchased had stained glass windows, which were just absolutely gorgeous, and you don't want to detract from that, but it changes the lighting in the space," Lombrano explains. "We wanted to incorporate something with the wood floors and the stained glass windows."
The live-edge table gives the room an organic and sculptural feeling, while Lombrano explains that finding a base that wasn't clunky was crucial to keeping the space simple.
"We had to really keep it soft and not let the wood overtake the space," Lombrano explains. She used a warm gray for walls and chairs to enhance a quiet look. The pièce de résistance, however, is the chandelier, a masterpiece that is interesting and dynamic.
"The chandelier is so sculptural, light and open," Lombrano says. "Changing the light fixture really helped bring the house into a current vibe without detracting from the character of the house.
"I really love the juxtaposition of the beautiful old windows and the modern elements. I think the room doesn't read as a modern, contemporary space. There is a lot of warmth and richness to the space, and it feels appropriate."
Gigi Lombrano Interiors, 101 La Gorce Drive, Chesterfield, 314-707-7291