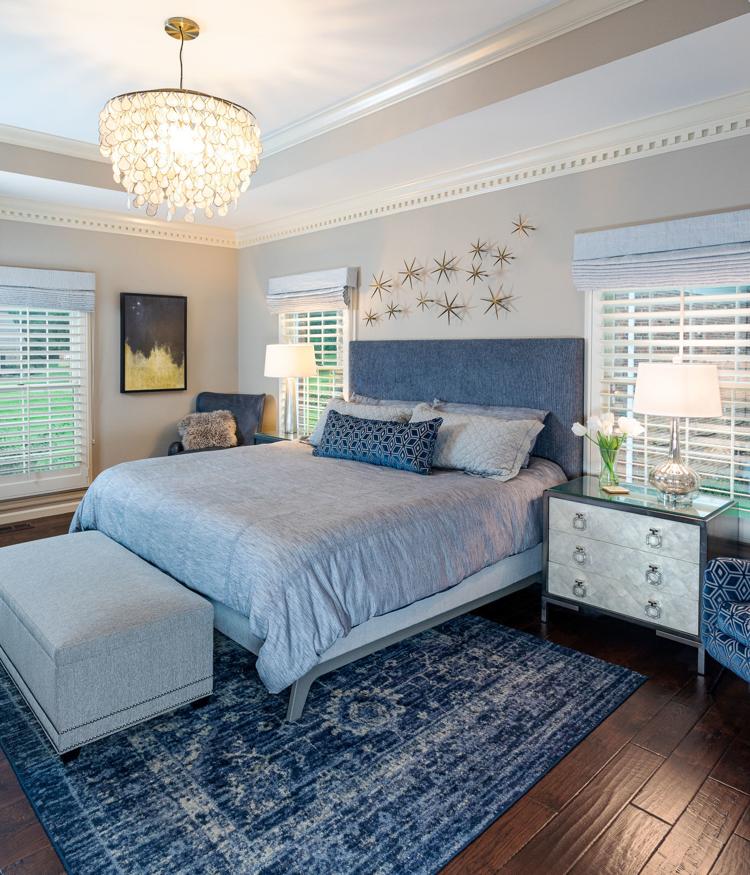 Rest and relaxation are the most important aspects of self-care. Therefore, the bedroom should be a sanctuary – a place where you feel blissfully content. Dottie Eaton of Design Style understands the need for a restorative recharge, and why not be chic while doing so?
Eaton's client wanted a calming space that was still fun. Because blues and grays were already in the color palette of the room, Eaton decided to "add a little glitz and a little bling in there" with elements like a shell chandelier, glamorous bedside tables and a three-dimensional starry-night sculpture over the bed. Each of these dazzling accessories possesses references to nature and our connection with the organic and celestial worlds.
Eaton created this space by using the existing bed and dresser, and adding small changes that pack a large punch. "She had plantation shutters, but those creep light in," Eaton says. "And since it's a bedroom, we did Roman shades in order to help black it out."
Other special embellishments were the custom nightstands and his-and-hers chairs. "She is sharing the space with her husband, so we had to make them both happy!" Eaton says with a laugh.
Overall, Eaton created a meditative and soothing space that summons sweet dreams (and décor envy from guests!).
Design Style, 314-324-2203, designstyle-ds.com