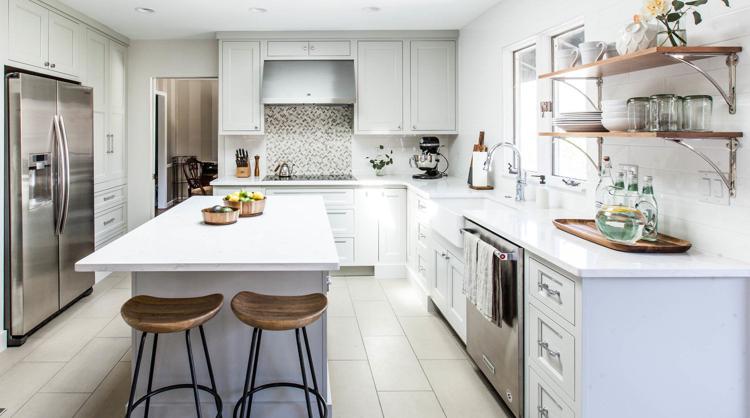 When C&M Interiors first came on this project, the Chesterfield clients weren't sure exactly what they wanted.
Channing Glover and Maria Lesko, co-owners of the design firm, helped the young family with a few renditions of a design plan, in which they decided to gut their kitchen, master bath and kids' bathroom.
With two kids and a third on the way, the clients wanted a kitchen that was bright and airy. They had purchased the house a few years ago and wanted to update the space and make it more functional.
"Some of the appliances weren't functional in the way they were placed," Lesko says. "You want to be able to move from the sink to the oven to the fridge, and that triangle [of movement] wasn't there before."
The duo's design included taking out upper cabinets and switching to open shelving, allowing the space to feel larger. They also made the island bigger since the clients wanted a space for two stools under the overhang.
"[The clients] were very open to any of our suggestions," Glover says. "We were able to come up with creative ways to make it feel more open, and I think we were successful."
C&M Interiors, 314-920-3020, candmstudio.com