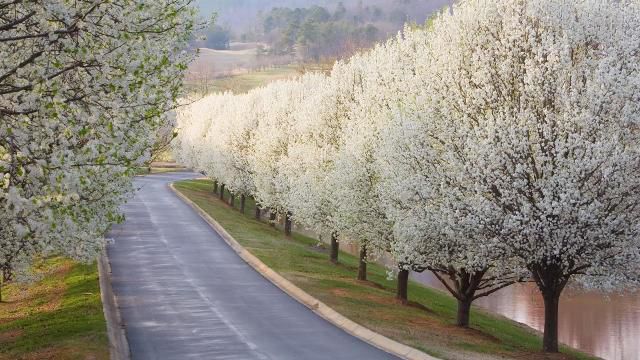 It all started with an invasive species: the Netherlandish fungus that caused Dutch elm disease. That disease wiped out mature street trees here nationwide. Great open stretches of suburban avenues became newly vacant of shade and called out for replanting.
Enter the Callery pear. Introduced in 1909 from China, it had been selected as the "ideal" street tree – the beauty queen of spring color, summer shade, vibrant autumn foliage and perfect winter posture. Rapidly adopted by the nursery trade and the public, the cultivar 'Bradford' became a top seller in the 1960s, with a wide tolerance for growing conditions, whether urban adaptability, pollution tolerance or fire-blight resistance.
The first cracks that led to the Callery pear's downfall were literal, as maturing trees revealed a fragile branching structure and started to split apart in windstorms. I still remember Hurricane Hugo in 1989, when thousands of 30- and 40-year-old Bradfords shattered to pieces because of gale-force winds.
But that was just the beginning.
Thought to be sterile, the Bradford was expected to be well-behaved. When other Callery pear cultivars were released, however, a latent fecundity was revealed as the various strains were compatible, and many viable fruits were produced. Birds then did what they do – ate the fruit and dispensed the seeds randomly, spreading the new wide crosses everywhere.
Unfortunately, those seedlings reverted to wild, undesirable sorts, often with sharp thorns and little else to recommend them. They retained the habitat adaptability of their parents, along with disease resistance, and have now begun to take over the universe.
They remain all too easy to spot during bloom. Just check out interchanges along U.S. Highway 141 south of Interstate Highway 44 in April to see how prolific and competitive they have become. Let's evict them before they spread as badly as bush honeysuckle, shall we?
Need a little extra incentive to cull those seed-spewing, weed-brewing Callery pears? I spoke with Allison Brown, the restoration outreach coordinator at the Missouri Botanical Garden, and got the scoop on the Callery Pear Buy-Back Program 2020.
Specifically, cut down your invasive pear trees in bloom and take a selfie showing you and the now horizontal flowering tree. Then, while supplies last, receive a free native tree to replace it when you bring eligible photo proof to the Forest ReLeaf Communitree Gardens Nursery in Creve Coeur Park (2194 Creve Coeur Mill Road) on April 4from 10 a.m. to 3 p.m. Participants in the buy-back program can receive one of the following trees native to Missouri: Nuttall oak, persimmon, river birch, swamp white oak, sycamore, bald cypress, eastern ninebark and Kentucky coffeetree.
The replacement trees come in 3-gallon containers and stand 4 to 5 feet tall. They'll be available on a first-come, first-served basis – and they'll likely go fast. So to confirm availability on the day of the giveaway, potential participants should call ahead to 314-577-9473 ext. 76312, and leave a message.
Be the first to know
Get local news delivered to your inbox!