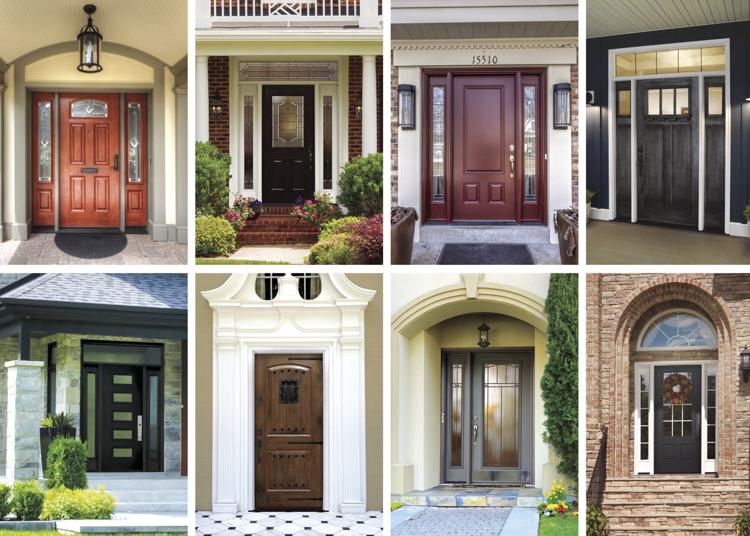 A front door functions as more than just a door. It serves also as a first impression, a last impression, a statement maker and a threshold beyond which lasting family memories are made.
All too many folks, sadly enough, find it easy to take the front door for granted. But a beautiful, well-functioning door that matches your home and your personality makes all the difference when it comes to curb appeal. So take a step outside, and see if the time has come for a redesign. If so, consider these five factors when selecting a new door:
Style. What color and style will coordinate best with your home? The easy answer involves assessing cues from the defined styles of your home's exterior and interior. Consider whether your aesthetic is traditional, craftsman, Victorian, contemporary and so forth, and then select a door in the same style. As for the color, start with your personal favorites, and narrow the choices to those that fit the overall color scheme of the exterior. Choose a subdued color to blend in, or take a walk on the wild side with a bright pop of color.
Security. Security should always be taken into consideration when choosing a new door. For peace of mind, consider well-constructed steel and fiberglass doors that resist tampering. Depending on how much of a concern security remains, you may want to add kickplates or limit glass surrounds. Beyond the door itself, install a high-quality lock system to keep criminals out – and your loved ones safe.
Technology. Consider integrating smart technology into your entryway. A variety of systems can be controlled remotely with a smartphone. Smart locks that supplement or replace your front door deadbolt can lock and unlock your door without a key, as well as when you're away from home. Video monitors can track who enters and leaves your home. Other smart technology includes limited-access digital "keys" that can be emailed to visitors, children, trusted service workers or guests when you're not home.
Energy Efficiency. Older doors, especially wood versions, and their framing wear out over time. If you feel a draft around your door, outside air may be streaming in, and conditioned air may be escaping. Such a comfort and energy-bill issue can easily be corrected with a new door and framing. Also, an old door may have accumulated weather and water damage, so check the threshold for moisture or mold damage, and correct water issues before replacing the threshold.
Accessibility. From baby strollers to walkers to wheelchairs, an easy-to-access front door makes a major lifestyle improvement for you and your guests. Changes that benefit everyone include switching to a wider door with a zero-clearance threshold, a lever-style door handle that can be opened with an elbow and the replacement of steps with ramps. 
Brad Hagan is a home consultant at Mosby Building Arts.