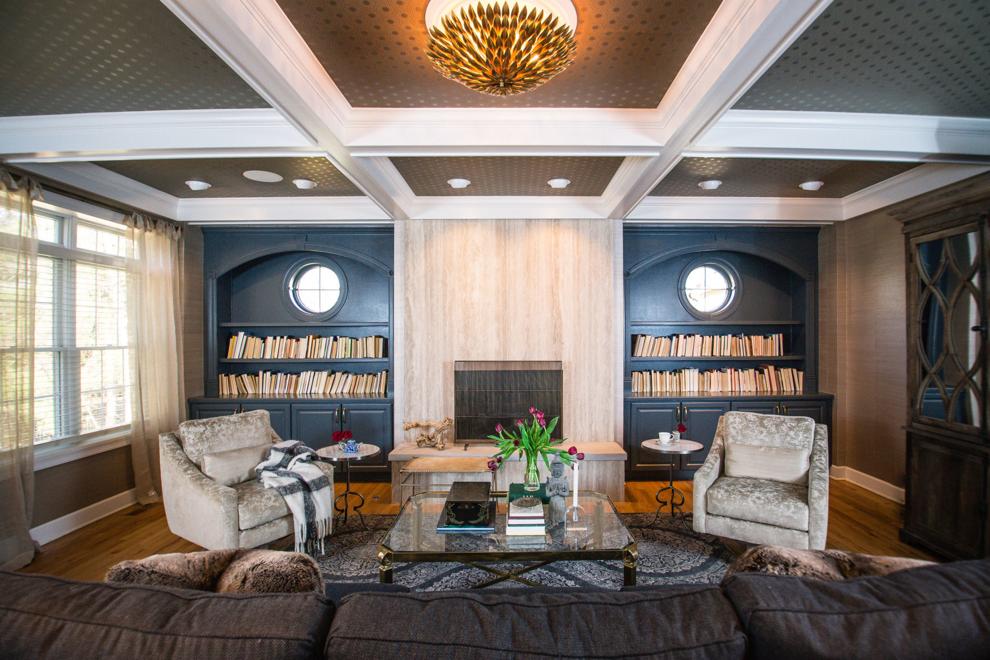 Chelsea Smith of Chelsea Design Co. was initially hired by her clients to redo their master bathroom, but after they heard her presentation and plumbing-related plans, they decided to have her work on other parts of their home, as well. With the kids away at college, the clients were looking to fix up their home with new furnishings and make the spaces more functional. The living room, in particular, wasn't functioning in a way that was working for them.
"They wanted a space to entertain that was also intimate," Smith says. "We wanted to create a cosmopolitan environment. She likes color, and he likes clean lines, so I meshed both of their styles into this space."
They decided on Sherwin-Williams' Grays Harbor for the bookcases and brought in a stunning chandelier by Crystorama to draw eyes to the ceiling. The fireplace they refinished with travertine porcelain, accompanied by a made-to-order limestone top. The room is visible from many different angles in the house, and it was important to Smith and her clients that its beauty be visible in many different ways.
"They were incredibly happy with the outcome," Smith says.
Chelsea Design Co., 636-575-9355, chelseadesignco.com