Less is more in a condo unit of 2,800 square feet. Each piece of furniture takes ownership of valuable space. Décor demands attention when it disrupts a blank canvas of white walls and hardwood floors.
But this minimalist aesthetic is just what one of the unit owners at Maryland Walk Condos of Clayton wanted to see. As parents of twin daughters about to leave the nest for college, they were ready to downsize from a home of 4,000 or so square feet and transition into a smaller, more modern space.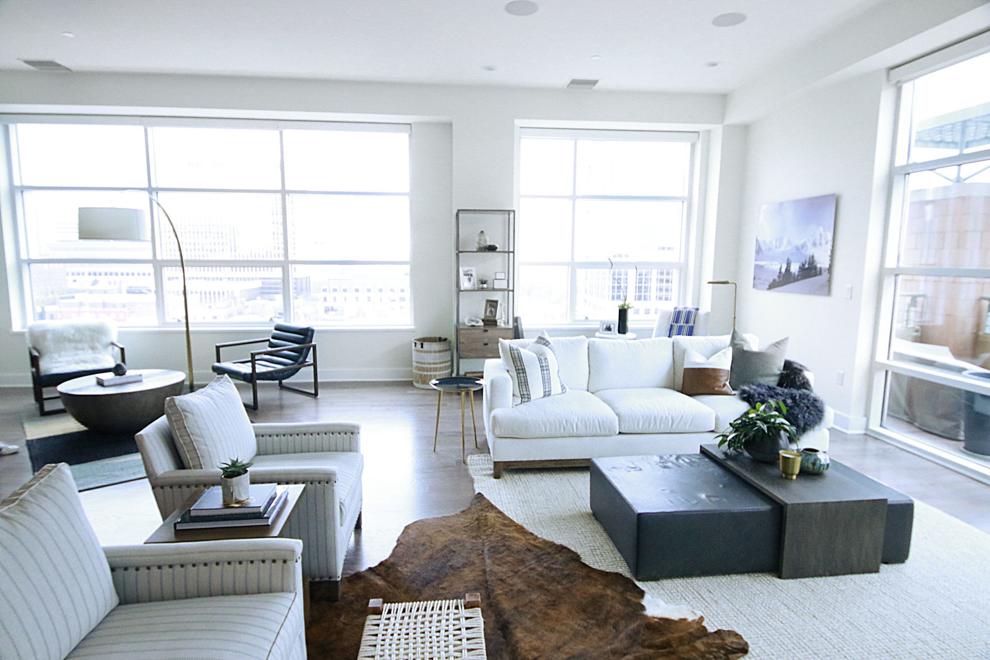 "When you acquire things over time, they don't necessarily fit together," one of the unit owners says. "You buy a chair one year and a couch two or three years later, and all of a sudden, it looks like random items that you tried to put together and form themes in a room, but it never quite works. The idea of getting rid of a lot of the furniture, plus just a lot of the other stuff that we weren't using … It's really liberating to, you know, take those years of your life and just sort of get rid of all of it and say, 'OK, now how do we want to live and start over?'"
After careful consideration, the family chose Cure Design Group based in the metro area, to coordinate their condo unit renovation. The owners compiled interior inspiration photos and other elements they hoped to marry. Cori Dyer, Cure Design Group's senior designer on the project, displayed a clear understanding of their vision, the owners say, and proved she could build on their ideas to create the home they imagined.
While studying the inspiration photos, Dyer says she realized an open floor plan and loftlike space with multiple seating groups intrigued the owners, as did neutral color palettes and midcentury-modern and urban décor. Dyer says she considers a client's lifestyle when planning a project, and she knew this space had to evoke a sophisticated, contemporary vibe fit for entertaining guests, but it also needed to be functional and homey for a family of four – five, counting their dog.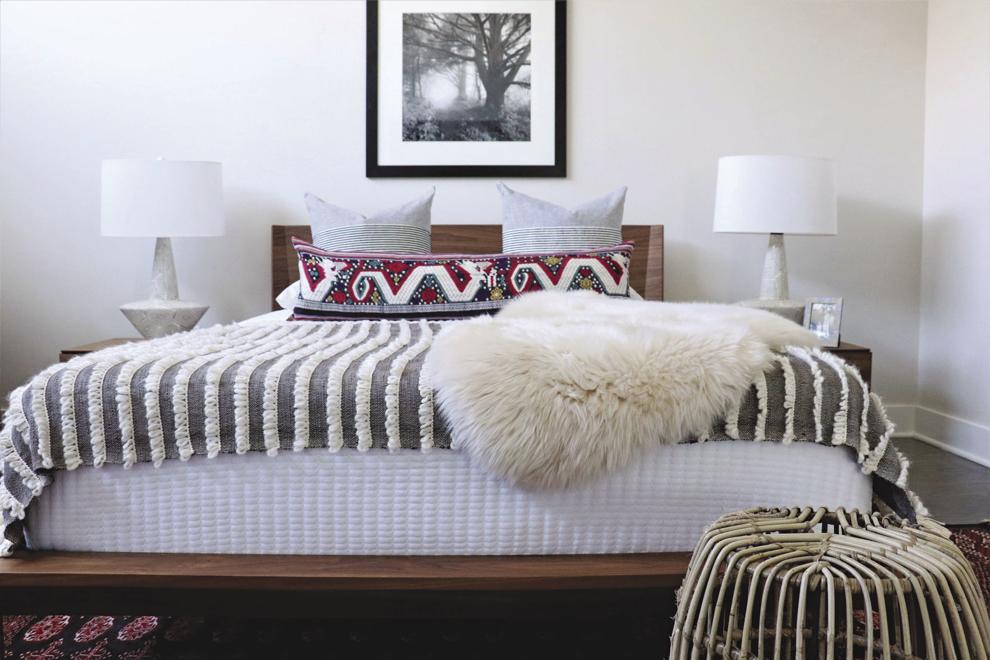 Sara Luigs, Cure Design Group owner and design director, says Dyer's living room design works well to divide the open area into personal spaces.
"You walk in, and you're in the middle of the kitchen, the dining room and the living room all at one time," Luigs says. "She [Dyer] had to be really cognizant of creating those individual, kind of lounge spaces within the overall open space without cluttering it."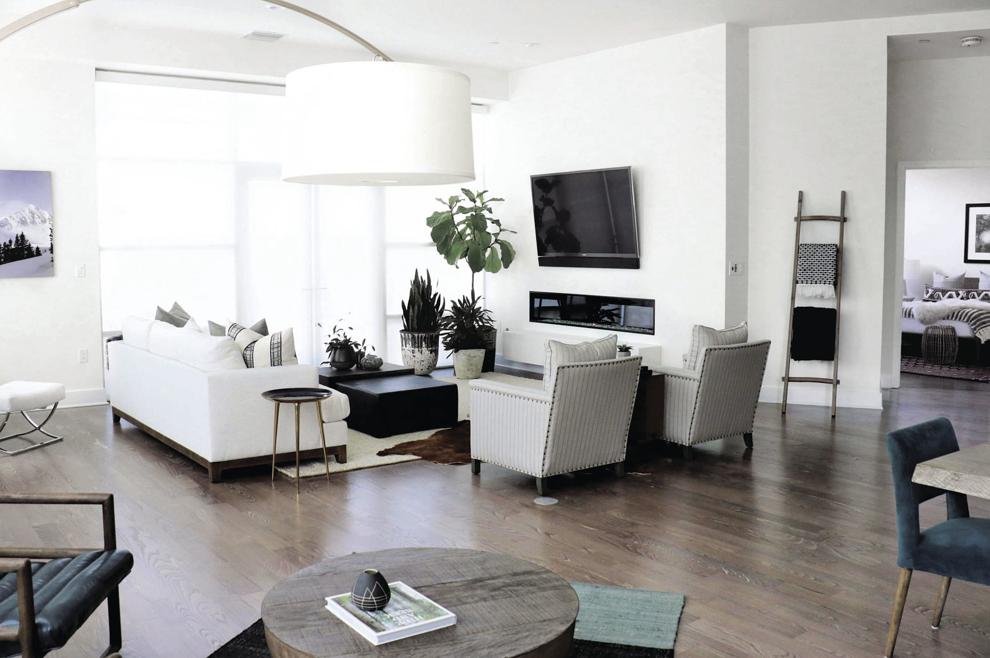 Dyer honored the owners' requests, like adding a fireplace in the living room, but also exercised her own creativity. Most of the unit's design plays along with a neutral color palette, but Dyer incorporated splashes of blue as well, thereby adding more color to the dining area and living room. She also suggested a statement piece for the kitchen: an island with a marble countertopand waterfall edge.
Convinced by Dyer's ingenuity, the family committed to this unexpected piece – even to the point of involving a crane to lift materials into the unit, which sits a few floors above Maryland Avenue. They say the crane wasn't part of the original plan.
"We were committed to the vision and the aesthetic of it, and so we were going to do what it took to get it done," one of the owners says. "We trusted Cori."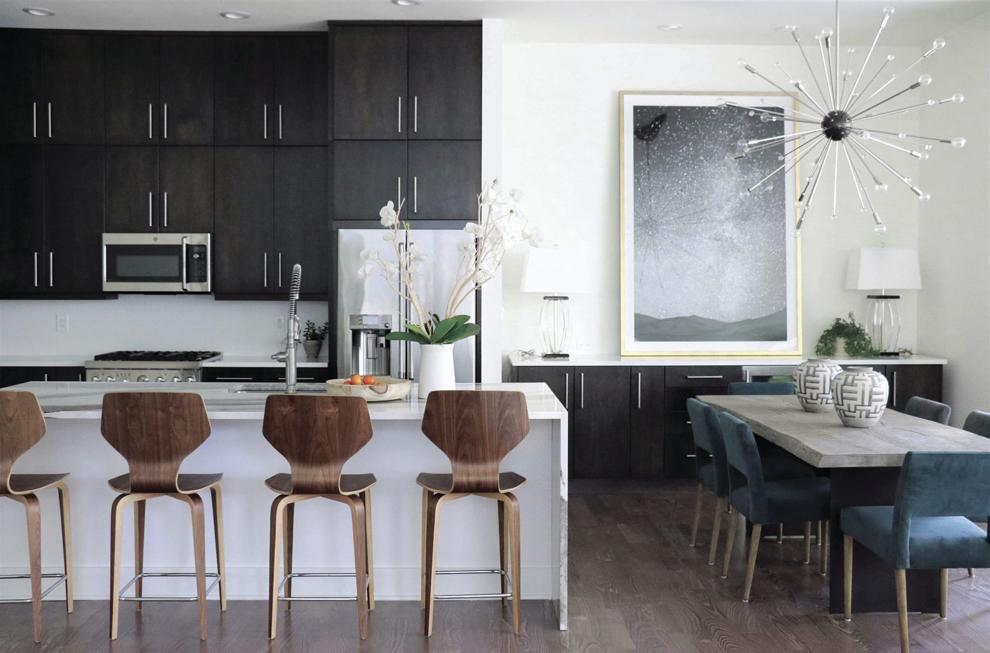 Cure Design Group offers a number of services, including a design-build option for clients undergoing bigger projects like this one. Dyer and her team collaborated with such local companies as Landmark Builders, Milford Supply and Closet Factory to ensure each concept came to fruition. Other local professionals Cure Design Group often partners with include LK2 Kaim Kisner Studio, LU Design Build, Immerse, Wilson Lighting and more.
When it comes to styling, Cure Design Group employs a variety of to-the-trade and local vendors such as KDR Designer Showrooms and Design and Detail to find custom and unique pieces, like the long accent pillow in the master bedroom from Design and Detail. The design team also took advantage of the owners' own décor, obtained from years of traveling. The family shared numerous photos they had taken on hiking and mountain biking outings, as well as other trips, and Dyer fashioned them into a gallery wall in the entryway.
"We also have a place in Breckenridge, Colorado, so we're very much into the mountains and outdoors and all of that, and we wanted to bring a lot of those experiences we've had out there into this home," one of the owners says.
Those personal touches, along with the abundant natural light and open space, make their new home "a happy place," they say. And by the way their dog follows the sun, basking in the puddles of light made possible by Dyer's design, it seems Cure Design Group earned approval from every member of this family.