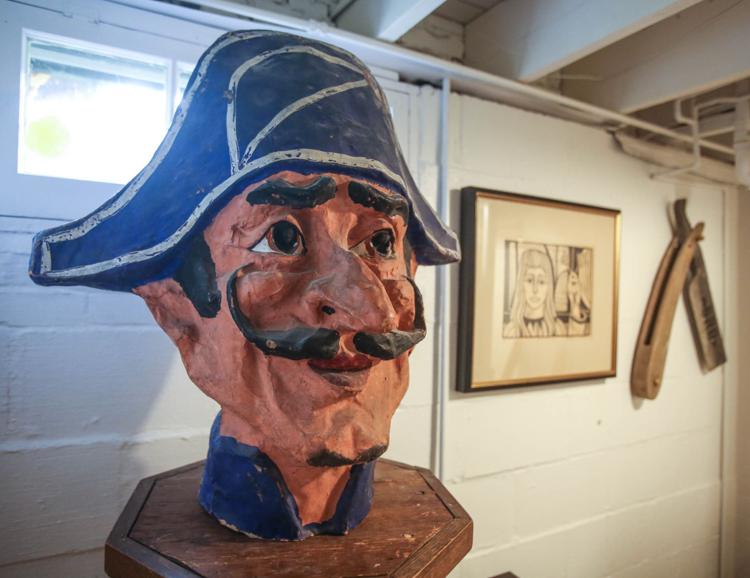 Folk art is the product of untrained eyes and hands freed from convention, revered for celebrating the everyday. It's an honest art form, born simply of the creator's love of creating.
But don't mistake "untrained" for "unskilled." Folk artists have a deep sense of harmony, balance, sincerity and truth – characteristics classically trained artists also strive for. "Self-Taught Genius: Treasures From the American Folk Art Museum," currently on display at the Saint Louis Art Museum, roundly rejects the notion of folk art as mere crafts through more than 100 pieces of uncommon – and sometimes anonymous – talent.
And with its charm and personality, folk art functions beautifully when brought into the home.
"It's refreshing," says Laurie Ahner, owner and director of Clayton's Galerie Bonheur, who's been buying and selling folk art for almost 40 years. "It's real. It's from the heart and soul. It's not contrived. It comes from the artists' need to express themselves."
Although she's studied art history in Rome, in New York and at Washington University in St. Louis, Ahner traces her interest in folk art back to when she first visited Haiti in 1978. She was drawn to the bright colors and inherent joy, calling the pieces she saw "sincere and full of hope."
Jonathan Kodner, president and director of Frontenac's Kodner Gallery, says folk art can encompass media as widespread as painting, sculpture, textiles and found materials. People find broad appeal in the artists' "undeniable, instinctual and innate talent," factors that unite this otherwise disparate form.
"Folk artists are influenced by their community, and they have been for centuries," Kodner says. He cites a classic example from the late 1940s: Grandma Moses' painting Sleet Storm, currently on display (and available for purchase) at the Kodner Gallery. Neighbors trudge through the winterscape bundled up against the cold. The thick, sparkly snow clings to trees, simple homes and a covered bridge. Kodner points out the thoughtful elements – a scarf flittering in the wind, the depth of the hills, the changing sky, the use of glitter to create snow on the trees – that Moses remembered and replicated from her childhood in vivid, skillful detail.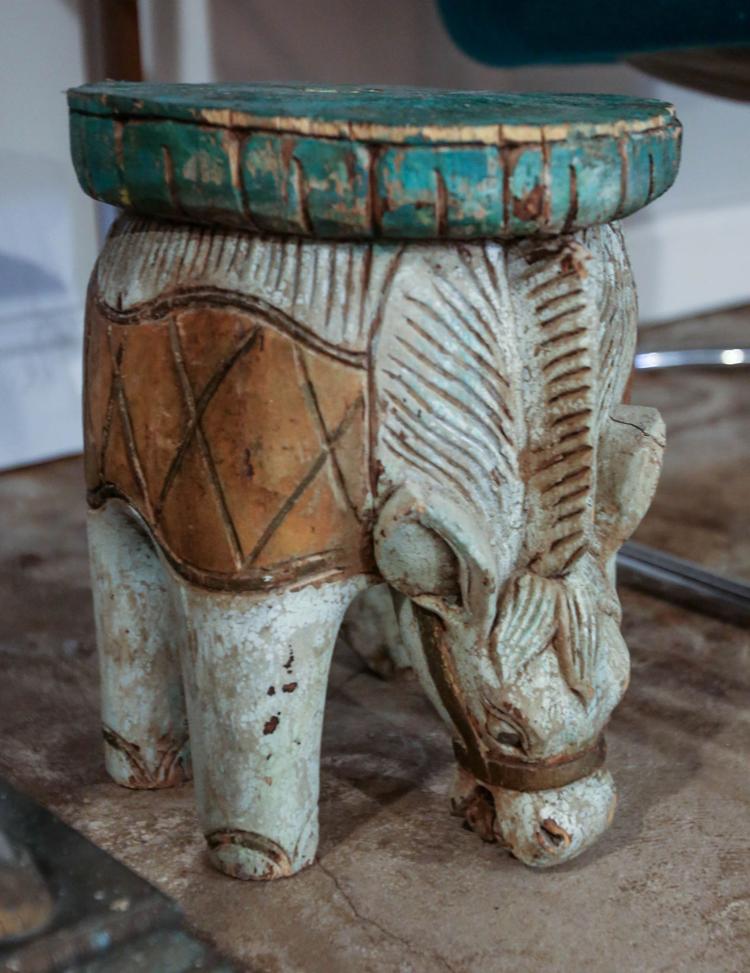 Another piece he admires in the gallery is a wood sculpture of a black military officer that Kodner guesses is from the 1940s. Here, the unknown artist wasn't overly concerned with the correct type of insignia on the man's shirt; instead, he focused his attention on the figure's smirk, and the angular nose and eyes that recall traditional African masks.
Outside of galleries and inside homes, these one-of-a-kind creations make strong statements and imbue spaces with warmth. David Kent Richardson's house in Dogtown is a living, ever-evolving example.
His entry room holds a gypsy's fortunetelling table that, he is told, has its roots in France. Elsewhere, an African talisman made of iron and string wards off evil spirits. A tin steamer ship chugs atop a hutch in the kitchen, a wooden butler statue offers a clean towel in the bathroom and a 90-year-old papier-mâché Mardi Gras mask keeps silent watch over the lower level. And those are just a few examples of the home's folk art.
Richardson – the interior designer behind Bar Les Freres and the owner of David Kent Richardson Decorations and Interior Designs on The Hill – is much more interested in the story behind each object, where it came from and how unusual it is, rather than what its monetary value might be. His method for choosing which pieces to add to his home is simple: "If I like it, I like it. It touches me."
He's acquired art from a multitude of sources: friends, a renovated church, farmhouses. He also has a particular fondness for Panorama Folk Art, located on Cherokee Street.
A wooden table carved into a donkey, a hand-embroidered footstool, a low chair with bowed legs made from bull horns: All of the pieces are functional, meant to be lived on and among. And that's important to Richardson. "If I can't share it with other people, what's the use of owning it?" he says.
Together in his home, the pieces coexist as though they have always been there, like heirlooms lovingly passed down from one generation to the next.
Whatever form it takes, folk art is intensely personal. It is made from materials that offer an intimate peek into the artist's everyday life.
Still, it's only a peek.
Many of the pieces on display at "Self-Taught Genius" have biographies attached to them, but others do not. And these are the ones that are the most captivating: Where was it made? What did this person do for a living, and what was his or her family like? Was he or she happy? Well-educated? Illiterate? Did the artist live a long and healthy life – or a short, stricken one?
Folk art begs to know these answers, and it's up to us to reflect upon the legacy the creators of such art have left behind. Asking these questions – and living among their work – is a very good place to start.
David Kent Richardson Decorations and Interior Designs, 1923 Marconi Ave., St. Louis, 314-401-1333, dkrinteriors.com
Galerie Bonheur, 7507 Wellington Way (by appointment only), Clayton, 314-409-6057, galeriebonheur.com
Kodner Gallery, 9650 Clayton Road, Ladue, 314-993-4477, kodnergallery.com
Saint Louis Art Museum, 1 Fine Arts Drive, St. Louis, 314-721-0072, slam.org
Folk Art on Display
The nebulous definition of folk art is easier to grasp once it's observed firsthand, and "Self-Taught Genius" in the Saint Louis Art Museum's East Building is a master class. Freed from rules and traditional artistic processes, these folk artists' creations are intensely personal. Here we see through the eyes of a Confederate soldier held captive in Maryland's Point Lookout Prison; elsewhere, an artist interprets his mother as a Beaux-Arts cathedral; another finds inspiration in his fellow commuters on the subway. All told, this show brings more than 100 pieces on loan from the American Folk Art Museum in New York City through Sept. 11.