Inside One Cardinal Way, a luxury apartment high-rise that officially opened in Ballpark Village in August, art abounds – from a custom mural by Atlanta-based artist Tyrus Lytton to marble sculptures by Przemyslaw Kordys (another Georgian) to portraits of pups with baseballs. So it should come as no surprise that Marcia Moore Design's client, who has an acute art collection of his own, wanted to call One Cardinal Way home.
"He had some really nice artwork that he had collected over the years – some of it is antique posters, and some of it was art that he had purchased from different places," Moore says. "The client's art collection played a big part and inspired the color palette throughout."
Stepping into the space, dubbed "Urban Loft Apartment" by Moore, guests are greeted in the hallway by St. Louis-based Barry Sullivan artwork.
"The pieces of art [featured throughout the space] had wonderful color, which ended up being the perfect foil for our black, white and Cardinal-red color scheme," Moore says. "And the abstract patterns fit perfectly into the industrial, loft, contemporary vibe."
The hallway leads guests into the kitchen and great room, where a concrete ceiling, walls and exposed HVAC piping give the space an industrial feel, which Moore marvelously accented with pieces like the end table, sourced through the home furnishings company Uttermost.
"I wanted to mix in some metal with all the fabric, area rugs, concrete and wood," Moore says. "There was a very narrow space between the sectional and the bar stools, so I had to find a slim profile piece so as not to interfere with the walk space. I wanted it to be substantial in order to stand up to the large sectional, but not too boxy. This is perfect for holding a TV remote and a drink, plus fits all my other criteria."
She also selected a sectional, made out of an indoor/outdoor geometric performance fabric, to fit her client's love of entertaining.
"It doesn't matter if you put your feet up on it – it doesn't matter if you spill a beer," Moore says. "You can just wipe it off because it's like fabric that you can use outside. There are so many cool fabrics out there now that are really considered outdoor fabrics, and you would never think it."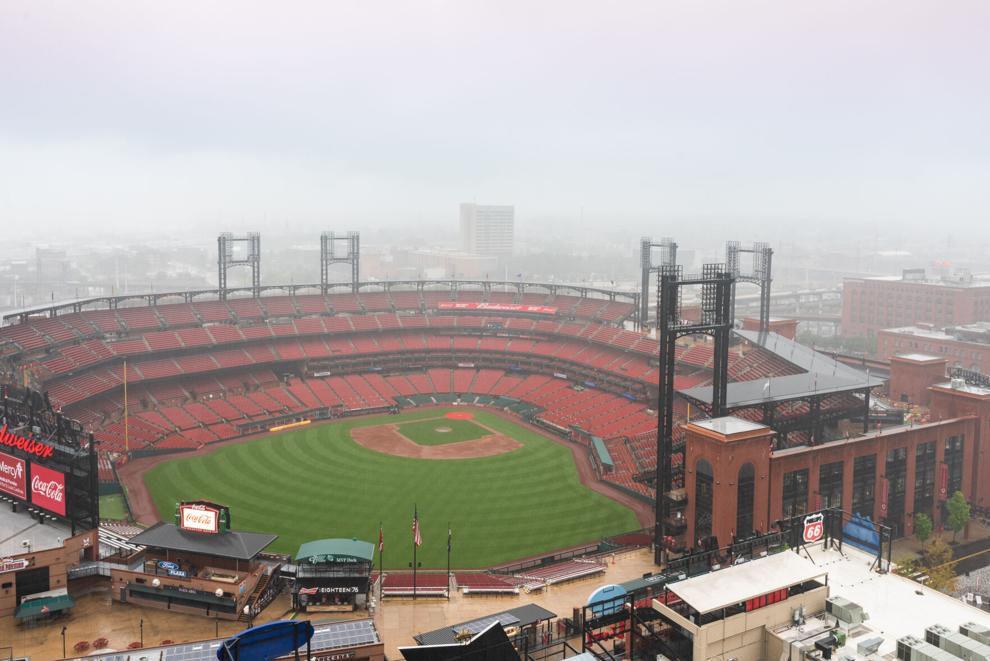 Off the great room is a spacious balcony that would make any St. Louis Cardinals fan swoon. "He can literally sit on his balcony and watch a game," Moore says.
The balcony is even outfitted with the client's club seats from the old Busch Stadium. "I was amazed when these fit perfectly on the balcony," Moore says.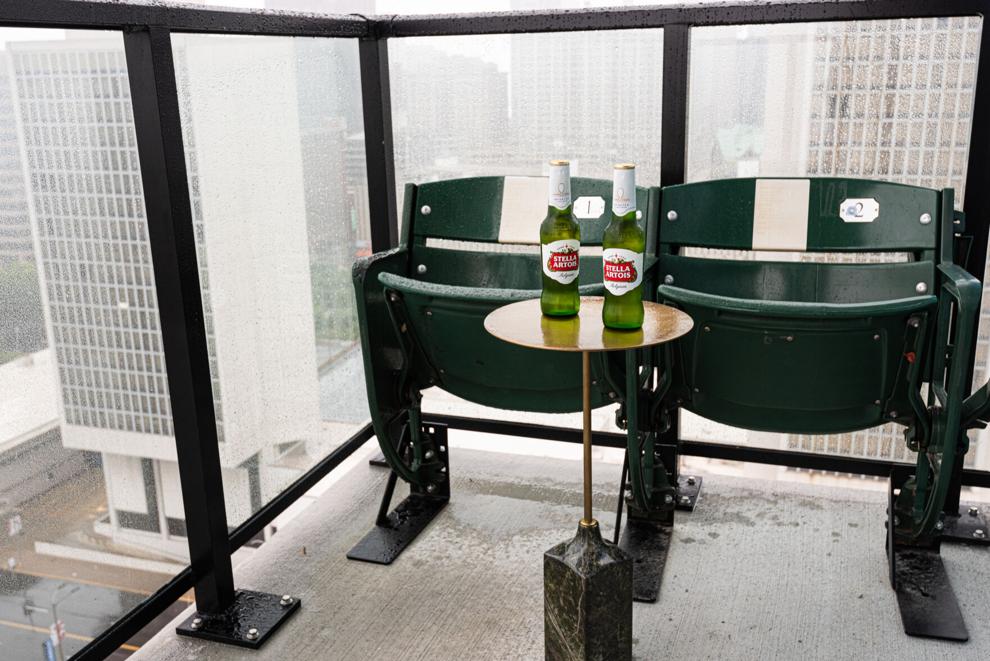 To the right of the kitchen are a bathroom and a guest bedroom. "In the guest bedroom, black, ivory and coffee brown come together in a vintage poster featuring St. Louis legend Josephine Baker," Moore says.
Behind the kitchen is the master bedroom, which is the space Moore says she loved most about this project. The concrete walls carry into this space, which Moore accentuated with tall bedside lamps with concrete bases and a low, contemporary bed atop a rug Moore found at Maryland Heights' Asadorian Rug Company.
"It was just a really, really unique rug," Moore says. "It's not like one I'd ever seen anywhere, and it went perfectly with the colors in the artwork."
The artwork in question is an iconic poster (circa. 1929) by the Italian designer/painter Leonetto Cappiello for the Nitrolian Paint Company.
"I just love how the master bedroom turned out," Moore says.
As a whole, Moore says this design project was a fun experience despite the difficulties that come with designing a small space.
"There is always a challenge with small spaces like that," she says. "The big challenge in a small space is that everything has to fit perfectly, and everything has to be dual duty if it can. … But if you love baseball, that is the perfect place to live."