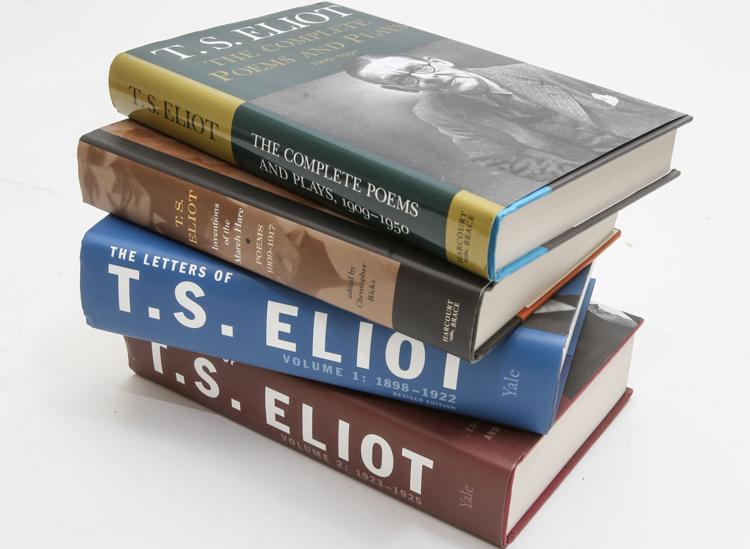 "Let us go then, you and I, / When the evening is spread out against the sky" – the first two lines of the poem likely still lull unsuspecting readers with their Edwardian lilt before the third line, without benefit of a caesura or any other buffer, turns jackhammer: "Like a patient etherized upon a table."
Precisely two years after the magazine publication of that historic work of verse by a St. Louis native, it slantwise top-billed his first poetic compilation, which turns 100 this month: T.S. Eliot's Prufrock and Other Observations.
Now, knee-jerk Gateway City boosters might feel tempted to presume that when "The Love Song of J. Alfred Prufrock" (the compilation's quasi-namesake) first appeared, its formal impact approximated having a hansom cab teleported to Talladega. And certainly, in hindsight, few other 20th-century works of verse can match that impact. (From a lustrum later, "The Second Coming" by W.B. Yeats, with its apocalyptic prescience, springs to mind: "Things fall apart; the centre cannot hold … ")
In such a presumption, however, boosters would err, according to Don Share. Share – himself, almost perforce, a lauded contemporary poet – now edits Chicago's Poetry, arguably the biggest "little" magazine of the 20th century, where the "Love Song" debuted.
"No one could have guessed a century ago that the appearance of 'The Love Song of J. Alfred Prufrock' in Poetry magazine would turn out to be a highlight not only of our history but also that of modern poetry itself," Share says. "At the time, Eliot was virtually unknown, having only published before in school magazines."
That virtual unknown entered the world here at 2635 Locust St., a subsequently razed house then owned by his paternal grandfather, on Sept. 26, 1888, a Wednesday. ("Wednesday's child is full of woe," notes the venerable fortunetelling song "Monday's Child," and during the past century, remedial-lit students more enamored of limericks than vers libre likely would agree.) The youngest of six surviving children of a prosperous businessman and a poetically inclined social worker, he bore the name of his maternal grandfather, Thomas Stearns.
Health-related issues early turned Eliot bookish, and for the better part of a decade starting at the age of 10, he attended Smith Academy, a former prep school for Washington University – co-founded, aptly enough, by his father's father, the Unitarian minister William Greenleaf Eliot. At Smith, Eliot not only studied ancient Greek, Latin, French and German but also started writing verse, initially, if quite transiently, influenced by quaint work like the Persian Rubaiyat of Omar Khayyám, translated by Edward Fitzgerald.
Eliot technically lived in St. Louis until 1914, concurrent with a stint at Harvard University, where he earned multiple degrees. Thereafter, although he apparently bore St. Louis no animosity (unlike fellow local literary light Tennessee Williams), Eliot rarely returned.
Instead, following various European peregrinations, he chose, in 1927, to expatriate to the United Kingdom, where he strove to out-Brit the average Brit and even the above-average Brit.
Long before that, of course, came both the "Love Song" and, in a 500-copy edition by The Egoist Ltd., Prufrock, whose chapbook-sized contours included only 11 other pieces of verse.
Integral to the publication of both had been the Idaho-born poet, provocateur and (later, inadvisably) political propagandist Ezra Pound, whom Eliot met in London in September 1914. A month after that meeting, more specifically, Pound, as something of an associate editor without portfolio, submitted the "Love Song" to Harriet Monroe, Poetry's founder, calling it – in a cover letter included in The Letters of Ezra Pound 1907-1941, edited by D.D. Paige – "[t]he most interesting contribution I've had from an American."
Ironically, that now-historic submission itself progressed rockily. In a letter dated Feb. 1, 1919, to fellow poet and Kirkwood native Marianne Moore, Pound wrote regarding Monroe that "it took a six months' struggle to get her to print Eliot's 'Prufrock.'"
"The poem was not, at first, welcomed by readers," says Share, Poetry's current steward. "The famous literary critic Louis Untermeyer wrote to … Monroe that 'Prufrock' was 'the first piece of the English language that utterly stumped me. … [T]he effect was that of the Muse in a psychopathic ward – drinking the stale dregs of revolt.' He added that the only person he could find who could keep a straight face reading it was a psychoanalyst who said, 'An extremely interesting case.'"
Despite that reception, Eliot – in a letter dated July 23, 1917, included in the first volume, revised, of The Letters of T.S. Eliot, edited by Valerie Eliot and Hugh Naughton – informed a cousin, "My book seems to have sold pretty well, although it has not been much reviewed yet." (In that letter, in an utterly Prufrockian fashion, he immediately continued: "I also go to the dentist. My teeth are falling to pieces, I have to wear spectacles to read and from time to time I am contorted with rheumatism – otherwise I am pretty well.")
Such reviews, both negative and positive, eventually arrived. In a letter to his mother dated Jan. 17, 1918, for instance, Eliot wrote regarding a Prufrock notice, "There is a very flattering article on me by May Sinclair in the last Little Review." (He referred to a now little-remembered British writer and the American literary magazine today most famed for serializing James Joyce's monumental Ulysses.)
"'Prufrock' would become one of the most famous and beloved poems in the English language," Poetry's Share reflects. "The magazine's motto in those days was Whitman's statement, 'To have great poetry, there must be great audiences, too.' Eliot paved the way for both with his remarkable poem. It's impossible to imagine a world in which it didn't exist."
Moreover, despite early screeds like Untermeyer's and a similar one of the compilation in the Times Literary Supplement, Prufrock led to bigger and perhaps better things: The Waste Land in 1922, Ash-Wednesday in 1930, Old Possum's Book of Practical Cats in 1939, Four Quartets in 1943.
Ultimately, though, certain Eliot aficionados will always return to Prufrock and its eponymous opener, which closes with what at first seems like a dreamy, idyllic subsea vision involving mermaids but then goes, typically, all Prufrockian: "We have lingered in the chambers of the sea / By sea-girls wreathed with seaweed red and brown / Till human voices wake us, and we drown."