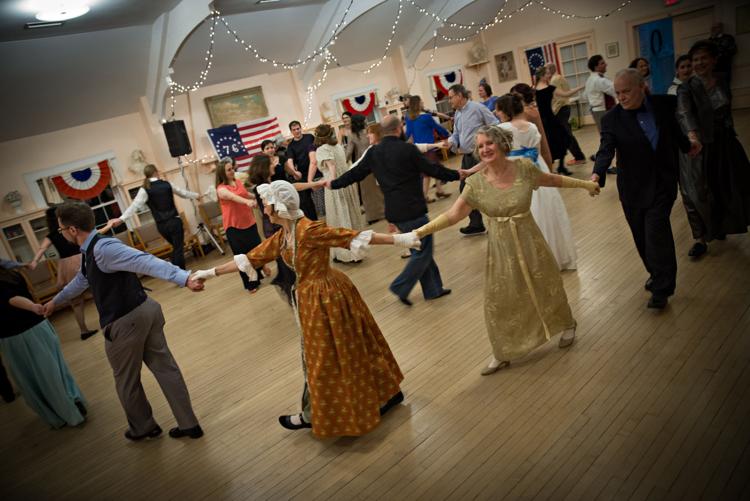 Mary Schmidt was entranced by the dance scenes in Pride and Prejudice. "I thought it was just beautiful," she says of the English country dance in which the characters Elizabeth Bennett and Mr. Darcy turn elegantly around the dance floor, stepping through sequences that take them from one corner to another. "I was shocked to find that I could do that kind of dancing right here in St. Louis."
Schmidt is now chairwoman of the steering committee for Childgrove Country Dancers, a 37-year-old organization she learned about from one of her physical-therapy patients about six years ago. She rarely misses a chance to dance across the room, moving in patterns that form English country dance, as seen in Pride and Prejudice.
Schmidt describes herself as an "active senior" and says the dances attract many other people who are 50 or older. Childgrove dances are open to all adults and always attract a wide age range. As a physical therapist, Schmidt also recognizes the benefits of dance for older people. Although English country dance is not considered an aerobic exercise, it does require and hone balance and involves continual movement and steps. The regular dances provide about two hours of continual movement at a walking pace and the mental exercise of remembering specific steps and patterns.
"This is an appropriate activity for active seniors," Schmidt says. "However, from my experience with patients, we wouldn't just suggest going to an English country-dance group for exercise. Balance and the ability to move quickly and grasp the movements and patterns would not be appropriate for some folks."
Schmidt does not want to discourage anyone from trying it, however. Beginners are invited to arrive 30 minutes before the group dancing begins to learn the basic steps and prompts that are called out during the dance. No formal training is needed, but practice allows for participation in more advanced dances.
"The more you repeat, the easier it becomes," says Missy Reisenleiter, a Childgrove board member and 16-year dancer with the group. "You'll get the basics and will be able to enjoy it the first time you come. For those of us who have been doing this for a number of years, there are more difficult dances, and new dances are always being written."
English country dance dates to the mid-17th century, and Childgrove dancers enjoy four special balls each year in which they can dress up, some in period costumes, to honor the dance's history. As a nonprofit organization established in 1979 for the enjoyment, support and continuing education of traditional dance, according to the organization's mission statement, Childgrove also offers other types of group dancing, including waltz and contra dance, which is a communal folk dance that is slightly less complex than English country dance.
Accompanying the dancers are live musicians and callers familiar with the genre. "We have mainly one band that plays with us, The Tu Penny Players," Reisenleiter says. "They are excellent, formally trained musicians who understand the connection between the music and the dancers following it. The configuration of the band may vary, and they determine who plays with them at each of the dances." Violin and keyboard are standard and might be accompanied by flute, clarinet, additional strings or other instruments.
Schmidt notes that there are hundreds of different English country dances, and most are found in books that contain the music and instructions for each specific dance. "We can access dances from long ago or from modern choreographers, and the callers look to vary the tempos, formations and difficulty levels," she says. Patterns are formed from combinations of figures called out as circle, stars, casts and other terms.
Above and beyond the physical benefits of English country dance, both Schmidt and Reisenleiter emphasize the social aspects of the activity. "We're a very welcoming group and are always happy to see new faces among all our good friends," Reisenleiter says. "It's just great fun, and I always look forward to it."