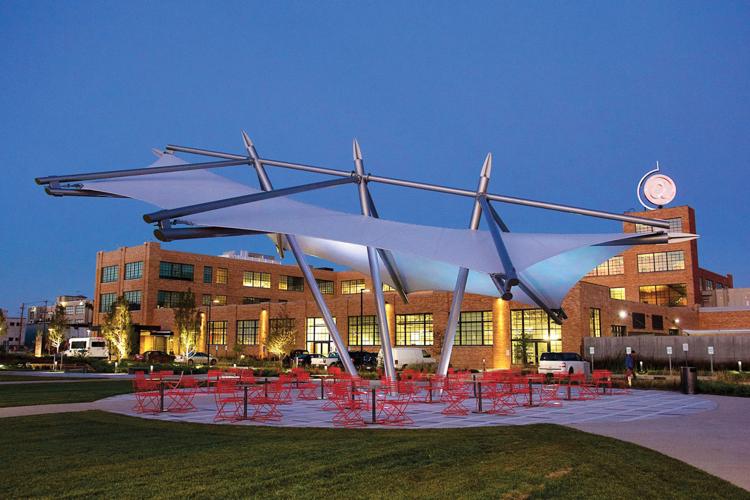 Reshma Chamberlin feels a renewed sense of efficiency and enthusiasm at work these days, and the chief executive officer of B/C Designers, a business consulting firm, credits much of it to location. Since she moved her company to the Cortex Innovation Community, a 200-acre innovation district in Midtown, Chamberlin is thriving on the creative vibes and individuals around her and the convenience of having all of it available to her within a passionate community.
Chamberlin's company now rents office space at the Cambridge Innovation Center (CIC), a startup incubator and co-working space occupying 32,000 square feet of the @4240 building, located at South Boyle and Duncan avenues, all within Cortex. CIC provides administrative support, office management and workspace for single entrepreneurs and growing companies alike, and collaboration and innovation are its driving forces.
"Now I don't have to think about paying multiple bills, loading toner in printers, running out to get tea or a snack," Chamberlin says. "The best part is I waste less time driving to and from meetings because everyone wants to meet at Cortex. For entrepreneurs, saving time not paying other random bills or running to and from meetings is really a lifesaver. Every minute counts!"
Chamberlin isn't the only one singing the praises of her new situation at Cortex, where the company has been since October 2015. "The culture and ecosystem at Cortex not only allows you to focus on growing your business, but it also contributes to the growth through a connected community that extends well beyond the St. Louis region," says Nathan Pettyjohn, chief executive officer of Aisle411, a technology company that provides mobile services allowing shoppers in a store to map products, offers and lists by aisle location.
Although Cortex is creating a buzz in tech and innovation circles as St. Louis' new nexus of development and collaboration, it can be a bit difficult to get one's head around exactly what it is. Founded as a nonprofit entity in 2002 by Washington University in St. Louis, Saint Louis University, the University of Missouri-St. Louis, BJC HealthCare and the Missouri Botanical Garden, the initial concept was "to capture the commercial benefits of university and regional corporate research for St. Louis," according to the Cortex website.
Since then, Cortex has honed its vision and expanded its view, revamping its master plan in 2010 to redefine the development as a live-work-play community with residential units as well as restaurants, retail stores and green space. The renovation of the @4240 building started in 2011, with Washington University occupying the first space in 2013. CIC opened in @4240 in October 2014, Shriners Hospital opened in summer 2015 and the construction of Cortex Commons finished last fall.
Currently, the most known and visible retail business within Cortex is IKEA, which opened in September. "It's true; we're not just a technology district anymore," says Phyllis Ellison, Cortex's director of entrepreneur services and institutional and corporate partnerships.
With "master developer rights," Cortex provides an extra signature on permits for building work, though the land and properties are privately owned. "Being a nonprofit allows us to look at the greater good of the district and use the buildings and the land to create an innovation district and support the corporations and universities around us," Ellison says. She describes Cortex not as a gatekeeper, but as a "platform to allow those who are interested in innovation to come here and build or expand their companies. We have a mix of small companies to large corporations with a presence here."
When a company expresses interest in becoming part of Cortex, its size and purpose are considered in order to determine the best location within the district. Both short- and long-term lease options and office configurations are available, Ellison says. In some cases, spaces are assigned based on proximity between companies that might want to develop collaborative projects, as well.
Although the focus was primarily on science and technology in the early days, Ellison says Cortex has attracted a wide array of businesses, from Access Engineering to UB3 Investments, and this mix of interests and expertise is one of the district's strengths. Of the approximately 200 businesses that are part of Cortex, several are well known in St. Louis and nationally, including Boeing, Nestle Purina, LaunchCode, Husch Blackwell and the STL Regional Chamber. The district has grown quickly since 2010, when there were only about 50 companies. "The end goal is more about job creation," Ellison says. "We're aiming for 13,000 jobs. Currently, there are approximately 3,800 jobs in the district."
Cortex's innovation centers are helping to drive this growth. In addition to CIC, Cortex houses the Center for Emerging Technologies, which works to "establish and develop next-generation biomedical science and other advanced technology companies"; BioGenerator, an "evergreen investor that creates, grows and invests in promising companies and entrepreneurs in the St. Louis region"; and Venture Cafe St. Louis, an organization that provides educational programming and networking events, drawing more than 400 people to its Cortex space each week.
This summer, TechShop will join the district as the fifth innovation center, providing access to tools, software and space for fabrication, prototyping and computing for passionate makers. It will occupy a new facility being built at the corner of Boyle and Forest Park avenues.
"Urban innovation parks are definitely an international trend," Ellison says. "You can have great companies doing things individually, but you get them together, talking and exchanging ideas, and sooner or later you're going to have a connection."
4320 Forest Park Ave., St. Louis | 314-531-4500 | cortexstl.com