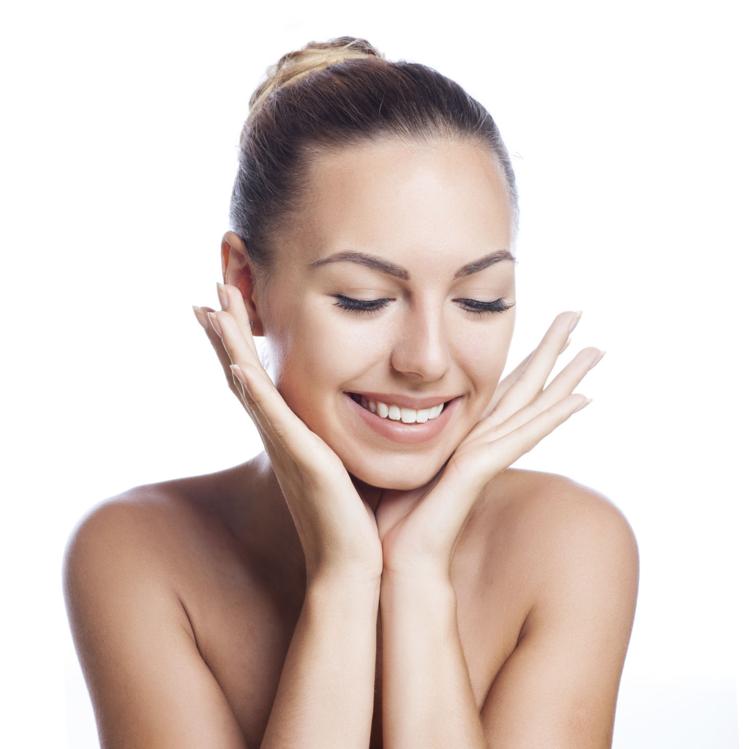 Winter, even the mild one we just had in St. Louis, can be brutal on the skin. Cold, blustery air and forced dry indoor heat pair with negligent hydration, while more sedentary months fuel long evenings of Netflix and wine. As a result, the skin breaks down from the inside out – dehydration can give it a shriveled appearance, and outdoor cold plus indoor heat can make the face flaky, dry, chapped and tight.
Even those of us who religiously follow a personal facial regimen throughout the season find ourselves combating these issues, leaving us spending late winter and early spring scrambling to find a solution for sloughing off dermal dullness to reveal healthy skin and a radiant glow when warmer temps arrive.
To learn the best in-spa and at-home regimen combination to prepare skin for spring, we spoke to the experts at The Face & The Body Day Spa, Ginger Bay Salon Spa and The Salon & Spa at The Chase Park Plaza. All three of these top day spas in the St. Louis area offer haircuts, color and treatments; waxing; massage therapy; and manicures, pedicures and full spa services such as facials, peels, and body scrubs and treatments. At all three of its locations, The Face & The Body additionally offers laser hair removal and injectable services, such as Botox, in its Medispa.
For the most basic at-home solution for radiance, the best thing to do is exfoliate, according to Jeni Pitchford, aesthetician at The Salon & Spa at The Chase Park Plaza in the Central West End. "A lot of people say they want to increase radiance; they want to have smoother skin; they want to see improved texture and diminish lines and wrinkles," Pitchford says. For in-spa exfoliation, Pitchford recommends Aveda's Dual Exfoliation Treatment facial, which produces the best results for smoothness and increased radiance, as well as for getting rid of dead skin cells.
"I would not call it the most relaxing [treatment]," adds Galina Nerush, aesthetician at Ginger Bay Salon Spa, which has locations in Kirkwood and Town and Country, "but it looks fantastic." Using Aveda's all-natural products, the dual-exfoliating treatment, available at both Ginger Bay locations, begins with a facial scrub to exfoliate dry skin. From there, Aveda's pure plant peel is applied, an application that contains glucosamine, which helps skin produce more collagens and provide firmness and shape to the face.
At the end of the dual-exfoliating treatment, a soothing cooling mask is applied, allowing clients to leave their facial appointment with a beautiful glow – no redness or irritation. "It's perfect for guests who are looking for natural, botanical-based products," Nerush says. "This treatment combines naturally derived mechanical and biochemical exfoliation methods that help improve skin texture, clarity and radiance."
Nerush also recommends Ginger Bay's glycolic-acid treatment from its Murad line of products, which exfoliates dead skin cells and revitalizes skin to ease fine lines and wrinkles. Available only at its Kirkwood location, this series of treatments increases in strength over time, improving skin tone and youthfulness with each visit. Nerush recommends four to six treatments spaced no more than two weeks apart, with subsequent monthly treatments to maintain maximum skin health and appearance.
For a more intensive approach, try microdermabrasion. "Microdermabrasion is for somebody who has oilier, thicker skin that gets a lot of dry buildup on the surface," Nerush says. The treatment removes the topmost layer of the skin by exfoliating with natural diamond chips, which eliminate and vacuum up dead skin cells.
Barbara Trevino, director of the Derma Spa at The Face & The Body, agrees and recommends following up a microdermabrasion treatment with an intense pulsed light (IPL) photo facial, available at Brentwood. With this treatment, a light-based piece of equipment is attracted to, treats and dramatically improves sun damage, brown spots, enlarged pores, broken or distended capillaries, redness and rosacea by stimulating collagen production.
For at-home care, our experts advise being consistent with cleansing routines. "The most important thing is using a very good line of products and making sure you cleanse well before going to bed – never go to bed with makeup on," Trevino says.
And of course, use sunscreen every day to protect yourself against pigmentation and other signs of aging. Our experts recommend using SPF (sun protection factor) 30 from day to day. "If you're going to be out any more than walking from the car to the inside of a building – if you're working in your yard, walking – use a higher SPF and wear a hat," Trevino says. "And do not forget your hands with the [sunscreen] – that's why we get the brown spots on the hands – but we can take care of the brown spots with IPL, also."
Monthly facials also are recommended as part of a routine to keep skin rejuvenated. "Typically, a facial will be more advanced, with a deeper cleanse and exfoliation than [people are] doing at home," Pitchford says.
Don't forget that skin hydration happens from the inside out. "Hydration is key," Nerush advises.
If you're still unsure, leave it to the experts – all three spas offer a free consultation, so each treatment plan can be tailored to a particular client's skin issues and desired results.
Ginger Bay Salon Spa, multiple locations, gingerbay.com
The Face & The Body Day Spa, multiple locations, faceandbodyspa.com
The Salon & Spa at The Chase Park Plaza, 212 N. Kingshighway Blvd., Central West End, 314-633-3081, chaseparkplaza.com/amenities/salon-and-spa