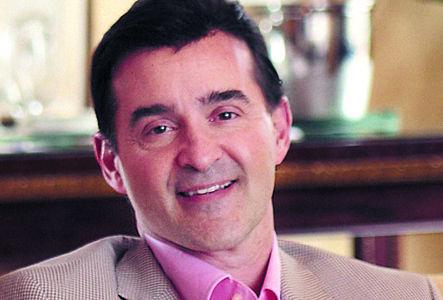 When I was 6 years old and attending Our Lady of the Pillar Grade School, we were asked to put together a pictorial notebook of how we wanted our lives to go. My notebook contained several pictures of sportscasters, as that's what I wanted to be – I even remember being on the playground when a group of intimidating eighth-grade boys would crowd around me. They would yell, "New Orleans Saints." I would respond, "Billy Kilmer." They would say, "Washington Redskins." I would fire back, "Sonny Jurgensen." Then, they would scream, "San Francisco 49ers." I would respond, "John Brodie." We went through every quarterback in the NFL. I loved sports, and I was hooked.
I played every sport I possibly could – basketball being my first love. At the age of 13, I taped mock sportscasts on my $10 tape recorder, trying to be just like Brent Musburger from the CBS radio network. At 18, I began doing commentaries on Group W cable – today cringing when I look at one of those old tapes. I kept playing sports and had a basketball in my hands close to every day. I was really lucky that my parents decided to have a baby a year after the Stipanovichs . We went to De Smet, rarely lost and went to college for free.
At UMSL, I worked at the campus radio station, worked for the school newspaper and went to basketball practice. I interned at KMOX and KSDK, and I used to do some very important things for KSDK sports director Jay Randolph, like collect his scripts, buy his hairspray and chart games. I knew this was where I wanted to be someday. The problem was talent – I needed some. So I got my first job in Kingsport, Tennessee. I was there for 11 months, six days and three hours. I moved on to Lexington, Kentucky, and loved it because of the basketball. However, when my first child was born, I knew I had to get home. You can't have a son named Alex Cusumano growing up with a Southern accent. So I sent tape after tape to St. Louis stations – receiving rejection after rejection.
I had one friend in St. Louis, though, who believed in me – KSDK's Mike Bush, the sports director. I sent stories with St. Louis connections from the Southeast, and Bush would run them on "Sports Plus." He liked my work and fought hard for me. However, the general manager said, "As long as I am here, Cusumano won't get hired." He was fired – and on April 12, 1993, I began working at my dream job, KSDK. We have had a full staff of talented sportscasters since. I've never thought of myself as a four or a three or a two; I just wanted to produce the best work I could and maybe win an award from time to time. I was never obsessed with doing the 10 p.m. sports every night because it would keep me from seeing my kids. I liked working two nights a week and being with the family for five. My weeknights were spent at a gym, a baseball field or a golf range, and I loved every second of it.
My kids are older now, and I just got the job as the sports director. I am humbled and honored. I am also as excited as can be. With radio, it's a long day. However, I think after 24 years, I know how to manage a department while being a good father and husband. I want to do commentaries, compelling features and lively interviews. I want to do documentaries and things that people will remember. We have an incredible sports department, with two outstanding producers in Andy Mohler and Larry Thornton. Audrey Dahlgren is a very good reporter, too.
The reason I love this job is, it's my town. I deeply care about the Cardinals and Blues. I despise the Rams. I want SLU and Mizzou to win every game. I want to make sure on Friday nights, high school athletes are getting their exposure. I want the small colleges to get some love, also. I want our great city to have sports covered in the best way possible.
One final thing. Before I got my first job in Kingsport, my mom wanted me to take the LSAT and become a lawyer, and I agreed. Then I was offered the job in Kingsport. So I took the LSAT, car already loaded and ready for my drive to Kingsport. In the middle of my test, I looked up and saw a young man with wire-rim glasses and thought, "That guy may want to defend criminals." I wanted to defend Ozzie Smith's credentials for the Hall of Fame. So I dropped the pencil on the ground and walked out of the room. My mom asked for a long time if I ever got the test scores back from the LSAT. I said, "No, Mom, I never did – but I will let you know if I ever do."
Frank Cusumano is a 17-time Emmy Award-winner on KSDK-TV; he also hosts The Pressbox on The All New 590 the Fan from 10 a.m. to noon each weekday and contributes to The Dave Glover Show on FM NewsTalk 97.1. Follow him on Twitter @frank_cusumano.