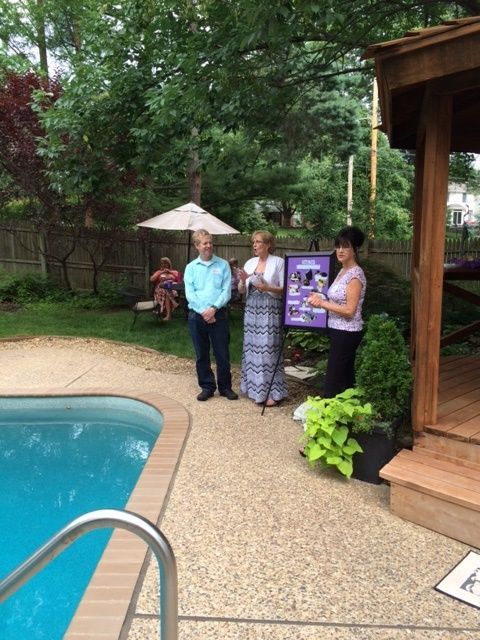 Felines Forever honored Olivette veterinarian, DR. FRANK LEVINSON, for his exceptional service and commitment to animal rescue efforts. Veterinary technician, JACKIE REIDELBERGER, also received recognition at the June event held at the home of SUSAN and JOHN MURPHY. Honors were presented by NANCY LUPIA, founder and executive director of Felines Forever. The no-kill rescue group comprised of volunteers was founded in 2005 in Lupia's home.
Volunteers from Rohan Woods School participated in the Creative Castle at the Saint Louis Art Fair last September. Their booth invited kids and families to create fun clown hats with help from the volunteers, including head of school, SAM TEMPLIN-PAGE. More than 1,000 children visited the school's booth, including a 4-year-old young artist from mid-county who used glitter glue to make the clown hat sparkle in the sun.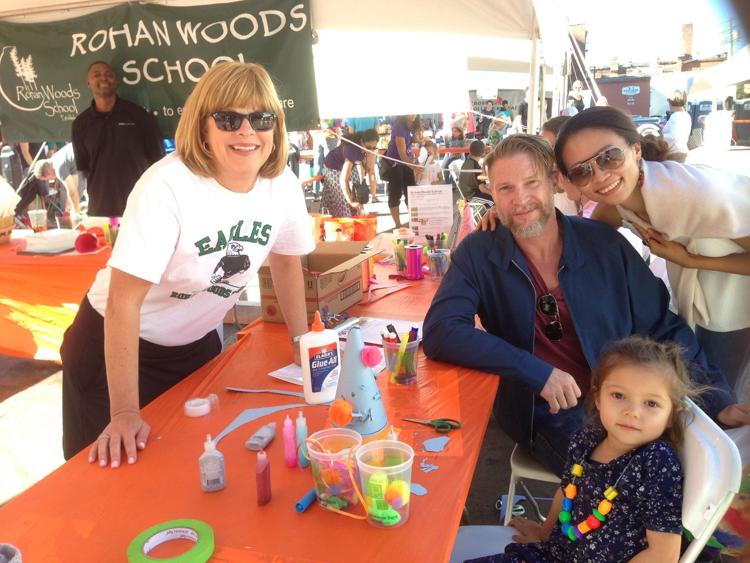 Plancorp employees, joined by their families and friends, helped build three homes for Habitat for Humanity last September in south St. Louis. Plancorp is a wealth management firm based in St. Louis.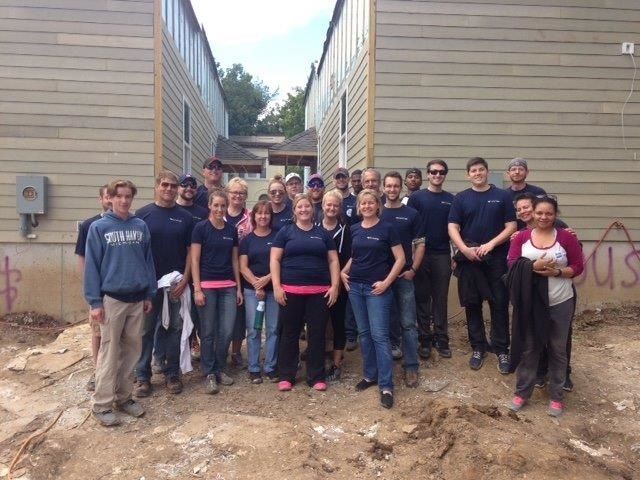 A fall prevention wellness fair for older adults was held by a collaboration with The OASIS Institute, CLAIM (State Health Insurance Assistance Program), Missouri Baptist Medical Center and BJC Home Care Services. During the Stay Grounded for Life event, seniors received free screenings and guidance for fall prevention tips and exercises to prevent fall-related injuries. Falls are the leading cause of injury and fatality for those 65 and older, and Missouri has a higher rate of fall injuries than the national average. Over the next two years, a series of fall prevention activities will occur across Missouri, funded by a $558,000 grant from the federal Administration for Community Living (ACL).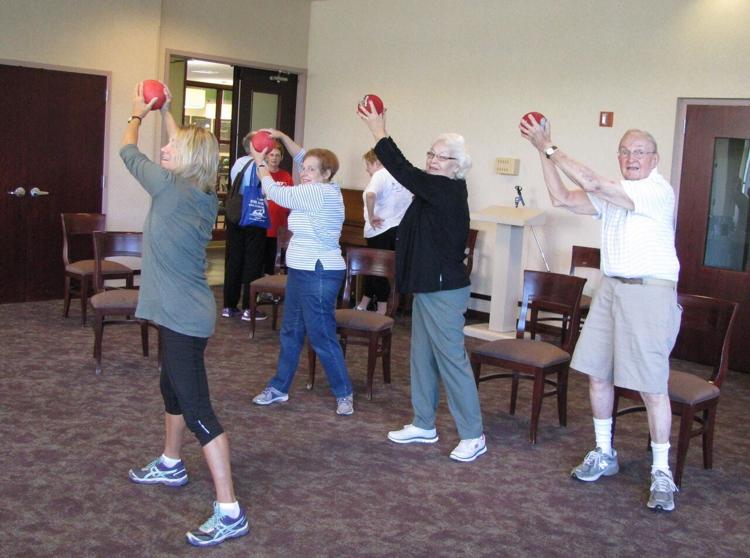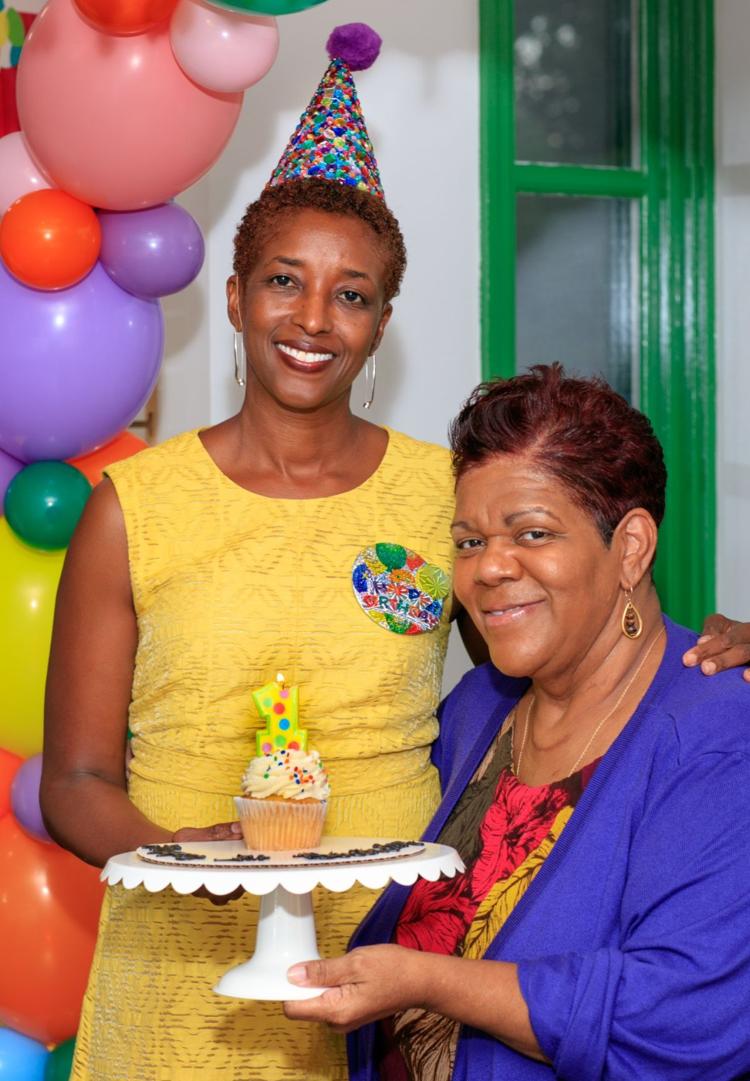 Local non-profit organization, It's Your Birthday, Inc.,celebrated its milestone one year anniversary in September. The organization, founded by ROLANDA ROBINSON, coordinates fun birthday party experiences for children ages 5-12 who reside in domestic violence and homeless shelters. Ladue's Sweetology hosted the anniversary party on September 16. Guests enjoyed free admission as well as complimentary cupcakes, appetizers and drinks. Donations of party supplies were encouraged.
Ladue Middle School (LMS) celebrates being named a 2015 National Blue Ribbon School by the U.S. Department of Education. The honor, announced by U.S. secretary of education, ARNE DUNCAN, recognizes schools where students achieve very high learning standards or are making notable improvements. Ladue Middle School is categorized as an Exemplary High Performing School and is also exceeding with student subgroup performance and high school graduation rates. LMS principal, GREG BABER, faculty and staff are celebrating the honor which stems from the LMS recognition as a 2015 Gold Star School in May 2015. LMS was also named a National School of Character last year. The U.S. Department of Education honored the selected schools in a November ceremony held in Washington, D.C.
The Soft Surroundings executive team held a car wash in the parking lot of its Creve Coeur headquarters last September to raise funds for the Alzheimer's Association. For a minimum $25 donation, employee cars were washed by CEO, TOM WILCHER; president, TARA ELLEF; and other key executives, which resulted in raising over $2,000. As a national team sponsor of the annual Walk to End Alzheimer's,company employees have raised over $26,000 in donations this year.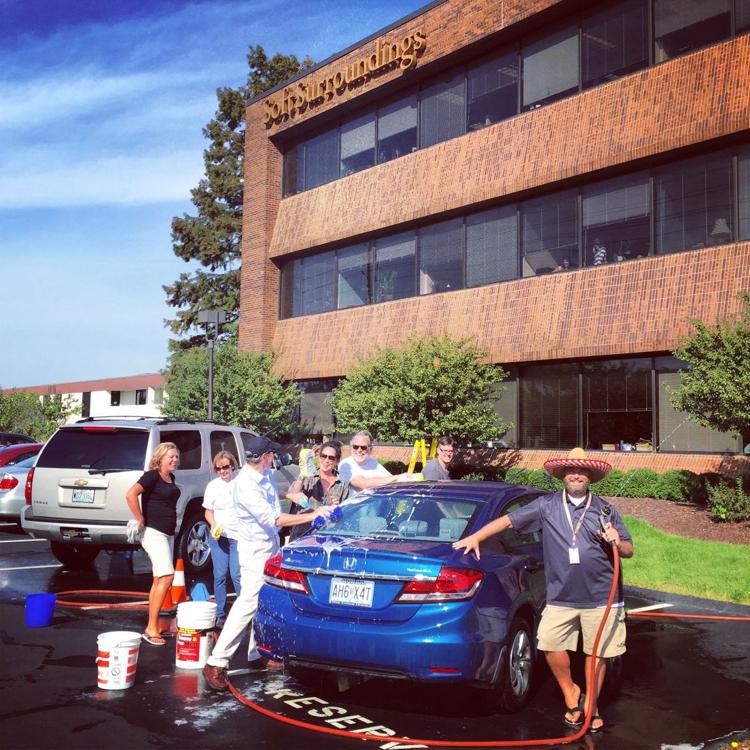 Participants of the Creve Coeur Weight Watchers teamed up to donate nearly 1,000 pounds of food and household products to Jewish Family & Children's Service (JF&CS) for the Harvey Kornblum Jewish Food Pantry (HKJFP). Group members from the multiple Weight Watchers meetings competed againsteach other in hopes of gathering the greatest amount of canned and non-perishable food items and household products for the food pantry. The groups succeeded in donating five full shopping carts of items. For several years, Weight Watchers in Creve Coeur has been donating to the HKJFP, which feeds 7,000 people each month.
The first annual Friends of Kids with Cancer Fall Festival was held September 19 at Rombachs Farm in Chesterfield to benefit the organization's Adopt a Family Program. The event was hosted by Kelly Hager Group Real Estate Services and Live Team Life. Via community support and donations made at the fall festival, these two companies will sponsor 70 families who have children with cancer this holiday season by giving them a holiday celebration which they may not have had the opportunity to experience. Hundreds of people attended the festival with live music from Australian band, THE GO SET.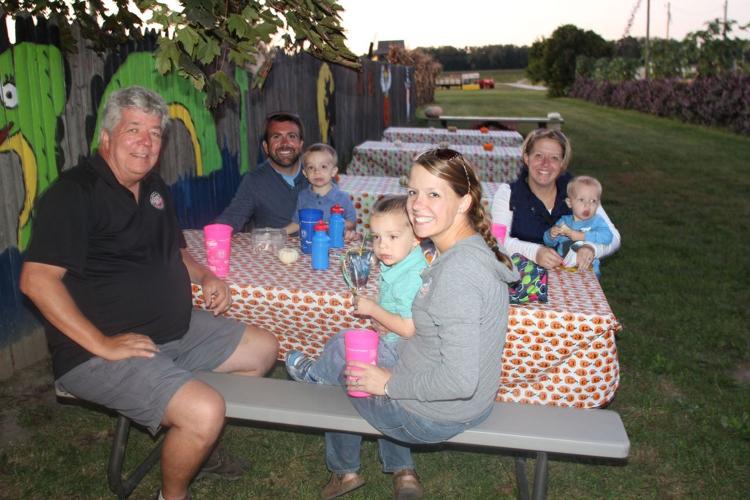 New expression swings are being installed at four St. Louis County parks due to the generosity of the St. Louis County Parks Foundation. These innovative swings, made by GameTime, promote face-to-face interaction and play between generations as adults and children swing together. The four parks receiving the new swings are Tilles Park, Suson Park, Faust Park and Bella Fontaine Park.