Subscription boxes have moved from trend to staple, with themes ranging from beauty to food to apparel. Add your favorite noun in front of "subscription box" in Google, and you're bound to find something clever to have delivered to your door: bride subscription boxes, cat-lady subscription boxes, gamer subscription boxes – you get the idea. And St. Louis locals and moved-away natives now can add another subscription box to their wish list: the new Bit-O-Local box, which features made-in-St. Louis items by local artisans.
Founded in early 2016, Bit-O-Local is the product of friends and St. Louisans Jennifer Singleton, Alicia Underwood and Carmen Ramirez. The three women "wanted to share their passion for small businesses, locally produced goods and thoughtfully crafted pieces with the city that [we] love – St. Louis," Singleton says.
"We had a lot of meetings over coffee," says Singleton of what prompted the brand, now in its second season. Both Singleton and Underwood have a background in public relations, and Ramirez is an artisan herself – merging skills to form a subscription box seems only logical. "In fact, the idea was born over brunch at an event that was incredibly inspiring," Singleton continues. "We attend a lot of events that feature local makers, and we started to think, 'How can we share these artists with the people in their communities [who] would love to support them and enjoy their craft?'"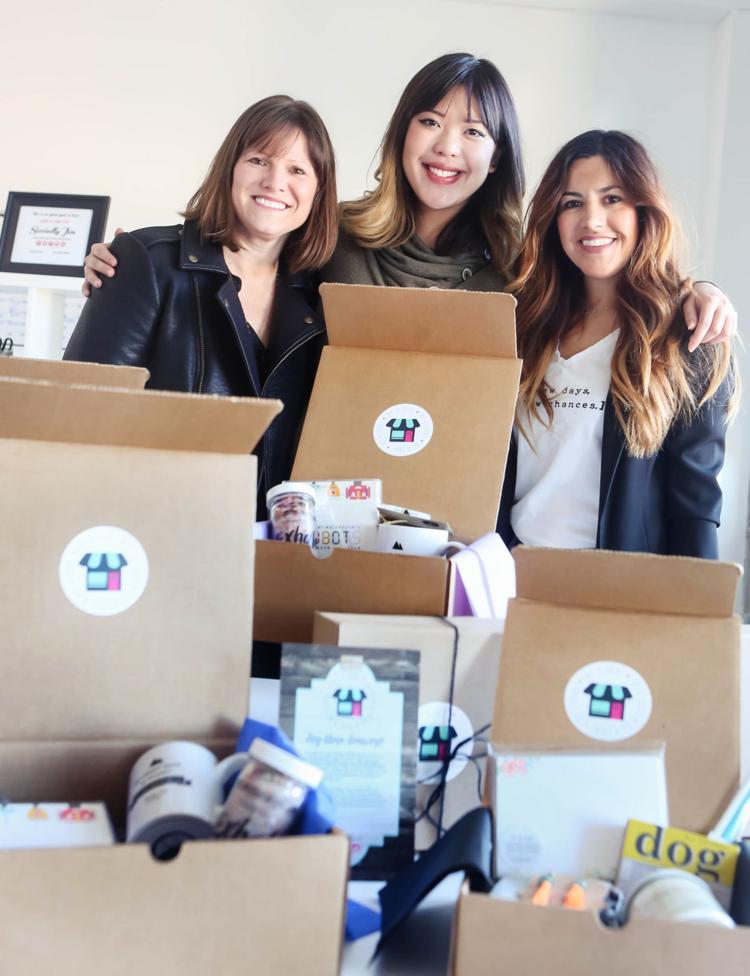 Bit-O-Local officially launched in the fall of 2016, and Singleton says the response has been great. "As more people become aware of the product, they're choosing our subscription boxes for birthdays, anniversaries, holidays. ... It seems like the idea is catching on, and we can't wait to see what 2017 brings."
The boxes are not made for men or women specifically, or for any one age group, and the range of items reflects that. Take the recent holiday box, for example. Inside, subscribers found a leather "STL"-stamped tie clip from Lonesome Traveler, bath salts by Heritage1933, a travel mug by Faire Acres, lip balm by Black Birch Organics and a calendar from Maginating. Other local brands, such as Curio Press and Sammysoap, also have been featured by the company. There's something for everyone, and it's all wrapped up like a lovely gift complete with a welcome card highlighting the makers inside.
"The box is for people who'd rather support local businesses than big-box stores, for people who love unique and thoughtful gift-giving and people who love the idea of trying new things," Singleton says.
Finding these "new things" is an ongoing process. "We have a page on our website where makers can submit their products and information for us to test," Singleton says. "There's nothing that gets put in the box that the three of us don't agree is a high-quality product that we'd love to own and share. Of course, word of mouth is a big part of how we share that we're taking submissions, and we also post to our social media platforms, letting artisans know when and where they can apply."
Singleton says the reaction from these makers has been very positive so far. "Many of our makers are small businesses, too, so we work to share their products and a bit about their story with the city," she explains. "It's great getting to know so many different passionate creatives right in our neighborhood."
Customers can expect more seasonal boxes throughout 2017. "We plan to continue to select quality goods and focus on the greater St. Louis area, then perhaps expand into other cities," Singleton says. "We're also looking to produce personalized boxes for weddings, special events, Realtors and corporate gifts."
Separating Bit-O-Local from other subscription boxes is its use of full-sized product. No puny samples here – the large box lets a recipient try products the way they were meant to be used. And unlike many other subscription boxes, Bit-O-Local gives customers multiple ways to shop.
"People can choose to purchase just one box, subscribe to a series or even 'shop the box' and purchase individual products found during each quarter, all on our website," says Singleton.
Shopping local without leaving the house? Yes, please!
Bit-O-Local, bitolocal.com