When the Saint Louis Fashion Incubator (SLFI) announced its inaugural class of designers, the list of talents included both locals and artists from across the country. The chosen six included accessory designer Allison Mitchell, the creator of a line of luxury clutches, purses and small accessories made from opulent hides. Ladue News recently caught up with the designer to learn more about her work, her St. Louis space and her experience with the SLFI.
How did you begin working with accessories?
I fell into this career path by accident. I wanted an oversized clutch, and I couldn't find anything that fit my vision, so I made one. Everyone who saw it wanted one, and when the demand for it went beyond family and friends to a buyer from a boutique in Dallas, I decided to launch a small collection of oversized calf-hair clutches to see if they created any traction.
Needless to say, the reaction from the Dallas market was beyond anything I could have imagined, and we sold out a couple of times over the first few months in business. I actually resisted fully delving into the demands of being an independent designer for a while, mostly because I already had a business – a digital marketing agency that I founded in Dallas – but also because I didn't consider myself a fashion designer. … I went for it, and thank goodness. I found that I had a natural knack for designing handbags that people loved and had never seen before.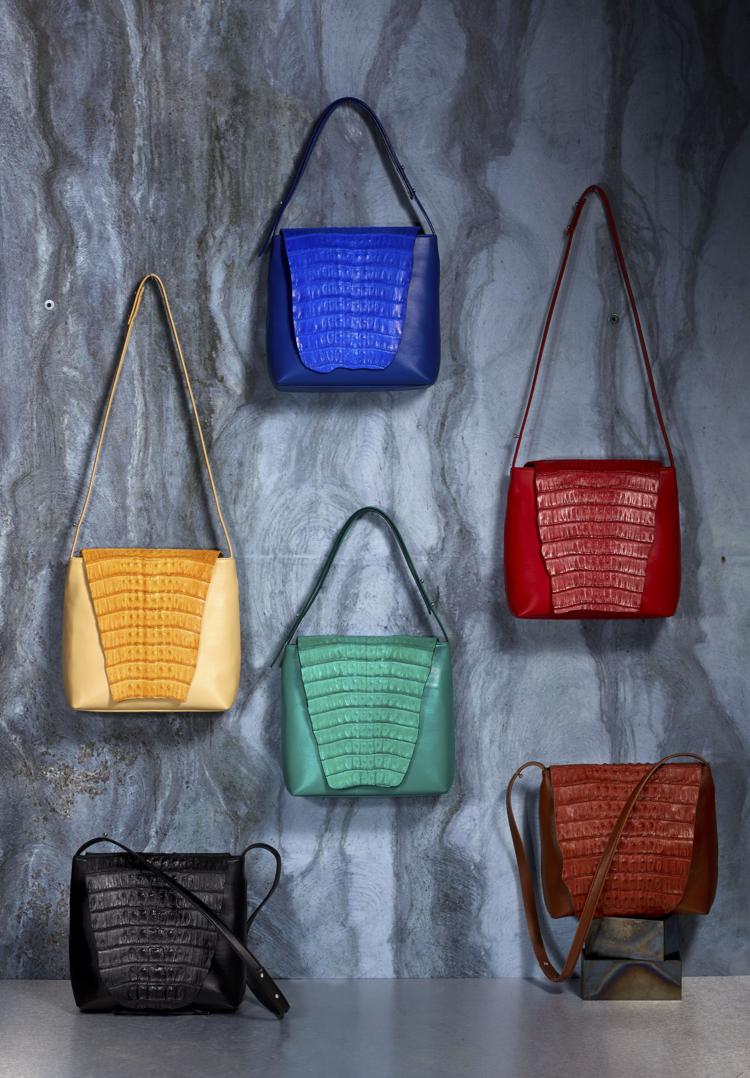 You work with such unique and unusual skins. What draws you to these hides instead of standard leather?
I have to see the materials in order to design a bag – the materials have always told me what to do, not the other way around. It's the unusual materials that speak to me, so that's probably why I use them. A side of nappa lambskin is beautiful in its own right, but when I look at it, I don't see the end result. That vision has to be there for me. … I see the entire bag in its finished state when I look at a skin or hide that inspires me, then I make a mini clay model of the bag with as much detail as possible so my manufacturer and I are completely on the same page. My office is full of tiny bag sculptures!
The linings of the bag are also unusual, yet clearly intentional. How are those selected?
It's all part of that vision I get when I look at a material that speaks to me. I just sort of know what the lining needs to be, and I go find it. I love thoughtful design and subtlety, and the surprise linings are like a little secret for the wearer.
Could you tell me a bit about your studio?
I design wherever I am and wherever my modeling clay is. My studio is located in the Saint Louis Fashion Incubator on Washington Avenue, and it doubles as my working headquarters as well as my creative space. I've set it up to look like more of a showroom for my pieces and collections, with blown-up photos from my first lookbook on my wall and a little sitting area with a cowhide rug.
Who are you imagining when you create your designs?
I have to admit, I only design things that I would love to have in my own closet. I ask myself, "If you could have any bag to go with this outfit, what would it be?" And then I make it. I love that!
Where are your items available?
We sell to many small boutiques around the country, including a store in Toronto and one in Tokyo. But all styles are always available on our website, and sometimes we even have secret sample sales online.
How did you get involved with the SLFI, and what has the experience been like so far?
They came to Dallas to recruit local designers. I was so blown away, and the opportunity came at such a perfect time. I knew I couldn't pass it up. The experience here has been totally life-changing. The amount of support, opportunity and direct connections with high-up industry professionals in New York are such a leg up for an emerging designer.