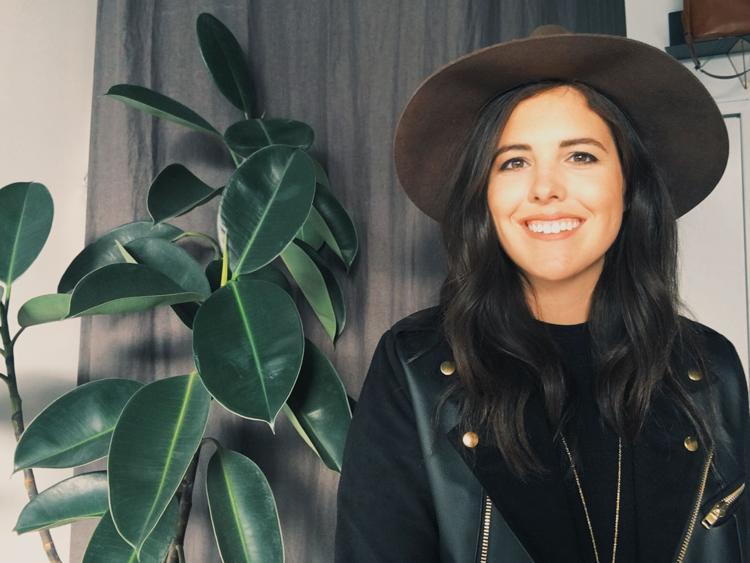 With the cold winter air comes "better leather weather," as one local boutique would put it. Fauxgerty's Central West End showroom has a vibe all its own, with playful details and glamorous fixtures surrounding the faux leather jackets that form the backbone of the company. In its year in the area, Fauxgerty has propelled itself from new to noteworthy, recently taking home the top honor at the Caleres Fashion Entrepreneur Competition – the jumbo-sized $10,000 check still sits in the showroom, presumably too large for the average bank teller. Ladue News caught up with Chrissy Fogerty, CEO and designer, to find out more about the line where compassion is king and leather is vegan.
Vegan leather jackets – that's a very specific niche – but the response seems to be tremendous so far! How did you begin working with the "better leather"?
I have a connection to two different worlds – wellness and fashion. Jackets are a staple in my wardrobe, so it made sense to start there. At Fauxgerty, we normally suggest that it doesn't matter what you're wearing if you're wearing an awesome jacket, and I really resonate with that philosophy. Looking at the offerings within the market, the more affordable option was faux, but lacked the design quality of luxury items. I decided to update the motorcycle jacket and figure out to make the best version in both design and execution.
We did this by researching materials and staying committed to our domestic production philosophy and sustainability standards. We have evolved since our first collection, The Primary Collection, to be completely vegan with most of our fabrics, utilizing post-consumer materials made in certified green factories.
For those who haven't been to your store, what else can readers find there?
Our Fauxgerty showroom has our signature collection pieces as well as jewelry, all natural beauty products, vegan leather handbags and small gift items like nail files, flasks and mirrors.
Fauxgerty's art director, Meg Faris, paints one-of-a-kind art on the back of our jackets, and her pieces are all on display in our showroom, as well.
Your line has ties to St. Louis, Los Angeles and New York. In regard to design and production, what happens where?
We design and operate out of our headquarters in St. Louis, and our only showroom is located in the Central West End. Our production is currently executed in small factories in Los Angeles, with our production manager operating out of the city. We work with specialists in New York as we begin to branch into wider distribution offerings.
You just took home the top honor at the Caleres Fashion Entrepreneur Competition. Congratulations! How was that experience, and what do you expect to result from the win?
Thank you! The Caleres FEC was an amazing opportunity for us to display transparency in our product and share our brand's story with an audience full of the fashion community and the St. Louis industry influencers. The experience was amazing. We got to see Fauxgerty through the eyes of the largest audience we had been in front of to date. We received overwhelmingly positive feedback in addition to the win and met invaluable mentors through the experience.
How was Fauxgerty's first year in the CWE? Why did you select that neighborhood?
We love the Central West End. The neighborhood is so supportive of one another, and we have been welcomed since our first day in the space. My husband and I have lived in the neighborhood for years, and we knew it would be the perfect place, with valued foot traffic from The Chase [Park Plaza].
What can customers expect from Fauxgerty next year?
Next year we plan to diversify our product offerings, expanding to full seasonal collections with dresses, skirts, tops and more jackets, all abiding by our sustainability standards. We are working to move our production to St. Louis and continue to grow our headquarters locally. We hope to continue to support the fashion community right here in St. Louis.
Fauxgerty, 228 N. Euclid, St. Louis, fauxgerty.com