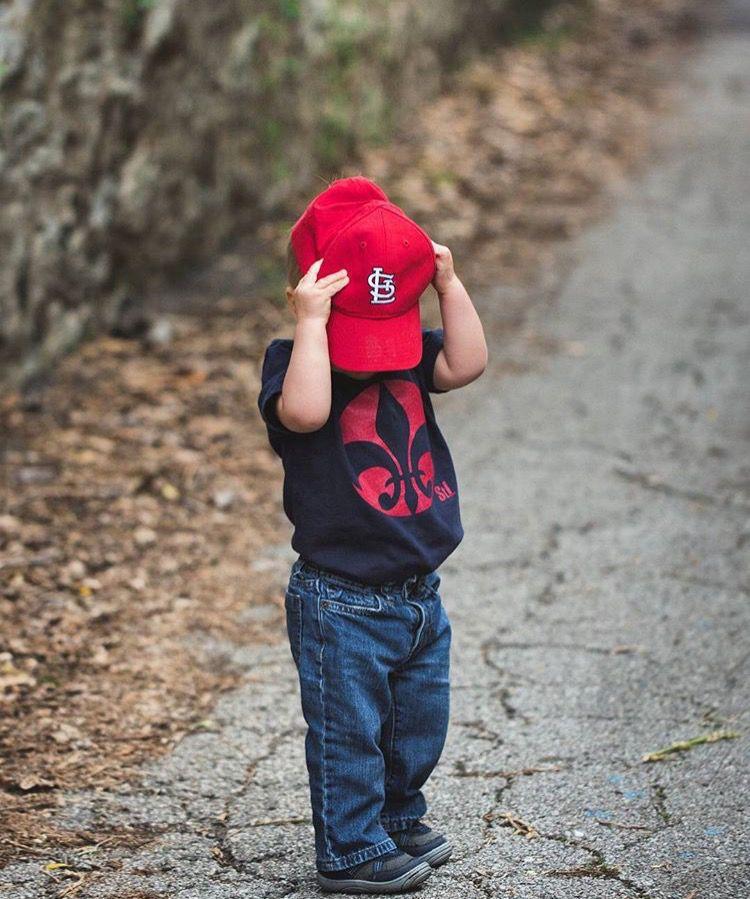 The Arch. Its 314 area code. The fleur-de-lis.
St. Louis is known for these signature symbols – and local startup Arch Apparel is giving your little ones a chance to show off their pint-size hometown pride on T-shirts, beanies and onesies emblazoned with the iconic emblems.
Arch Apparel, founded last summer by friends Aaron Park and JoJo Prapaisilapa, is a fresh, fun clothing company offering infant, child and adult apparel collections that pay homage to St. Louis – from the Gateway Arch to the St. Louis Cardinals and St. Louis Blues. Among the business' clothing and accessory lines is a kids and babies collection, featuring baby onesies, toddler tees and embroidered beanies for 3-month-old infants up to 6-year-old boys and girls. The spirited threads are available online at archapparel.com and locally at Blush Boutique in Kirkwood; Paisley Boutique in Webster Groves; Ju Ju B's and Jeans, Jackets & Jewels in Chesterfield; Too Blue Boutique in Columbia, Illinois; The Bud Shop at Ballpark Village in Downtown St. Louis; and the Anheuser-Busch Brewery Gift Shop near Benton Park. (Apparel for kids and babies is currently available only online and at the brewery.)
The business aims to improve lifestyle attire across St. Louis, where residents are so passionate about their neighborhoods, sports teams and the city as a whole, Prapaisilapa says. "Be it sports, food or otherwise, we are so supportive of our local brands," he says. "We wanted to remodel the way we could wear that all-encompassing pride and joy."
With St. Louis also being such a desirable place to raise kids – from its wide range of affordable attractions to family-friendly activities around town – Prapaisilapa says it was only natural to offer kids and baby items, in addition to adult attire. "We wanted to share a lot of the designs so that both the child and their parents could wear them out together," he says.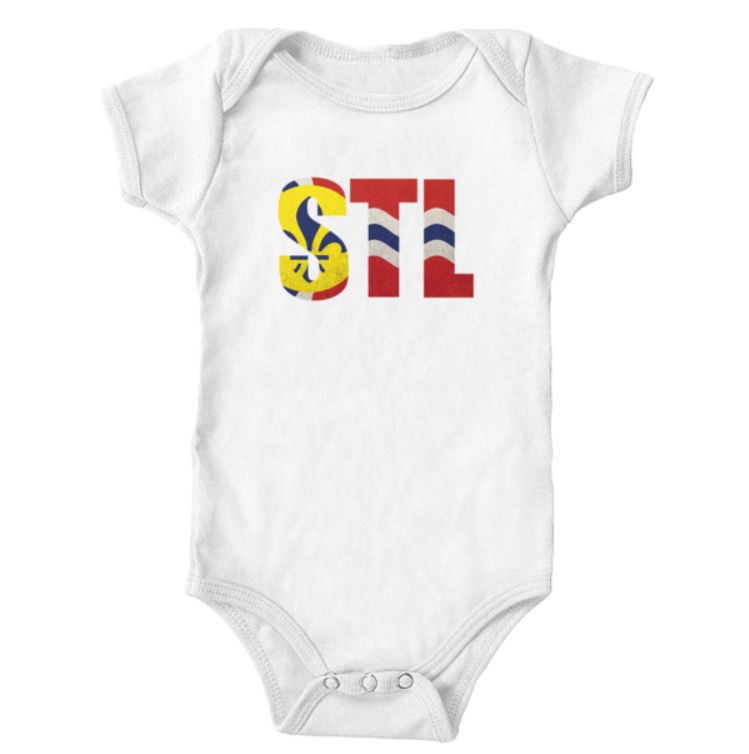 Each piece of clothing is made of soft, durable, combed and ring-spun cotton that is inked and customized in St. Louis. "We sketch out what we think would work, then we digitally convert it and mock it up onto cloth," Prapaisilapa says. Custom designs include baby onesies and toddler tees with modern, creative typography such as "Made in Missouri" and "Midwest Mannered." Uniquely St. Louis symbols, such as the fleur-de-lis, the city flag and the Arch also are colorfully displayed. Additional designs include the STL abbreviation inside a red heart or a rainbow-colored Downtown skyline with a heart around the Arch.
"Our biggest kids' seller is the 'STL flag' onesie – a design that features our city's three letters, STL, with our city's flag cut out brightly and colorfully inside the font," Prapaisilapa says, adding that sports-themed attire also is popular for kids and infants. "The sports designs such as the crossed [hockey] sticks and 'World Champs' [in baseball] always make us smile, because we're big sports fans, much like the rest of St. Louis. It's something that bonds us all," he says.
Arch Apparel was entirely funded by Prapaisilapa and Park, who met after completing college degrees in business management and marketing and were fueled by their common passion for St. Louis. And St. Louisans have echoed that intensely loyal and loving hometown spirit. "For the community to really take to us, we really fell in love with the city all over again," Prapaisilapa says. "It really [showed] how people are rewarded for hard work and unfiltered passion [in St. Louis]." The apparel business began with offering only T-shirts and, in about a year and a half, has grown its catalog into its current array of attire and accessories. "We're proud students of our industry, so as we kept learning, we were able to grow," Prapaisilapa explains. "We now can offer more intricate pieces, such as embroidered beanies."
With St. Louis' family-oriented focus, Arch Apparel plans to expand its kids and babies line in the coming year, as well as take part in more area pop-up sales and charitable events. Prapaisilapa says the best part of the clothing company is meeting the people who make St. Louis the city it is. "Through collaborations or a simple transaction, we're meeting faces we otherwise wouldn't have been able to – and we don't take that for granted," Prapaisilapa says. "We love hearing other people's and other businesses' stories as we strive to refashion how we can convey pride for our city."
Arch Apparel, archapparel.com