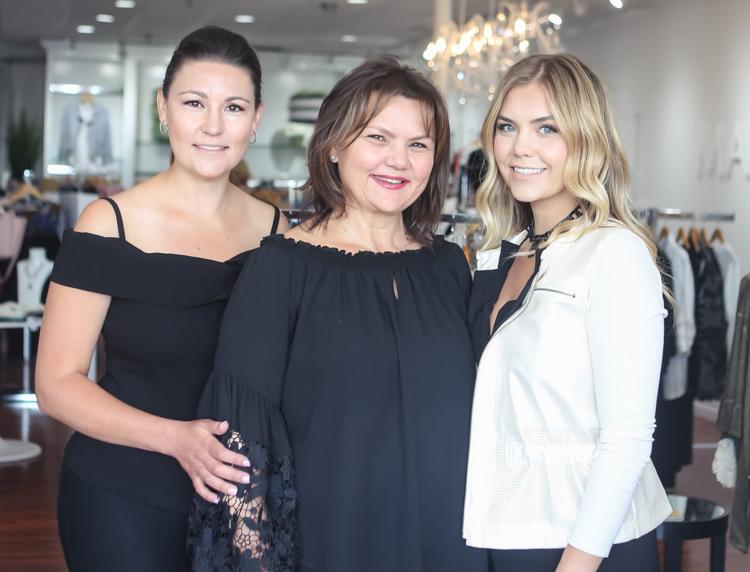 Three women, two generations, one booming domain. Marta Gaska always dreamed big, but she never imagined how her ambitions would influence those around and closest to her.
"I started [in the fashion business when I was] very young and it was tough," Gaska recalls. "I'm fortunate to have two two amazing women – my daughters – following in my footsteps. It's so encouraging. My kids have such a passion for this, and I know that, even if I step away tomorrow, my business will not change in any way, thanks to them."
A humble upbringing instilled savvy sensibilities in this family's matriarch, and, today, Gaska owns and operates Marta's Boutique in Ellisville. Her daughters, Lauren Musgrove and Tania Rakel, manage the operations of Gaska's second store, MOD, which spans across St. Louis and Columbia, Missouri, with six locations.
"Marta has inspired me in business by showing that you must put 100 percent forward every single day," Musgrove says. "She came from little-to-nothing, from growing up with dirt floors to creating a fashion empire. My loved ones motivate me."
In business for 35 years, Marta's Boutique offers a timeless appeal. With name brands and dedicated service, the shop has proven to offer an irresistible combination to women, ages 30 and older. MOD also delights shoppers, with on-trend items, reasonable prices and multiple weekly deliveries of new goodies to peruse.
"Even though we are a younger company, most of the girls on the MOD team started with us and have stayed," Musgrove boasts. "In order for women to grow, other women have to believe in them. We're all about growing the individuals within our company. Kailey Vojas was our first employee. We interviewed her while sitting on folding chairs and told her, 'The sky's the limit with this company. If you believe in us, we believe in you.' She is now our head buyer."
Musgrove has learned her own invaluable lessons from running a business. "Put your heart into it," she advises. "Every time you feel as if you are failing, [think of it as] the next step forward. Put everything in a positive light and look at it as a learning experience."
Gaska's story epitomizes the American dream. She became successful through her own tenacity and vision, and she now shares that spirit with her family and other female entrepreneurs.
"Have perseverance and patience," Gaska encourages them. "Sometimes, things don't go right and you can't see the light at the end of the tunnel. Know it will turn around. If you have passion and stay focused, I believe you can succeed."
Marta's Boutique, 1352 Clarkson Clayton Center, Ellisville, 636-227-8831, facebook.com/martasboutiquestl
MOD, 871 S. Arbor Vitae, No. 102, Edwardsville, Illinois, 618-659-9797; 1650 Beale St., No. 160, St. Charles, 636-493-9696; 8827 Ladue Road, Ladue, 314-996-9143; 110 N. Clay Ave, Kirkwood, 314-288-9884; 2307 State Highway K, O'Fallon, 636-272-1191, modontrend.com