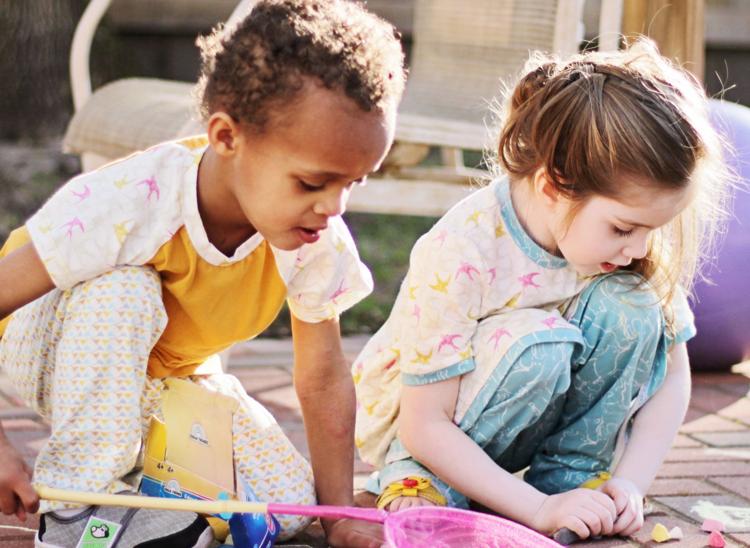 At The Tiny Hedgehog, there aren't baby boy clothes and baby girl clothes – there are just clothes, to be worn by any baby or toddler. Instead of deciding who can wear what, this line of locally designed and sewn kiddo clothing focuses on other aspects, like comfort and aesthetics.
"The Tiny Hedgehog is a collection of inclusive, vibrant and comfortable clothing for babies and toddlers," says founder and designer Merlin Whitman. "I started The Tiny Hedgehog in 2016 after my daughter was born. Each garment is lovingly handcrafted in St. Louis so your little one will always look and feel [his or her] best."
One look at The Tiny Hedgehog shows a variety of colors from a mature palette that somehow work together perfectly in children's clothing: robin's-egg blue and mustard yellow are big players with little pops of cherry red, charcoal gray, dusty pink and more. You won't see pastel blue and pink, in-your-face neons or the cutesy catchphrases often printed on children's apparel. Instead, the clothing gives off a slight 1970s vibe while still feeling timeless. Even with its range of muted hues and plethora of patterns, all the items match nicely together. Mainstay features like a contrast trim, sleeve or waistband unify the collection.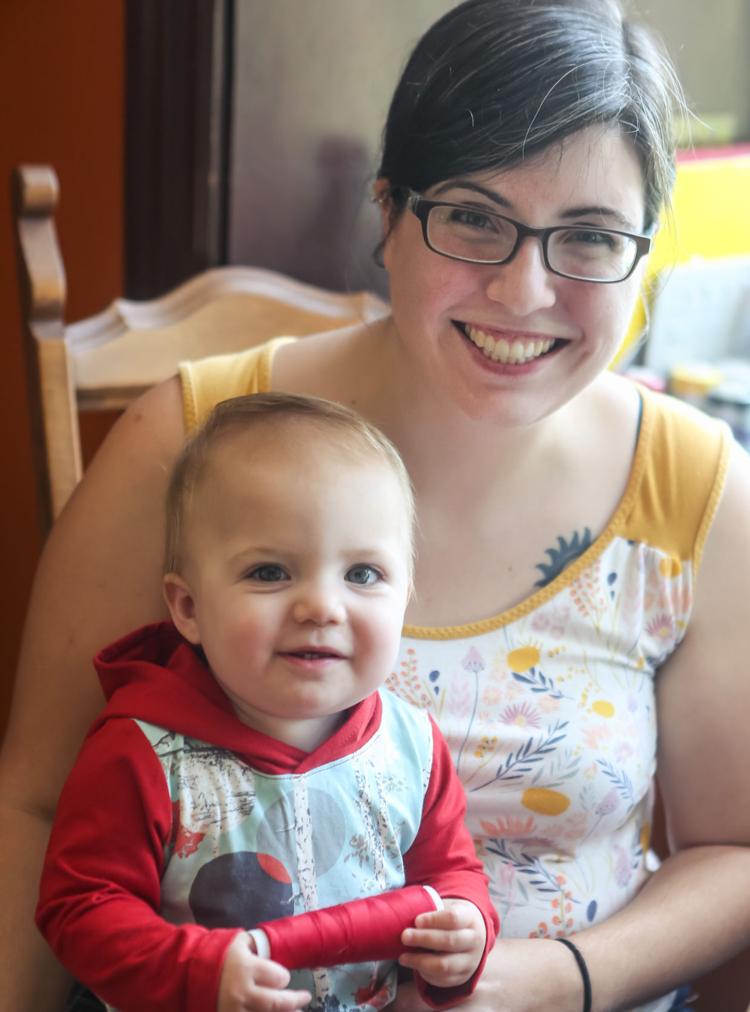 It turns out that selecting these patterns is the longest part of the process for Whitman. "I start my design process by looking at fabric samples and deciding on a particular color mood for the season," she says. "I tend to mull over colors and patterns for a good while before finally committing on my fabric palette. At the same time, I'm also thinking about the upcoming season and sketching some clothing designs."
These shapes and fabrics may be great in adult minds, but do children – the ones actually wearing the pieces – like them? Turns out, all The Tiny Hedgehog pieces are approved by one youngster. "Once the fabric and designs are decided on, I'll create a mockup of the design and let my daughter run around the house in them to see how she likes it," Whitman says. "If it [earns] her seal of approval, I'll start production. I cut and sew all of the clothing in my home studio in Old North St. Louis."
The Tiny Hedgehog's current collection includes five shapes in a few pattern options: pants, shorts, tunics, and short- and long-sleeved T-shirts in sizes newborn to 5T. Prices range from $25 to $43, and the patterns include everything from woodland scenes to overlapping kittens to tiny sparrows.
"I think vibrant and joyful are good words to describe The Tiny Hedgehog," Whitman says of her colorful collection. "I want to make clothes that are inclusive and comfortable to wear for every child. I don't think we need to stick to just pink and blue for our kiddos."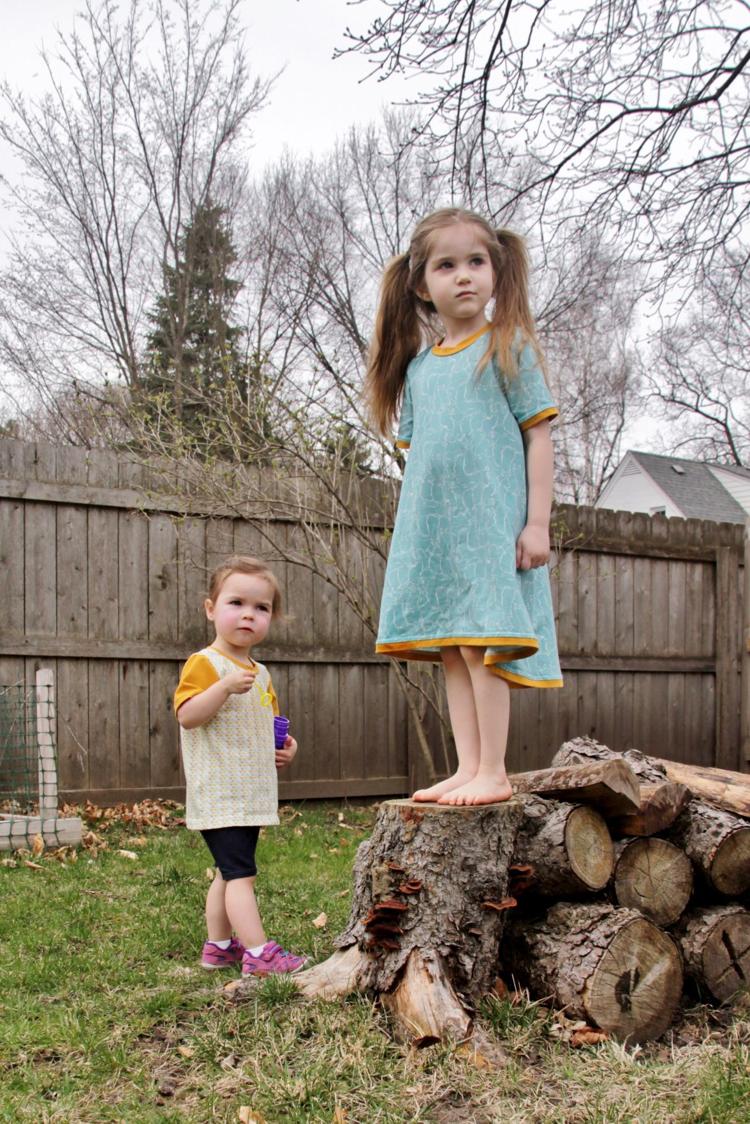 Whitman credits her daughter as her biggest inspiration. Whitman, a lifelong seamstress, has been making clothing for years, but she transitioned into these petite versions when her daughter was born. "Baby clothes are nice because they don't take as long as making adult pieces, so I could whip up a pair of pants between naps," she says. "It helped me feel more myself again and gave me a creative outlet that I really needed in the months after her birth."
On Friday, Sept. 1, Whitman says The Tiny Hedgehog will release its first fall mini line, which will include four pieces. Then, later this year will come a fall/winter collection. Local shoppers can be on the lookout for The Tiny Hedgehog at autumn craft fairs and festivals, including the South Grand Fall Festival on Sept. 16 and The Strange Folk Festival from Sept. 22 to 24 at a location to be announced. Those looking to find Whitman's creations outside of those events can shop online (thetinyhedgehog.com) or at boutiques Amber Sky in Maplewood and Lass & Laddie in Kirkwood.
"There's always a bit of self-doubt when you create something new, but people have really responded well to The Tiny Hedgehog – not only in how they look but also how they feel," Whitman says. "I use a soft cotton jersey for all the clothing, so everyone is always commenting on how snuggly it feels. I've also had a lot of adults say, 'I wish you made them in my size!' Someday, maybe!"
The Tiny Hedgehog, thetinyhedgehog.com