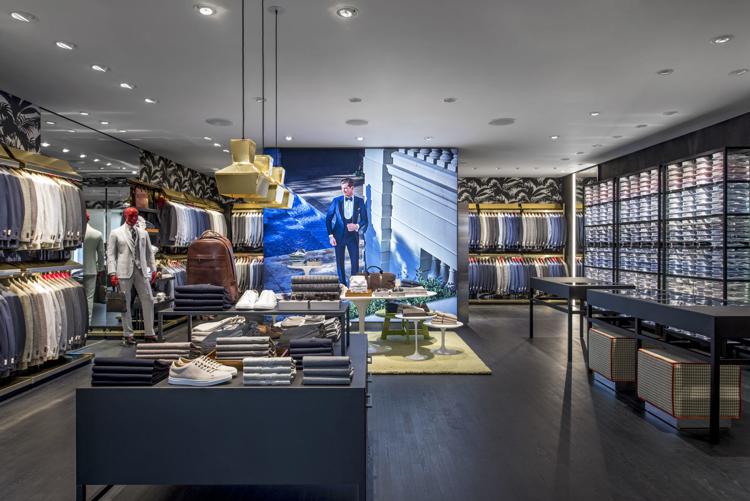 "We at Suitsupply are all about finding the perfect fit," Nish de Gruiter, vice president of that Amsterdam-based North American company, relates by phone from his New York office. "We are making sure that everybody who walks into our store gets a perfect fit. We tailor things on the spot. … It's all about fit – that's the bottom line."

Even though he's basically just jetted back to the Big Apple from Holland, de Gruiter sounds über-stoked about menswear in general and his international company in particular. That company features fabrics all crafted in high-end mills in the town of Biella in northern Italy and, for an average two-piece, offers three distinct price points: the Blue Line starting at $399, the Purple Line ranging from $469 to $569 (with some three-pieces at $599) and the Red Line starting at $639.
Reflecting a stray build-out here and there, the company lists on its website almost 100 stores internationally in megalopolises like Berlin, London, Milan and Shanghai and three dozen in the United States alone – including one that opened just yesterday, Thursday, May 31, in St. Louis' Central West End neighborhood.

Why here? Well, de Gruiter notes, a ZIP code analysis and other metrics from Suitsupply's Chicago operation revealed that a noticeable number of its customers, in both "bricks" and "clicks," call the metro area home. After that revelation came more than two years of planning, he continues, including evaluating multiple potential locations locally.
"Once we found this historical building, it was love at first sight," de Gruiter says. "It was in a beautiful area. It had all the right 'bones' for us to move forward." He estimates the public area of the local Suitsupply at almost 3,500 square feet, adding: "It's just right off the main strip, but it creates a little character. It's a beautiful destination store, where clients can take their time and get the perfect fit."

That destination store, de Gruiter says, "holds a full collection. We can outfit a guy for seven days a week, basically. … If we don't have your size in stock, which is a rare occasion, we can have that delivered within two to three business days to the store to get it tailored, or we can ship directly to your house from the store. We try to make it as convenient as possible for the client."
Suitsupply offers its namesake product, jackets and coats, casual and other shirts, ties, knitwear, waistcoats, trousers and shorts, and eveningwear, grouping men's body types and their apparel in a quartet of categories: slim, average, athletic and "rounder." Among other popular authorities, both Esquire and GQ have praised the retailer, which Netherlands entrepreneur Fokke de Jong founded in 2000.
"You know, guys are known for not planning ahead," de Gruiter says with a laugh. "On its own and the service that we offer, we are quite unique in the market – to buy a suit, to walk out with it in the same day, to get it tailored on the spot."
In that respect, he touts Suitsupply's "decent-sized staff and tailors that will work seven days a week to make sure you get served well." The company trains its sales staff, who occupy a central station in-house, at a Dallas "suit school" for roughly two weeks, de Gruiter says.
Such trained personnel rank as integral to Suitsupply's operations, he continues, because "to get the right fit, you have to look at construction. It's not that you just take in the side seams and it will fit well – it's about how a suit is constructed."
Complementing matters of convenience and construction, de Gruiter says, are aspects of control, by both educated, sophisticated consumers and Suitsupply itself. "If you think about a suit, it's never an impulse buy," he says. "It's something that you research on the internet, or your friends tell you about it, or your wife pulls you out of the garden and tells you you have to go buy a new suit, so you have a very focused customer coming in."
For control by the company, "vertical integration" ranks as a core component, de Gruiter continues: "How people used to retail in a traditional manner, like the big department stores, with a bunch of middlemen in between who would go to trade shows and then go to another retailer, another wholesaler – we cut all these things out.
"We produce a manufactured design and everything in-house, and it goes straight from the factory to the store. … It cuts out a lot of cost, and at the end, the consumer doesn't pay that. So that model – what they call 'disruptive,' basically – it's a new way of bringing goods to the final consumer."
With spring effectively eons old from a sartorial standpoint, de Gruiter also sketches what that final consumer can anticipate for the coming menswear season. "In our suit collection for fall, you'll see a lot of products with very 'soft' tailoring, soft shoulders, patch pockets," he says, adding that such tailoring will allow Suitsupply customers to adapt almost any outfit to workaday office demands or weekend diversions. De Gruiter also foresees "very rich colors, very nice deep dark browns, tobaccos, emerald green, camel's hair – it's a very warm and eclectic collection that's coming up this fall."
Beyond convenience, construction and control, he concludes with one final "c" concept: contentment. The Central West End Suitsupply, de Gruiter says, "doesn't feel like a traditional suit store. … We have a layout that gets very energetic, and it puts a whole new energy to the market. So when you walk into the store, it puts a smile on your face."
Suitsupply, 44 Maryland Plaza, St. Louis, 314-300-3093, suitsupply.com
A Closet Confidence
So what does a haberdasher nab when he needs to dash but still wants to look dashing?
Nish de Gruiter – vice president of the international menswear retailer Suitsupply – reflects on that question only an instant before formulating an answer.
"I have a navy travel suit, and the travel suit is totally deconstructed," he says. "While making the travel suit, they spun the yarn so tight, it always bounces back to its original shape – so it doesn't wrinkle.
"It's deconstructed, so there's no lining; it feels like a shirt. When I put it on – with a T-shirt, with a crewneck, with a turtleneck or with a button-down – it always looks good. You can dress it up in the wintertime or dress it down in the summertime, and that's my go-to piece."
Regarding that sartorial prodigy, de Gruiter continues: "It's navy, so you wear the pants on their own, you can wear the jacket on its own, you can wear it with sneakers. I'm really a huge advocate of that particular piece because it's just so easy that you can't go wrong.
"You're going to that 6½-, 7-hour flight to Amsterdam, you put that suit on, you walk out of the plane – hey, you look like a million bucks!"