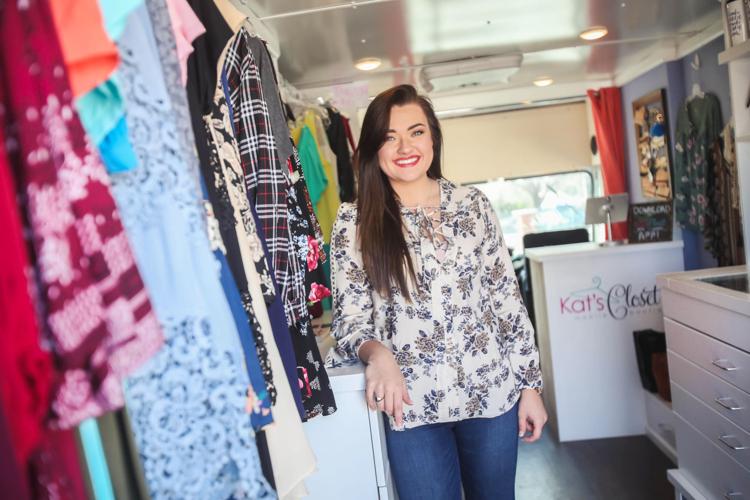 Kat's Closet's striking blue truck, with its bright graphics and vibrant, multicolored chevron pattern, is hard to miss. And if the idea of a truck-turned-mobile boutique isn't enough to catch your eye, 22-year-old owner and operator Katharyn "Kat" Fish says she gets plenty of double takes when people glance over to see her perched in the driver's seat, flashing a quick smile and waving as the truck rumbles on to its next pop-up shop destination.
Mobile boutiques began emerging on the scene around 2010, when boutique owners and aspiring entrepreneurs in New York and Los Angeles noted the success of the food truck movement and modified the concept to be a fit for fashion. By 2014, the American Mobile Retail Association reported that in all 50 states, the industry had grown to nearly 500 fashion trucks. Young entrepreneurs like Fish are drawn to the lower barriers to entry, with startup costs at a fraction of what a brick-and-mortar store would entail. For the consumer's benefit, the adage of "If you build it, they will come" has taken a customer-centric focus: Build it, and take it to them.
"I'm glad I went this route first," Fish says of deciding to launch as a mobile boutique. "I didn't take on that kind of debt, and it was better for me. Honestly, it's worked out a lot better because my customer base is all over St. Louis, versus one area."
A native of south St. Louis County, Fish was raised in a "very entrepreneurial" family. "My parents have always owned their own businesses, as well as extended family and grandparents," she says. "I knew it was something I wanted to do, but I had no idea how to do it – it kind of happened."
Fish's light-bulb moment occurred right after high school, as an 18-year-old enrolled in a freshman coding class at a local community college. For the class, Fish had to create several types of websites, and one assignment was an e-commerce site. "That's where Kat's Closet was really born," she says. "I built the website, and after I did it, I thought, 'I think I might actually want to do this.'" Fish dipped into her savings account, took a loan from her parents and began selling the Kat's Closet collection online with clothes she purchased from retail markets in Dallas and LA. She expanded her business by doing local trunk shows at private homes and businesses, packing her inventory into her car to haul it from place to place.
She began looking into a storefront when she was 19 but was hit with sticker shock at the startup costs. "I started doing some research and stumbled upon a truck out in LA," Fish recalls. Her research led her to discover the growing fashion-truck scene in St. Louis, and she knew she had found her place. "I have to do this, this is my niche, this is what I can do," Fish told herself.
She tracked down an old, beat-up truck for sale in Illinois; its seller had bought it to use as a food truck, a plan about which he later changed his mind. "It was a metal box," she says, which needed a lot of love. Her business became her supportive family's newest project, as Fish's father, Randy, spent 10 months helping her restore the truck. The pair added insulation, put up wooden walls, painted the interior and added baseboards, and then hired Waser Cabinetry to add central pieces to create the effect of stepping into a massive 128-square-foot walk-in closet – complete with a dressing room – as shoppers enter the mobile boutique. Exterior design was done by The Graphics Co. in Sunset Hills – "It's bright and colorful; you can't miss it," Fish says.
Kat's Closet hit the streets of St. Louis in August 2015, setting up shop at corporate offices, business parks, restaurant parking lots, hair salons and, most notably, Truck Shop Saturday, a monthly event at Tower Grove Park that reflects the concept of large food-truck events but with a collection of retail trucks. Fish partnered with friend and fellow mobile entrepreneur Emily Ponath of Rack + Clutch to launch the program this past November, with events planned from 11 a.m. to 3 p.m. the third Saturday of the month year-round.
With such limited space available compared to her brick-and-mortar contemporaries, Fish is very selective with the items she carries in her shop. "I really dive a lot into what's on trend – I try to keep the trends of the season at the forefront of the store," she says. Following fashion bloggers and shopping the latest retail markets in Dallas and LA, Fish's truck may lack basic T-shirts, but it always will have those statement pieces that will have people asking, "Where did you get that?"
"It's more that middle-of-the-road, cute and casual, fun, even flirty, going-out-on-a-Saturday-afternoon items – that one dress that's going to stand out in a crowd or that top or blouse that everyone's going to compliment," Fish says. In addition to clothing, Kat's Closet carries jewelry, scarves, sunglasses, handbags, wallets and cheeky coffee cups.
This spring, Fish is noting trends that are retaining their staying power – lace, stripes, pops of color, and shades of blue and green. The lush emerald green from fall is lightening up a bit, and gold jewelry remains queen.
For the year ahead, Fish plans to expand her reach by setting up additional pop-up shops each month and ramping up her private-party service. She provides the party service for free, with a minimum requirement of 15 guests. "I would like to see that side grow because it's fun for people, and I enjoy that a lot – my favorite part is dressing people and making them feel good about themselves," Fish says.
Kat's Closet's schedule is available on the mobile boutique's website, as well as the Kat's Closet app, which includes a truck tracker, easy online shopping and a Kat's Closet loyalty program with special deals, alerts and events. Private parties can be scheduled through the Kat's Closet website or by contacting Fish directly at kats.closet.net@gmail.com.
Kat's Closet, 314-258-5288, katscloset.net