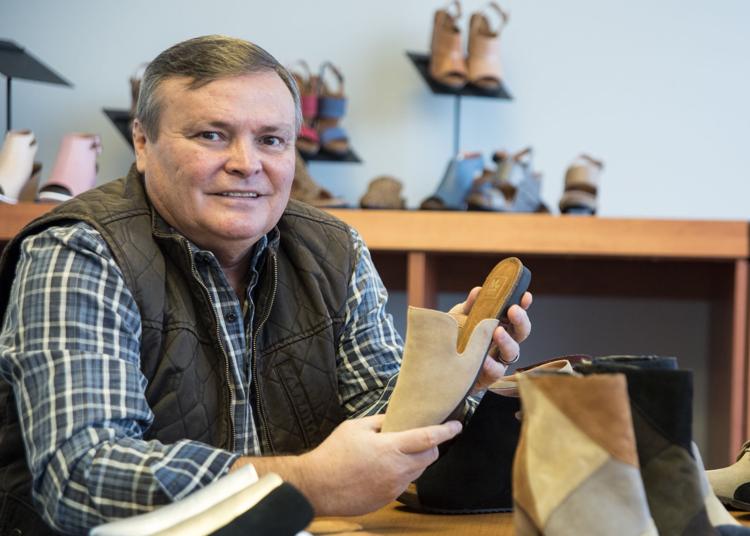 This is the story of a career that spans more than 40 years, takes twists and turns, is marked by persistence and flexibility, and now is providing a product that meets a specific need. Mark Jenkins is down-to-earth and honest when he tells the story of his journey from shoe salesman to owner of Mark Jenkins Footwear, a brand available at boutiques in 12 states and online that combines style and comfort in women's shoes.
Jenkins' shoes include a variety of popular and fashion-forward styles. For fall and winter, boots were the headliners. The Flyer is a genuine suede, over-the-knee style with a flat heel in black, beige and gray – standards in Jenkins' neutral color palette. Suede appears in a different style altogether in the Barcelona, an ankle boot with a 1-inch block heel, featuring a patchwork motif of color combinations, including navy/gray/beige and black/brown/olive.
From Jenkins' sandal line, the popular Calista style features a 3-inch wedge and is available in leather or suede shades ranging from deep wine to the most neutral cream – and even a fun leopard print. Despite the taller heel, the design ensures the foot is positioned for maximum support and stability and, like Jenkins' other shoes, features a molded cork footbed with thick memory foam padding that molds to the wearer's foot for superior comfort.
Today's footwear line is a product of Jenkins' long career in the footwear industry, which began in 1978 at the fitting stool – helping people try on shoes of various sizes and styles, advising them on fit and appearance. "It was fairly lucrative if you had some drive," he remembers of that first commission-paid job.
The 1970s, '80s and '90s were generally good years to be in the shoe business. Jenkins worked his way up the ladder at Edison Brothers Stores, a St. Louis company that owned numerous shoe and clothing retail chains including Bakers, Chandlers, Burts and Wild Pair. "They were a very big retailer back in the day," Jenkins says. "They tended to promote from within the company, so the management team largely came up through working in the stores, and it was a great place to be a student of the retail footwear business."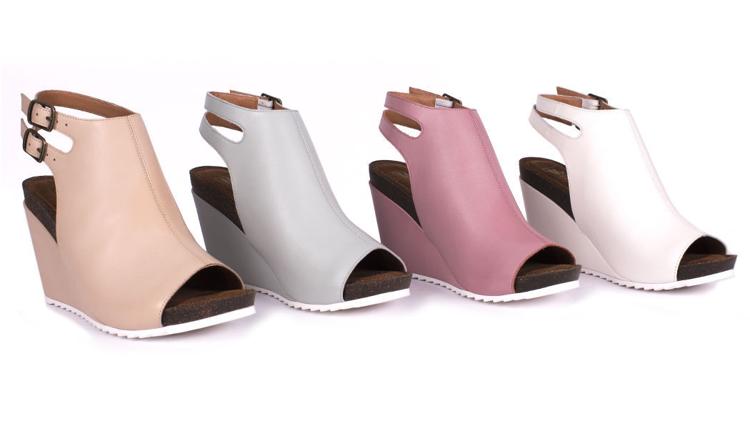 Jenkins took his real-world studies seriously. Fascinated by the workings of the retail world, he set his sights on product development and purchasing for Edison Brothers' various retail lines. In 1983, he was promoted to the company's corporate office in St. Louis as a merchandiser, where he procured products for specific regions across the nation based on the need and demand for various sizes, styles and colors. Proving himself in that position, Jenkins continued his management ascent as a buyer and merchandise manager for several of Edison Brothers' shoe chains, fulfilling his early goal.
Things were going well. But in 1995, Edison Brothers filed for bankruptcy, citing a poor specialty-retail environment, and began closing stores. Although the company's dissolution shocked many, Jenkins felt it was an opportunity to spread his wings to other companies and learn about the footwear industry from other perspectives. "The bankruptcy taught me to look at business differently and see how other retailers were doing things," he says. "It was very eye-opening and a tremendous learning experience, although the bankruptcy was a difficult time."
Jenkins and two partners invested in the Bakers shoe chain, buying it out of bankruptcy. "We had a really good time with repositioning it," he says, but disagreements about the future direction of the stores led to Jenkins' decision to move on. He took a job at Brown Shoe Co., now Caleres, running the Naturalizer retail division. After a year in that position, Jenkins decided to broaden his horizons to the wholesale side of the footwear industry.
Retail was quickly changing from a merchant-driven business to a numbers-driven business, which Jenkins says led him into wholesale. "There, [I] could stay focused on product and still work with some of the biggest retailers and brands in the industry," he says. He worked at Elan Polo International, a St. Louis-based company that produces several shoe brands for retailers, and then moved on to Bronx Diba Imports in 2010, overseeing the development of the Luichiny brand.
That job ended last year when Jenkins was downsized. "It wasn't the perfect time for me, but it was the right decision for the company to make," he says. Jenkins faced a crossroads. He could seek employment elsewhere, uprooting his family and relocating, or he could take an entrepreneurial route. He chose the latter, and Mark Jenkins Footwear was conceived.
Using his extensive knowledge and industry contacts, Jenkins determined that there was a niche in the shoe business that targeted women who wanted style and comfort. "I wanted to carve that niche and do it right," he says. "After talking to a lot of my contacts in industry, finance and technology, I thought, 'I can make a go of this.'"
Jenkins introduced his brand in spring 2017, marketing his shoes online and through carefully selected retail outlets. He intentionally keeps his production small-scale so he can agilely adjust based on customer demand.
Mark Jenkins Footwear is now heading into its third season, spring 2018, and will feature sandals and other popular styles manufactured on a comfortable footbed with memory foam insoles. Spring styles will include metallics and neutrals, as well as some bright colors, such as ruby and slate.
About 75 percent of his business is in providing his shoes to boutiques, many of which carry his brand exclusively. In the greater St. Louis area, Jenkins' shoes are available at Heels Boutique, Klutch, Leopard Boutique, The Designing Block, Aly's Boutique and Jeans, Jackets & Jewels.
Mark Jenkins Footwear, 314-494-9215, markjenkinsfootwear.com