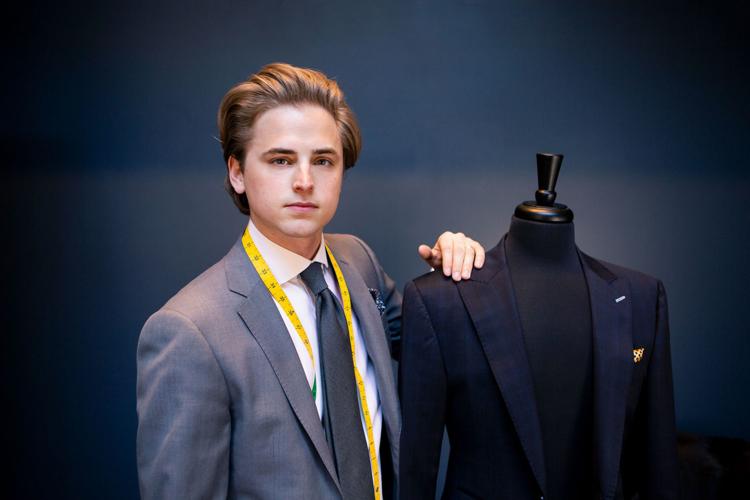 Fashions come and go, as capricious as the metro area's weather, but style, bona fide style, eschews mere trendiness, as an introduction to Gentry's Limited, Dakota G. Grady's new haberdashery, strongly suggests.
Grady's bespoke menswear venture, which opened on May 8, occupies a prime location, in St. Louis' Central West End neighborhood; there, his reputation as a made-to-measure maestro already has attracted enough interest that a June 21 drinks-and-appetizers open house garnered three times as many RSVPs as expected.
A strikingly youthful latter-day gentleman per se who customarily looks as if he just stepped from the pages of the latest Esquire or GQ, Grady sketches the credentials in haberdashery that may have prompted that response.
"I've been designing menswear for more than three years, and it's become a passion and not just a job," he says. "I had an opportunity to move to New York and work for a bench tailor out there and have had some alternative choices in St. Louis seek me out, so I feel like I must be doing something right."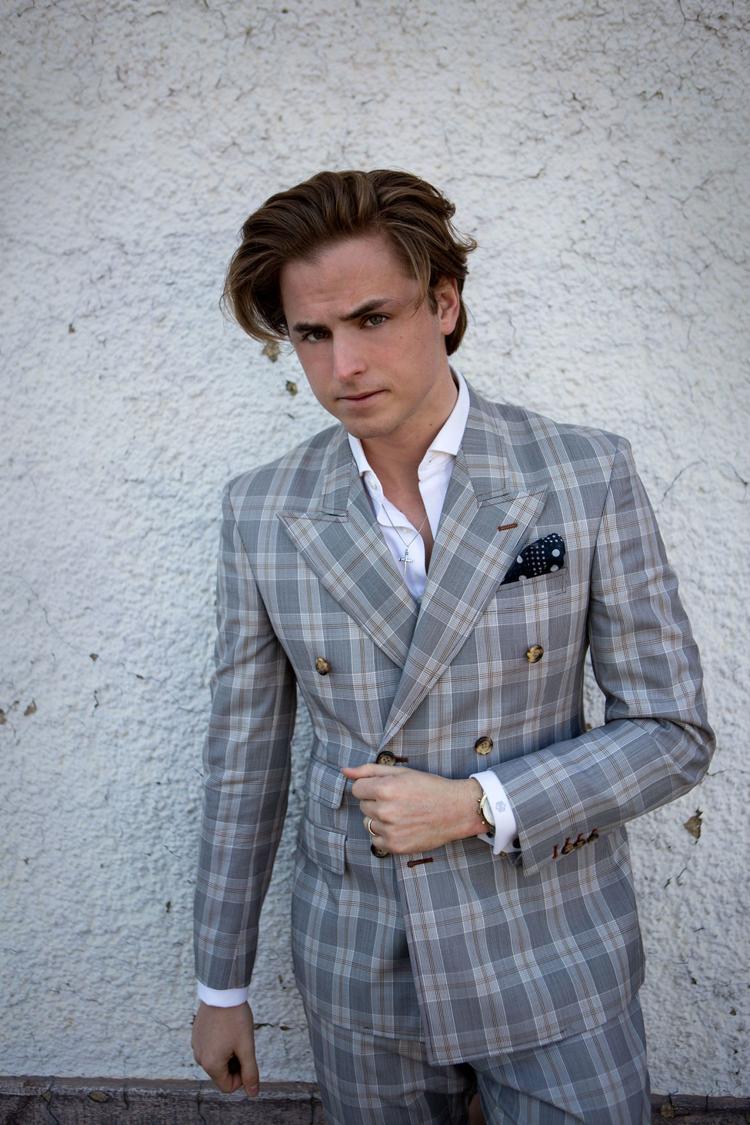 That said, Grady relates that his own interest in quality menswear long predates not only the establishment of Gentry's Limited but also his sartorial apprenticeship.
"Even when I was much younger, I always wanted to look good and present myself well," he says. "I started working when I was 16 years old, and I noticed that those I looked up to had a tendency to treat me differently when I presented myself professionally.
"Job opportunities, social interactions and my personal confidence changed when I put an effort into my appearance. I used to have difficulty finding off-the-rack clothes that fit me properly and made me feel confident, and I began to realize that your wardrobe is an investment in your future."
That realization ultimately led to the establishment of his haberdashery.
"I founded Gentry's Limited because there's a massive need that isn't being met in St. Louis for quality, fashion-forward menswear," Grady says. "We needed someone who cared more for the clients than anything else, so I decided that if I didn't do it, who would?"
He also sketches the services available to clients at his made-to-measure emporium.
"Gentry's Limited provides unique and higher-quality custom clothing options for the discerning male," Grady says. "We are working with exclusive worldwide tailors for each commissioned garment and have fabrics that are only found at our shop. From custom casualwear to business to formal, Gentry's Limited works closely with each client to develop a wardrobe around [his] unique lifestyle and needs."
Grady likewise emphasizes the sheer artistry and distingué nature of services offered by Gentry's Limited, as opposed to other area menswear enterprises.
"Gentry's Limited seeks to put the client first, listening closely and crafting carefully with the intention of making unique luxury garments that don't just fit perfectly but communicate the wearer's individual brand to the world," he says. "Having a private showroom in the Central West End enables me to block out quality time for each client, giving them my full attention. Plus, if they can't make it out to the shop, I go to clients' homes and offices.
"Due to the massive amount of detail and time [that] goes into designing and choosing each garment, we offer appointments as long as the client needs to arrive at a decision. We also give them peace of mind if they choose to trust our expertise, making appointments anywhere from 10 minutes to four hours of wardrobe crafting."
Later this year, Gentry's Limited clients might want to brace themselves for something of a blast from the past, with a potential resurgence of quality male apparel inspired by Britain's famous – or, depending on one's perspective, infamous – Carnaby Street. "Fashion is a constant cycle, and we're currently in the '60s-'70s phase again," Grady says. "This fall, we'll be seeing vests added to a standard two-piece, bold colors and the revitalization of the 'bold stripe.'"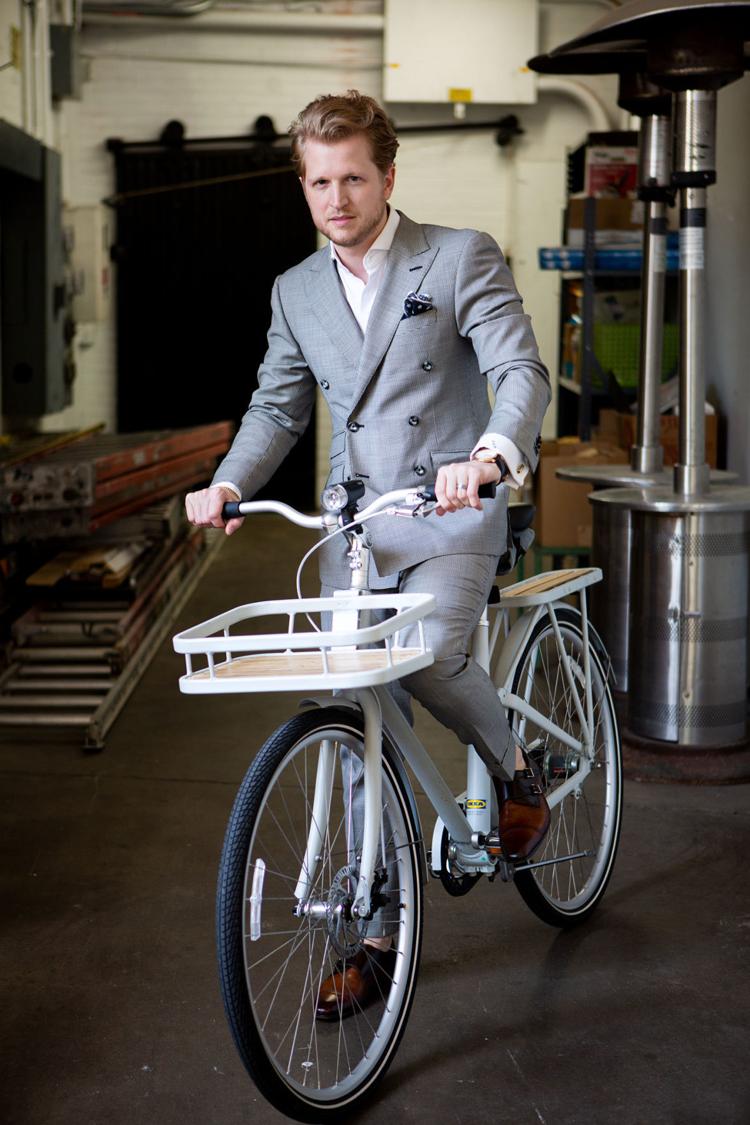 Reflecting on specific male apparel, Grady discusses pieces at both the micro and macro levels, starting with a favorite out-on-the-town piece of apparel from his own closet. "My go-to is a cognac tasseled loafer," he says. "While you can wear them with socks, I prefer choosing 'no-show' socks for a summer feel. I wear them with jeans, dress pants and even shorts, taking every outfit to a sophisticated level."
From a broader perspective, he continues: "I'm in love with [multigenerational luxury Spanish cobbler] Magnanni when it comes to shoes. They're able to take a classic look and modernize it for the men of today. The quality, styles and wearability are quite something.
"Other than that, I don't imitate many well-known designers, but look for individual pieces and styles to build my personal look. A tip I would give any man from St. Louis is this: Find a lifestyle model that has a look you want and then build from that. [British model] David Gandy and [American actor] Jeff Goldblum are just two of the many that I follow closely for inspiration and ideas."
Otherwise, Grady dwells a bit on the philosophy of his field of expertise. "Menswear plays it very safe in comparison to the choices available for women," he says. "Men don't need to be afraid to explore accessories, color and prints and embrace their personalities in their wardrobes."
Finally – and amusingly – he addresses the topic of menswear "rules," the sartorial shibboleths that too often mislead males in garbing themselves.
"The idea that you cannot wear certain colors depending on the season is complete garbage," Grady says. "Also, who said you can't wear the same pattern multiple times in the same outfit? What is this about not wearing brown with gray?
"Please – I can go on and on … ! When it comes to fashion, there are only guidelines, not rules."
Gentry's Limited, 4818 Washington Blvd., No. 305, St. Louis, 314-527-1785, gentryslimited.com