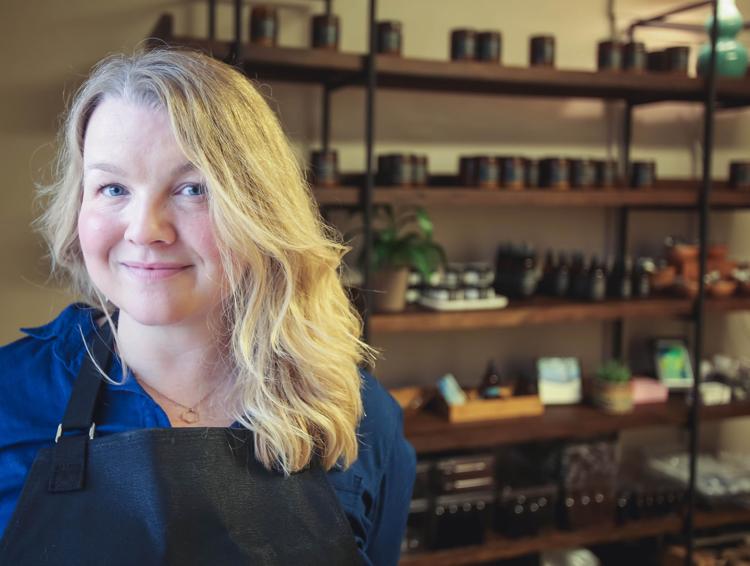 Sharlene Kindt has a strong sense of smell. Even as a child growing up in Missouri, she says, she could spot scents undetected by others. And when you have a gift like that, there's one logical career path: perfumes. Kindt, now living in Webster Groves with her husband, is the artisan behind the one-woman show that is Webster Wax.
"As I grew older, I gravitated toward quality fragrances; I traveled to Grasse, France, and was inspired by the perfume industry and the entire process of creating scents – which is both a science and an art," Kindt says. "I always loved working with my hands and started toying with the idea of creating my own fragrances. After I was happy with a few fragrances, I wondered how else these fragrances could be applied. I wanted to make products that I myself loved, and candles were the first thing that came to mind. Something about that tiny open flame is so calming and comforting."
Webster Wax is a line of personal-care and home items including soy candles, coffee scrubs, perfume, body and beard oils, lip balm, and face mist. Products range from $5 to $15 and are packaged in minimalist containers with simple black labels. "Everything – from custom fragrances down to the labels – is directly designed and made by me," Kindt says.
Kindt, a Fenton native, moved to Webster Groves when she got married. "I wanted to pay homage to the town where I live and create my product, [and] wax is also the main ingredient in many of my products, so I thought Webster Wax was a perfect name," she says.
The soy candles were Kindt's first creation. In addition to the economic and community benefits of supporting local artisans, soy candles like those from Webster Wax have perks all their own, including a longer and cleaner burn than their paraffin counterparts.
"When you are making candles in small batches, you are able to control the quality of every candle that is made," Kindt says. "Many large candle companies add fragrance only to the top layer of wax to cut cost. You won't find those practices at Webster Wax. I guarantee that my candles are scented all of the way through. I can promise that because I pour them myself."
The newest product offered from Webster Wax is beard oil. Created with vitamin E, as well as avocado and jojoba oils, it sells for $10 and comes in four scents named after beard-associated professions like Lumberjack and Stunt Driver. Kindt explains that she wanted the line to include products that excited both women and men, and she notes potentially expanding this in the future with spray cologne and hair pomade.
"I really love developing fragrances that are able to trigger an emotion," Kindt says. Webster Wax's website tells the charming story of her grandfather, who worked as a lawn mower repairman after retirement and always smelled of gasoline and motor oil. Negative smells to some, these are some of her early memories of scent and positive association. "Smell is so closely tied to our memories and experiences – that one fragrance is able to trigger something different in everyone who smells it, that's really as powerful as a piece of music or painting or film that moves the viewer," Kindt continues.
Up next for Webster Wax is a face serum. "I love using serums and am excited about introducing the benefits to my customers," Kindt says, noting they absorb faster and penetrate deeper than many other facial products. "I just moved into a small studio in Webster Groves, and I am working on setting up appointment-only shopping. I'm really excited about this because it allows customers to come smell and sample my entire line and purchase any product on the spot."
Although Kindt says she is not formally trained in beauty products, she notes that her fine arts education "is informing my process. In a way, I'm substituting paints and canvas and using fragrances as my paints and wax as the canvas. Art is a combination of process, technique and creativity, and making candles is no different." Outside of her website, these candles are available at Crafty in St. Charles, and the entire collection is stocked at Ladue's Shine Boutique and Red Door Furniture Co. in St. Charles. More stores are in the works, Kindt says.
Outside of Webster Wax, she works with her husband, Matt Kindt, as the colorist for his visually stunning comic book series Dept. H, which she describes as "a haunting underwater murder mystery."
"In that way, I'm able to still scratch the visual-artist itch and also explore the nonvisual arts with Webster Wax," says Kindt. "I'm lucky enough to be able to balance two dream jobs."