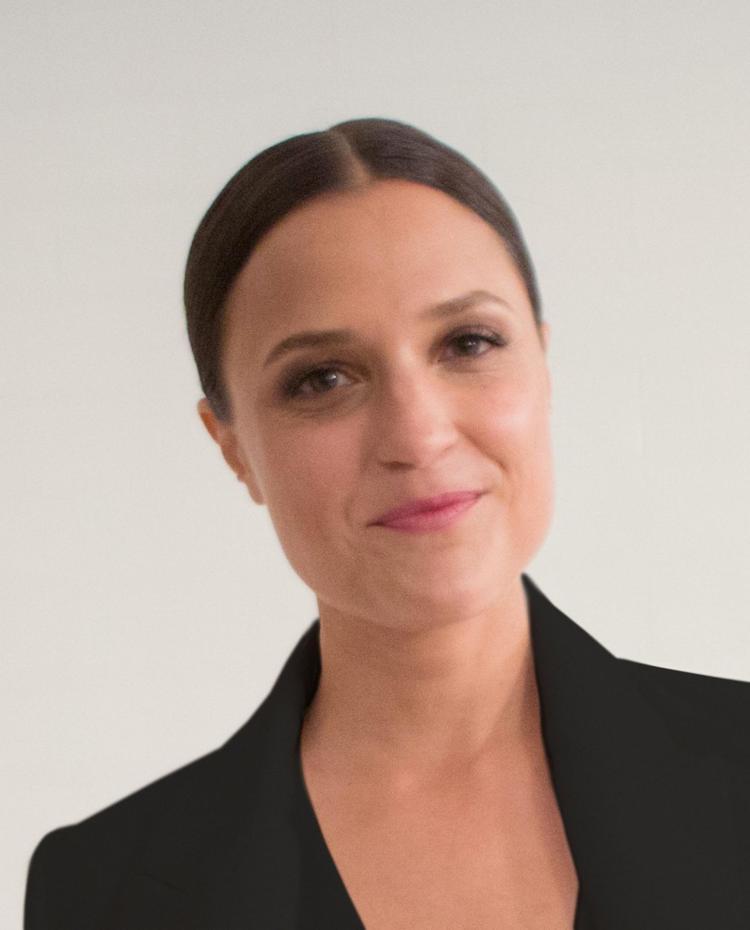 As a young girl, Elizabeth Giardina vividly recalls rummaging through her mom's fashion and style books, taking dance classes at COCA-Center of Creative Arts, going to the Saint Louis Art Museum and seeing professional dance and theater at The Fabulous Fox Theatre and The Muny. "I have wonderful memories of my mom and me at the Missouri Botanical Garden pretending we were Monet and drawing the lily pond with pastel crayons on newsprint paper," Giardina says. "I have always been endlessly fascinated by creative people, their work and style."
The St. Louis native and graduate of Washington University in St. Louis' Sam Fox School of Design & Visual Arts says all that nourishment and encouragement in the arts led to her career in today's high-fashion industry. This January, Giardina was named to the role of vice president of design for the commercial collection of award-winning New York-based haute womenswear and accessories brand Proenza Schouler.
Giardina will be in attendance when Proenza Schouler CEO Judd Crane speaks this Wednesday, Oct. 11, at Washington University's Steinberg Hall. The talk will be moderated by Saint Louis Fashion Fund chair Susan Sherman.
After Giardina spent six years as vice president of design at New York-based designer Derek Lam 10 Crosby, where she helped design the brand's urban-chic Diffusion line of womenswear and accessories from the ground up, the creative young talent is leading the ready-to-wear design team at the innovative design powerhouse of Proenza Schouler. "Our co-founders, Jack McCollough and Lazaro Hernandez, design a beautiful runway collection, and part of my responsibility is to translate their concepts into commercial product," Giardina explains. "Additionally, my team and I are focused on designing commercial styles not related to the runway: daywear, eveningwear and casual pieces that will fulfill our customers' wardrobes."
Each day for Giardina is fashion-packed and fast-paced – just the way she wants it. "I like to be busy – I hardly ever sit at my desk till 6 p.m., and I generally eat my lunch during a meeting or fitting," she says. "Every day flies by."
During a typical workday, Giardina meets with the brand's woven, knit and print designers; product and fabric development teams; and merchandisers to discuss individual styles and analyze their product assortment. "We have a fitting with the patternmakers and tech designers to develop and fine-tune prototypes," Giardina says.
Following hectic workdays, Giardina finds time to sketch design ideas during the evenings and weekends. "However, there are isolated periods throughout the year before the prototype stage where my focus for days is just to design: sketch, collage, drape and style vintage clothing on a live model," she says.
As for her future at Proenza Schouler, Giardina says she is laser-focused on growing the brand's commercial business. "I am pushing myself to create innovative, commercially viable product," she says. "If I look at a garment and can honestly answer yes to the question 'Do I want to have a drink with a woman wearing this?,' then I generally know it's a winner."
Proenza Schouler, 495 Broadway, 8th Floor, New York, 212-343-1360, proenzaschouler.com
Speaking of Fashion Series: Proenza Schouler
What: "Building the Next American Heritage Brand: A Chat With Proenza Schouler's Chief Executive Officer, Judd Crane," moderated by Saint Louis Fashion Fund chair Susan Sherman. Following the talk, Crane and St. Louis native and Washington University graduate Elizabeth Giardina, Proenza Schouler's vice president of design, will meet with area students.
When: 5:30 to 6:30 p.m., Wednesday, Oct. 11
Where: Washington University's Steinberg Hall, One Brookings Drive, St. Louis
About the Series: Speaking of Fashion, a series of talks featuring industry professionals in fashion and design, is hosted by Saint Louis Fashion Fund with support from the Regional Arts Commission.
Cost: Free and open to the public; RSVP required at saintlouisfashionfund.org
Parking: Guest parking is available in any yellow zone beginning at 5 p.m.
Information: 314-400-9300, saintlouisfashionfund.org
Trunk Show: Proenza Schouler
What: Join Saint Louis Fashion Fund for a trunk show presented by Proenza Schouler.
When: 10 a.m. to 2 p.m. Thursday, Oct. 12
Details: 10 percent of sales will benefit Saint Louis Fashion Fund.
Information: RSVP to sdssk@aol.com for full event details.