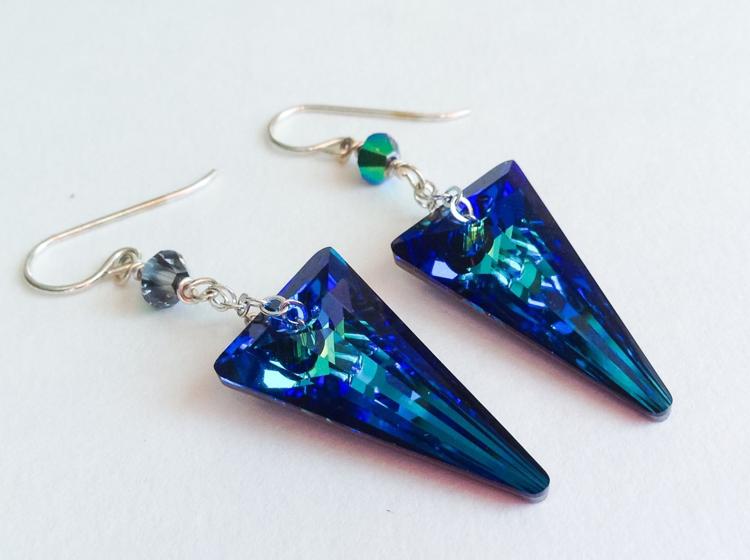 Lynnae Tanner Ruff glides around the island in the kitchen of her Webster Groves century home, effortlessly navigating to the table while balancing homemade pastries, a delicately painted teacup from her eclectic collection and a piping-hot glass teapot of fragrant Earl Grey. Any time is tea o'clock in the home she playfully calls Chez Lynnae, and tea service is certainly a central facet of Tanner Ruff's company, Lady Grey Beads.
Tanner Ruff developed her style persona as a young girl growing up in Belize, drawn to the old Hollywood glamour in classic black-and-white flicks of the 1940s and '50s. Lady Grey Beads handmade jewelry, reflective of Tanner Ruff's personality, makes distinctly elegant and graceful statement pieces for special occasions – or accessories to subtly elevate your everyday existence, which is how Tanner Ruff tends to put them to use. "I couldn't be bohemian if I tried," she says wryly.
Her passion for beadwork took shape long before she ever tried her hand at stringing and crimping – as a child in Belize, Tanner Ruff used outdoor playtime with her four siblings as an opportunity to forage for pretty rocks.
Fast-forward a couple of decades to a vacation stop at a huge outdoor flea market in Germany, where Tanner Ruff found herself mesmerized again by glass beads. "I was walking by one day, and there was this huge table full of tiny bags of Czech beads," she says. "I didn't make it to any of the other vendors – I spent hours sitting there, looking through the beads. A couple times, the guy even let me watch his table while he went to walk around or grab coffee. I sold a couple bags for him while he was gone." She bought bags of beads for herself, and her artistically inclined sister showed her some simple stringing techniques to make a necklace.
She came back to her home, which was then with her husband, Mark, in the De Mun neighborhood, with her collection of beautiful Czech beads in tow and her creative interests piqued.
Tanner Ruff introduced her newfound craft to Tea Ladies' Society, a once-a-month social gathering she organized in her home with her tightknit circle of friends. Tanner Ruff had gotten pregnant and stopped working, and the Tea Ladies' teatime became working hangouts, as her friends, who themselves had experience making jewelry, helped her develop some of the more intricate skills needed to create quality pieces.
She crafted for fun, making a couple of pieces for friends here and there. Soon, however, her friends from church recognized her ability to create truly eye-catching designs and gave her a bit of seed money – a $100 gift card to Maplewood's Lady Bug Beads. "[One] told me, 'Here, you can make some pieces, and I'll take them to work because people are asking me where I'm getting my jewelry,'" Tanner Ruff says.
The rest, as they say, is history.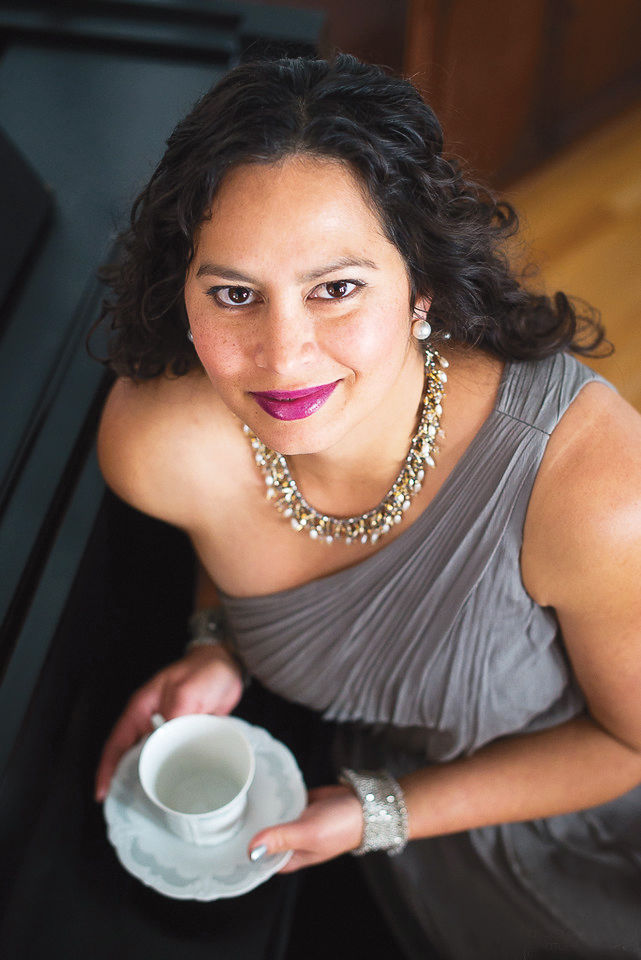 Tanner Ruff segued her tea parties into trunk shows, which have grown into larger-scale, twice-a-year events hosted in Tanner Ruff's home – "where good company, fine teas and exquisite jewelry come together in the best of all my worlds," she describes.
Tanner Ruff also hosts private, in-home trunk shows and tea parties for customers, which can be scheduled by contacting her directly at ladygreybeads@gmail.com. "I put as much effort into my tea as I do my jewelry," she says, laughing.
Tanner Ruff uses two main techniques to create her products – stringing and bead-weaving.
"Stringing is fast and mostly easy," Tanner Ruff says. "Anyone can string if [he or she] can see the tiny holes, but I believe what sets each jewelry-maker apart is the combinations that [he or she] puts on the string. I work mostly with large, natural, semiprecious stones; freshwater pearls; Swarovski crystals; and Czech glass."
Bead-weaving is Tanner Ruff's newest endeavor: an intricate, time-intensive process that involves weaving seed beads, tiny round beads most commonly seen in intricate beaded jewelry designs, or square glass beads with a needle and thread. "It is a very repetitive process, and one has to concentrate on sequencing, size and space of beads," Tanner Ruff says. "I like that I can create dimension, texture and many shades of color with bead-weaving."
An average cuff or bracelet takes about six to eight hours to weave, compared to the two hours or less it takes to string a necklace. Always eager to learn new methods of making, Tanner Ruff also has started bead embroidery, stitching beads directly onto fabric to make pieces of jewelry, using quality shibori silk as her fabric medium.
Tanner Ruff's latest masterpiece, her Lioness in Winter necklace – made with 24-karat gold-plated and nickel-plated seed beads and 24-karat gold-lined crystals, interwoven with hundreds of clear, sparkling crystals – took about 30 hours of individually stitched bead-weaving work.
Tanner Ruff also has forayed into wire-wrapping for a custom piece that featured several hundred Swarovski crystals wire-wrapped on a chain, which was an eight-hour job. "I tend to like big statement pieces you can see from 5 miles away," she says.
Prices average around $85, ranging from $25 earrings to $400 chunky necklaces. In addition to her Etsy shop, Lady Grey Beads products are available at The Woman's Exchange in Ladue, Mindscape Gallery in Chesterfield and Joys Collective in old St. Charles.
Beyond the in-home tea parties, Tanner Ruff also travels to maker fairs and various craft events statewide and was selected as a vendor in last year's Best of Missouri Market at the Missouri Botanical Garden.
In the fall of 2015, she launched her first Lady Grey Holiday Boutique at Christ Lutheran Church in Webster Groves, inviting more than a dozen local nonprofits and fair-trade artists, with a raffle and bake sale that raises money for Heifer International's women's empowerment movement and Lutheran World Relief. This past year, the Lady Grey Holiday Boutique raised $1,030 for the two charities.
And at this year's Golden Globes Awards, 100 Lady Grey Beads gift certificates were included in the event swag bags.
"I've been making jewelry for eight years, and I've definitely had people who have been with me from the very beginning," Tanner Ruff says. "I want women to feel like a queen – you can be out gardening, doing the dishes, doing whatever – at least feel like a queen doing it."
Lady Grey Beads, etsy.com/shop/ladygreybeads