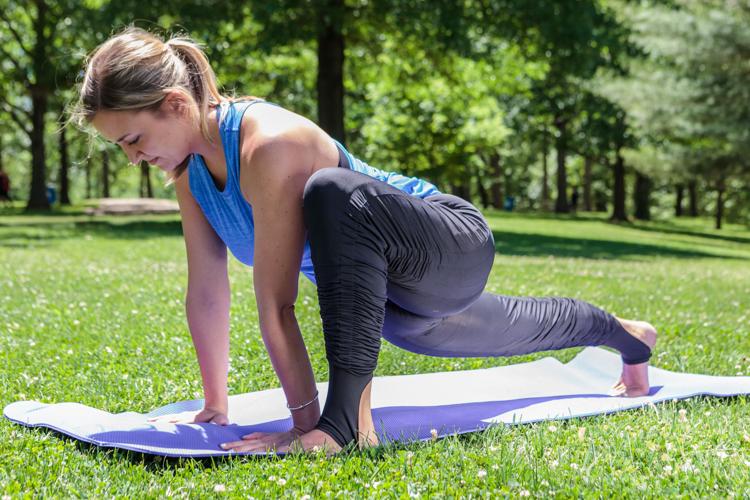 From NFL players and Olympic medalists to St. Louis high school and college students, professional and amateur athletes alike are challenging themselves with a new training tool: AGOGIE resistance pants.
The St. Louis-based brand, launched publicly in January by founder Aaron Mottern and his six-employee team, is taking the athletic training world by storm. "We keep selling out – we have more demand than product," Mottern says, adding that the men's resistance pants are available now at agogie.com, while the women's version can be preordered for a winter delivery date.
The innovative resistance pants' name, AGOGIE, comes from ancient Greek, in general meaning "leading, guidance or training." "It's the only product on the market that allows an athlete to train in natural movement under resistance," Mottern notes.
The wearable resistance equipment takes training to the next level for endurance sports and workouts, from running, cycling, football, soccer and tennis to yoga and weightlifting. "The moment an athlete puts them on, the bands in the pants create resistance and start activating all your muscles, allowing your muscles to work together under the movements you need, creating a more powerful athlete," Mottern explains. "Even sitting in them, you're working out just by being in them, and when you work out in them, you work out harder."
Mottern, who has lived in St. Louis for most of his life and spent the majority of his career in the digital marketing and advertising industries, came up with the idea for AGOGIE in 2016 to fill a need for athletes and fitness enthusiasts who were clients of his health and fitness app, Hey Let's Train, which connects fans with professional athletes through performance training. "[The app] allows people to train just like a pro athlete," Mottern says. During the filming process of the app, athletes wore different types of resistance apparatuses, such as bands, tethers, parachutes and sleds. But Mottern realized none of these apparatuses allowed the athlete to perform his or her sport or training drills with natural body movements.
That's when Mottern began to develop AGOGIE resistance pants, which allow athletes and fitness enthusiasts to do their sport of choice with the natural function of the human body. "It's like adding gravity to the body, allowing athletes to train under their natural mechanics and get bigger, faster and stronger while doing the drills for their sport."
With funding help from NFL players and other investors, AGOGIE went through 14 iterations of its resistance pants, improving the product's quality each time, Mottern says. The latest version of the performance-enhancing pants – made of nylon and elastane (a synthetic elastic fiber) with natural rubber, and manufactured in China – has eight resistance bands, four in each leg, stretching from the ankle to the waist, and stirrups that activate the resistance bands as downward force is applied. The athlete's muscles have to work harder to keep the resistance bands stretched out, and increasing that muscle activation warms up the legs and strengthens them during workouts. Two resistance levels currently are available for both men's and women's pants, +20 and +40, which the website helps visitors select through a series of questions about their training regimens and fitness goals. While the men's and women's pants differ in dimensions according to athletes' height and weight, they each come in sizes extra-small to XXX-large, including petite small in the women's line, and, as noted, feature eight built-in resistance bands over natural muscle and ligament lines, creating an exoskeleton of resistance for athletes wearing and moving in them.
According to case studies by multiple strength and conditioning coaches, the product improves multiple fitness categories, such as increasing an athlete's broad jump by 4 inches and decreasing 40-yard dash times by a tenth of a second. To further analyze the benefits of AGOGIE resistance pants, several other performance case studies are in the works at Missouri Baptist Medical Center and Logan University in St. Louis, as well as Truman University in Kirksville, Missouri, Mottern added.
Among the company's clients, dubbed "Agogians," are professional athletes and celebrities, including retired Olympic silver medal-winning hurdler Greg Foster, San Francisco 49er safety Eric Reid, Detroit Tigers outfielder Alex Presley, Washington, D.C.-based professional yoga instructor Zaineb "ZiZi" Hassan and Miss Missouri 2017 Jennifer Davis.
St. Louis also has embraced the AGOGIE brand, Mottern says, with local clients including sports teams at Maryville University, Mary Institute and St. Louis Country Day School and St. Louis High School. "Our St. Louis clients [from] track to rugby [athletes] love them," Mottern says.
AGOGIE also supports student athletes all over the country through organizations including the National Scholastic Athletics Foundation. "We help sponsor [youth] teams and give back to underprivileged teams who otherwise couldn't afford our resistance pants," Mottern notes.
To continue to help athletes of all ages up their game, Mottern says AGOGIE has nine more products in the works that are projected to be released during the next two years – namely, a youth line of resistance pants due out early next year. "At AGOGIE," Mottern says, "we're helping athletes get bigger, stronger and faster."
AGOGIE, agogie.com