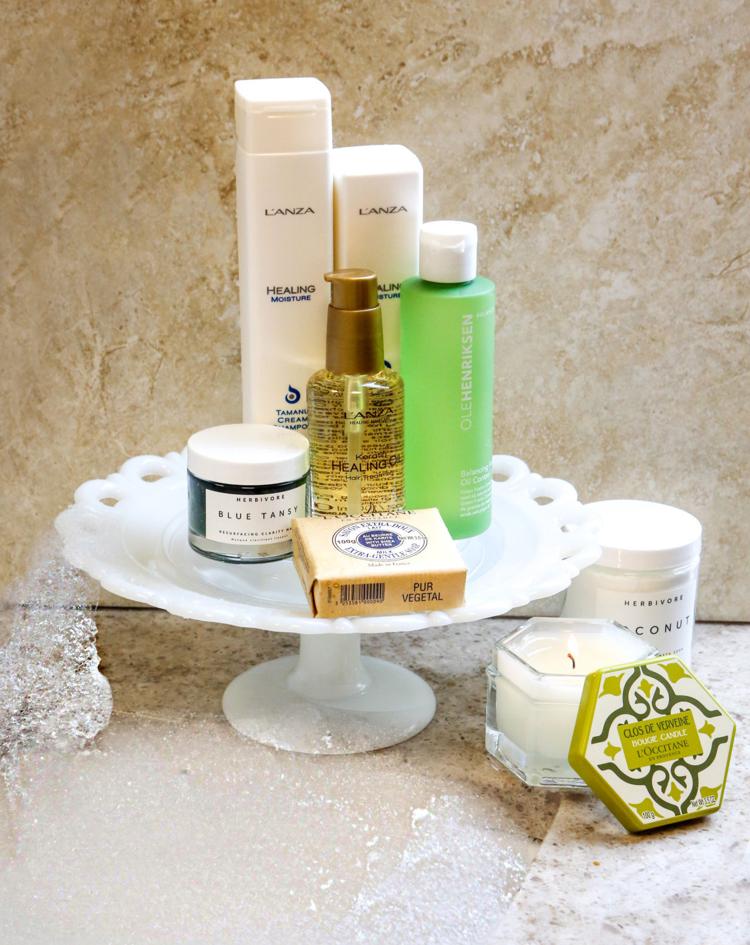 Turn the taps and let the water run as you set the scene … Candles lit, vino poured, a book nearby and mellow music to treat your ears. Bathing is more than a cleansing ritual. It is a time to meditate as the day's stressors melt away in the steaming water. Spoil your skin and hair as you give attention to your mind. Soak up the benefits of bathing with these unbeatable bath products.
1. Add Herbivore Coconut Milk Bath Soak under running water. The sensuously soft mixture calms and revitalizes skin from head to toe. Available for $32 (8 oz.) at Fauxgerty (fauxgerty.com) and Bohème (bohemeatelier.com).
2. Create ambiance with L'Occitane en Provence Bougie-Candles (seen here in Clos de Verveine). These lovelies burn for 20 hours and are an aromatic pleasure, giving you ample time to enjoy their romantic vibes. Available starting at $21 at L'Occitane en Provence in the Saint Louis Galleria (usa.loccitane.com).
3. Choose L'Occitane en Provence Shea Butter Extra-Gentle Soap in Milk, whose gentle application proves effective and kind, even to sensitive skin. Available for $14 at L'Occitane en Provence in the Saint Louis Galleria.
4. Rejuvenate hair follicles and help your hair retain its luster and color with L'Anza Healing Moisture Tamanu Cream Shampoo and Kukui Nut Conditioner. Towel off and spritz L'Anza Keratin Healing Oil Hair Perfume for a base note of botanicals to protect against pollutants. Available at local salons as listed at lanza.com.
5. Exfoliate with Herbivore Blue Tansy Resurfacing Clarity Mask. The cooling face applicator works to resurface and smoothen skin. Available for $48 at Sephora (sephora.com).
6. Vanquish any remaining grime from your pores with Ole Henriksen Balancing Force Oil Control Toner. The effective formula prevents drying out skin while creating a matte finish through oil absorption, leaving you to feel pampered and refreshed. Available for $26 at Sephora.