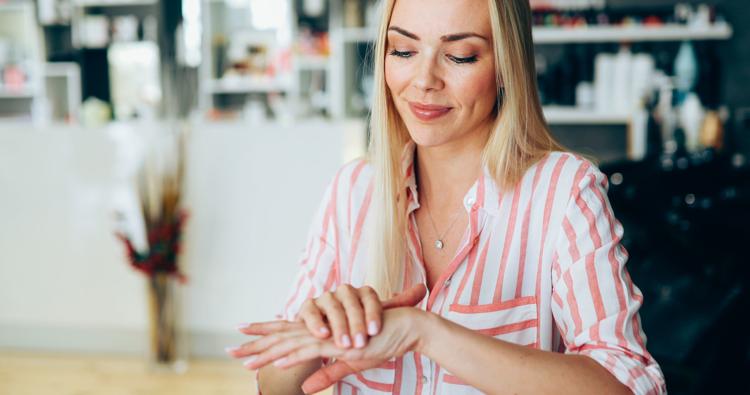 Wintry weather, like the sort we're now experiencing as autumn closes, can take a terrible toll on skin.
In particular, bitter-cold air can strip skin's moisture, leaving it dry and flaky. Fortunately, many products can help restore dermal moisture; unfortunately, other products can just as easily have the opposite effect. Five cold-weather beauty mistakes seem quite common, sad to say. Are you making any of them, ladies? To find out, read on!
1. Failing to exfoliate. Exfoliation becomes key during colder months. Your skin inevitably dries and flakes as the mercury drops, so once things start getting nippy, rid your face and body of any dry, flaky skin by exfoliating. As a bonus, your makeup will apply and look nicer when it has a soft, fresh "canvas."
2. Taking overly hot showers. On frigid days, as tempting as extra time under the Delta or Moen sounds, avoid overheated showers. The water's otherwise-scrumptious warmth can strip moisture from your body, leaving you feeling dry and itchy.
3. Skipping moisturizer at night. Moisturizing remains one of the most important things to do for your skin late in autumn and into winter. Moisturizing nightly allows the product prime dermal soaking time while you sleep, so let it work its magic as you nestle beneath that downy duvet.
4. Failing to use lip balm. Had you noticed, perhaps? Lips become extremely dry and chapped at this time of year. As a result, whatever else you do, invest in a quality lip balm to hydrate them, and keep it handy throughout the day. Absolutely resist the urge to lick your lips when they feel dry – instead, apply such a balm. Doing so can be a beauty-related lifesaver when the world turns wintry!
5. Neglecting your hands. Dry, chapped and cracked hands hurt and look horrible. Always apply lotion after washing them or showering. The water sucks moisture from your hands, leaving them painful and reddened. To guard against that happening, keep lotion with you, and apply it as needed.
So – have you been committing any of these five mistakes, ladies? If so, it's not too late to correct them, to keep your skin in tiptop condition this winter.