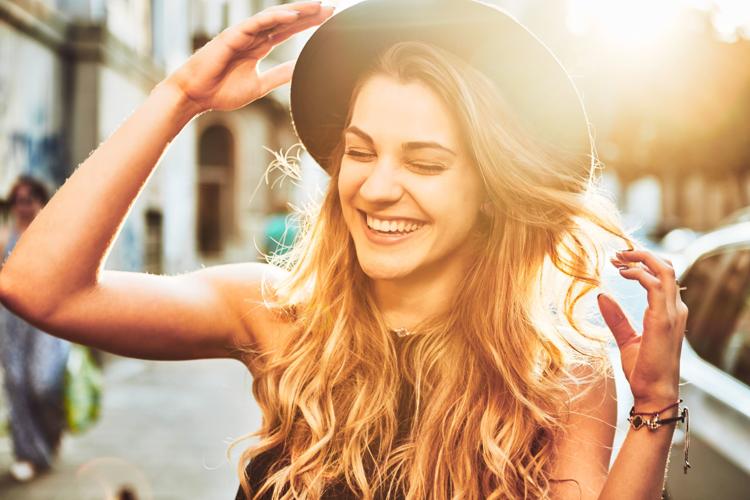 The importance of shielding your hair from the summer sun matches that of shielding your skin from it. Ultraviolet rays can damage your tresses, causing dry, lifeless hair and also fading it. Luckily, ladies, you can take a number of precautions to keep your hair healthy despite the seasonal heat and other dangers. Try these:
Avoid adding extra heat to your hair. Hot, dry climates can harm hair, but using heated tools on it can cause even more damage – so when styling your hair, avoid things like blow dryers, straighteners and curling irons. Instead, add a sea salt spray to dampen your locks for an effortless-looking beachy-wave style.
Don't wash your hair every day. Although already well-known, this fun fact bears repeating: Washing your hair daily can strip it of natural oils necessary to its health. Summer already assaults your hair, so show it some love by trying to avoid overwashing during the season.
Wear a hat outside. Not only does wearing a hat shield your face from harsh UV rays, but also it protects your hair and scalp from solar overexposure. In that light – pun intended! – always carry a ball cap or sun hat in your beach/pool bag.
Use specific products to protect your hair. Just as you use sunscreen on your skin, ladies, you also need to be using a UV ray protector on your tresses. Many different drugstore and salon-grade products can protect your hair from harmful UV rays, which can fade your color-treated hair in addition to drying it, so make sure to protect your locks when you venture outdoors!
Add extra moisture. Never forget to condition your hair in summer, when it needs even more moisture than normal. Periodically, treat yourself to a hydrating hair mask that restores shine and life to your hair.
So there you have it, ladies: Enjoy the summer, but make sure to care for your hair as well as you're caring for your skin!