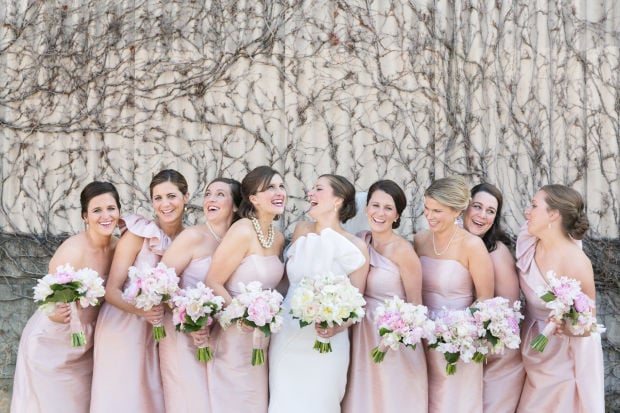 stl wed_bridesmaids_sallaberry mcgowan.jpg
Libby Sallaberry shares a laugh with her bridesmaids, dressed in Alfred Sung dresses purchased at Bella Bridesmaid.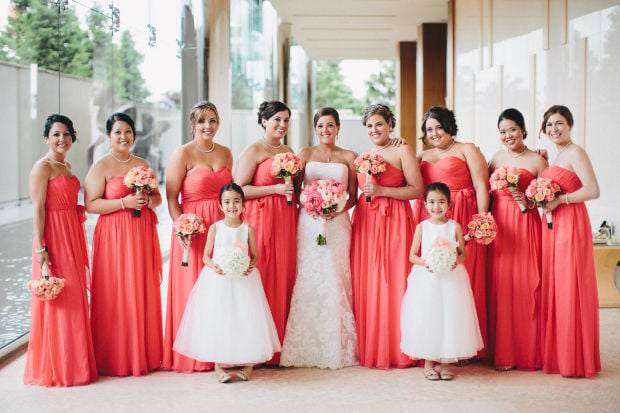 stl wed_bridesmaids_mercer-soonattrakul.jpg
Surrounded by bridesmaids in their Love Lane Kate dresses from Bella Bridesmaids, and her flower girls Lily and Emma, bride Melissa Mercer smiles while celebrating her wedding to Woody Soonattrakul.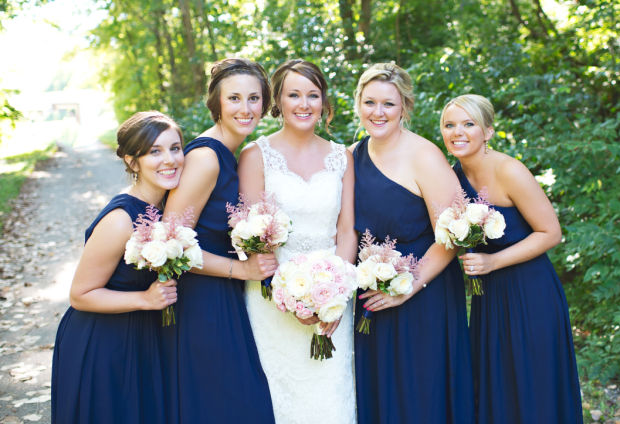 stl wed_bridesmaids_Martin Gardner.jpg
Kari Martin's bridesmaids Amy Meister, Jaclyn Archer, Abbie Mulkins and Jenny Reed wore navy Aria dresses.
stl wed_bridesmaids_Goldstein-Domhoff.jpg
Bridesmaids Kayla Gale, Alana Gale, Lauren Davis, Rebecca Davis, Paige Domhoff and matron of honor Bailey Cohn, wearing dresses from Bella Bridesmaid, pose with bride Sarah Goldstein.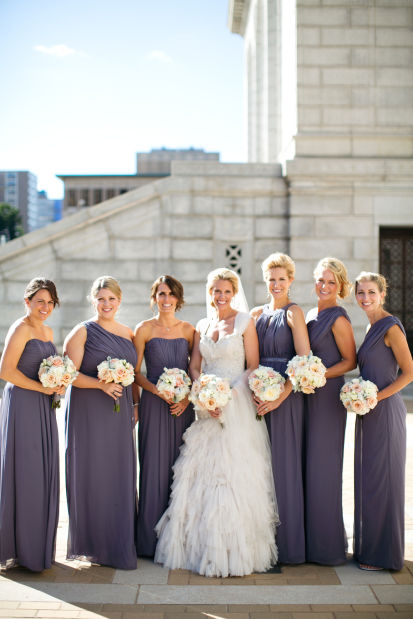 stl wed_bridesmaids_Braudis-Roper.jpg
Glowing bride Lisa Braudis stands with her bridesmaids, Jill McGinnis, Beth Hunsicker, Cassidy Koons, Amy Sugden, Stacy Campbell and Kim Cornelius, in gorgeous purple gowns from Bella Bridesmaid.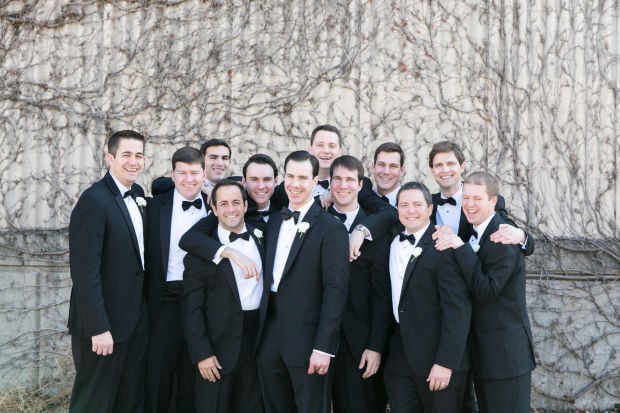 stl wed_tuxes_sallaberry McGowan.jpg
Groomsmen Brian McGowan, Matt Sallaberry, Kevin McGowan, James Schulte, Jason Peirce, Thomas Madonna, James Minogue and Shaun McGowan support groom Glenn McGowan during his spring wedding to Libby Sallaberry.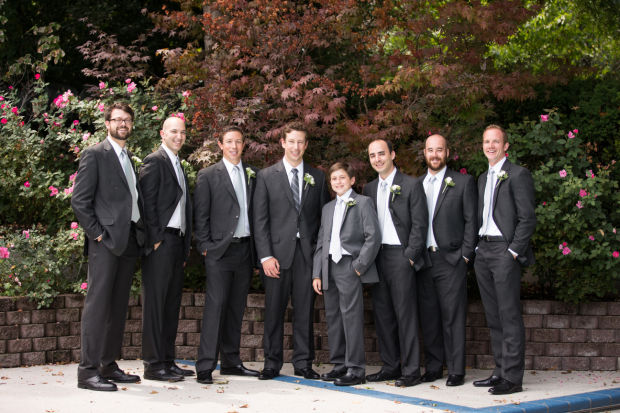 stl wed_tuxes_Rubin-Schlansky.jpg
Michael Vredenburgh and his groomsmen on his wedding day to Rebecca Rubin-Schlansky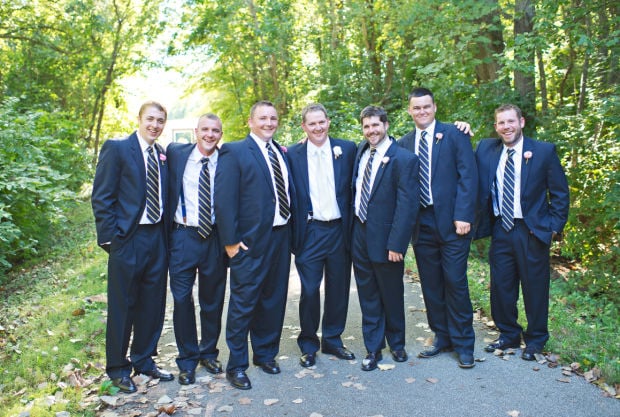 stl wed_tuxes_Martin-Gardner.jpg
Looking dapper in his Jos. A. Bank suit, groom Justin Gardner stands with his groomsmen during his wedding to Kari Martin.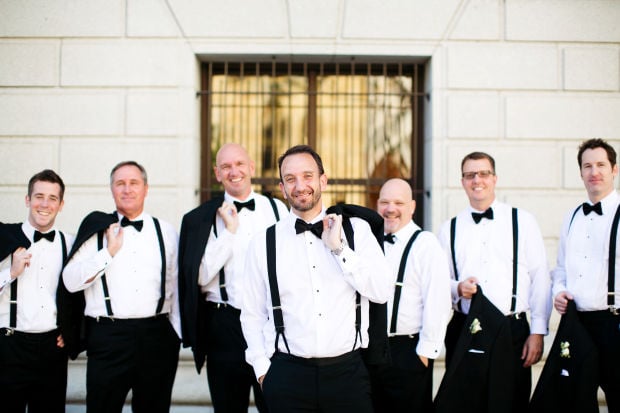 stl wed_tuxes_Braudis-Roper.jpg
Jeff Roper poses with his groomsmen during his September wedding to Lisa Braudis.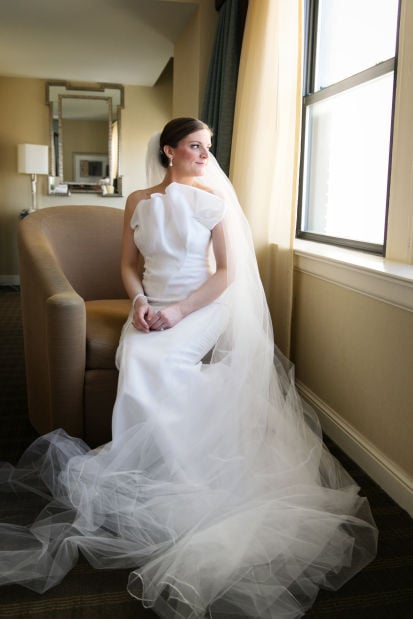 stl wed_dress_Sallaberry McGowan.jpg
Bride Libby Sallaberry takes a moment to reflect in her J. Mendel dress, purchased at Saks Fifth Avenue in New York City.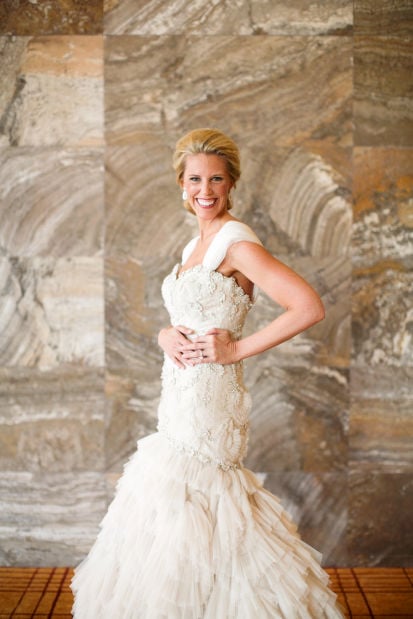 stl wed_dresses_Braudis-Roper.jpg
Lisa Braudis' show-stopping tiered dress was designed by Lazaro Kleinfeld.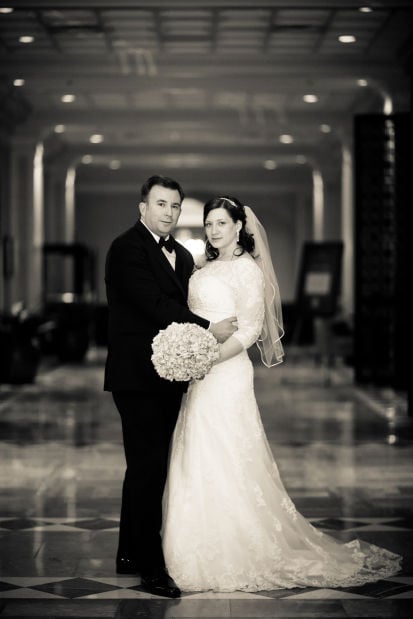 stl wed_dresses_Holt-Kelly.JPG
New bride Jessica Holt looked stunning in her Maggie Sottero dress from Clarice's Bridal during her wedding to Sean Kelly.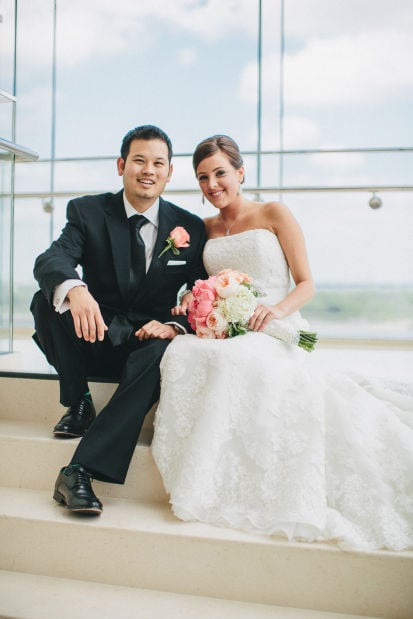 stl wed_dresses_mercer-soonattrakul.jpg
 For her wedding to Woody Soonattrakul, Melissa Mercer chose a Enzoani dress from Simply Elegant Bride.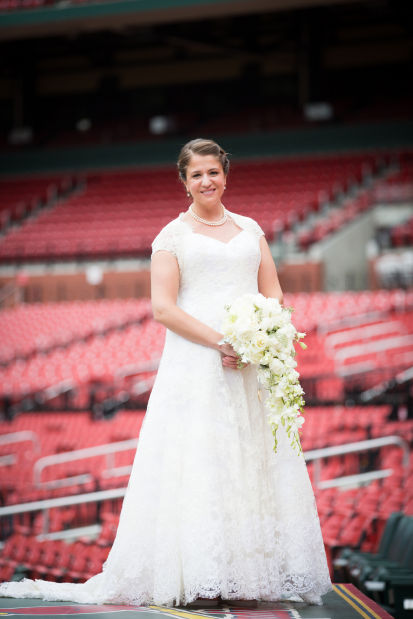 stl wed_dresses_Rubin-Schlansky.jpg
Cardinals fan Rebecca Rubin-Schlansky wore an Anna Maier dress by Ulla-Maija and purchased at Berrybridge for her September wedding.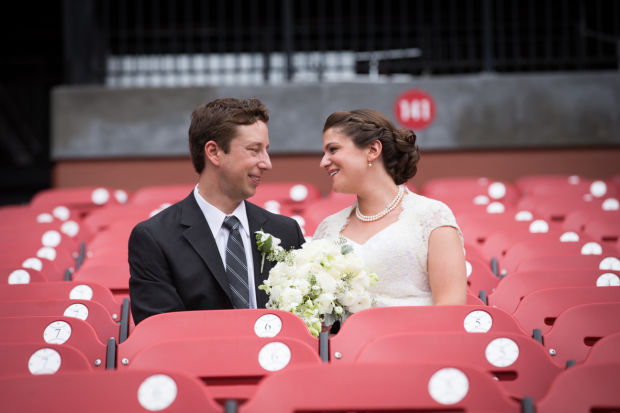 stl wed_faves_Rubin-Schlansky.jpg
Newlyweds Rebecca Rubin-Schlansky and Michael Vredenburgh share a laugh at Busch Stadium after getting married at Palladium Saint Louis.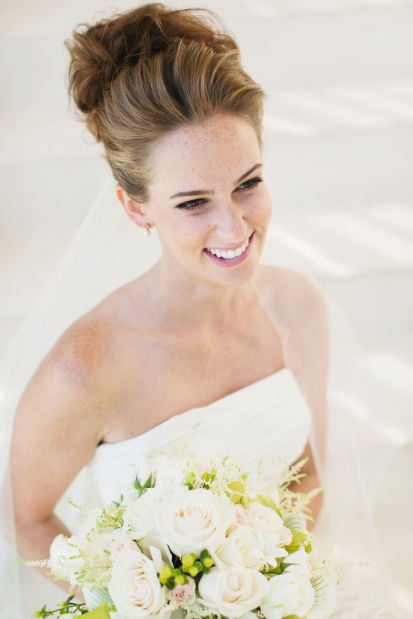 stl wed_fave_Quin Herich.jpg
Becca Quinn ravishes in her Amsale dress at her wedding to Phil Herich.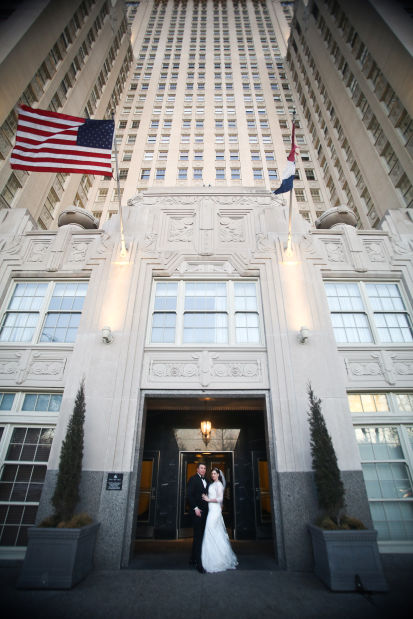 stl wed_faves_Holt-Kelly.JPG
Jessica Holt and Sean Kelly stand in front of The Chase Park Plaza, where their March 14 wedding was held.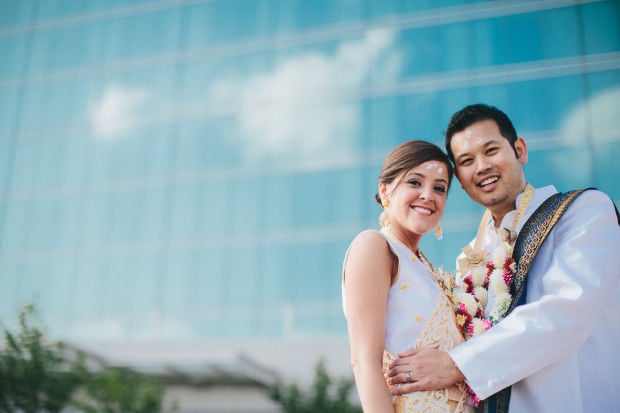 stl wed_faves_mercer-soonattrakul.jpg
Newlyweds Melissa Mercer and Woody Soonattrakul pose outside the Four Seasons Hotel St. Louis.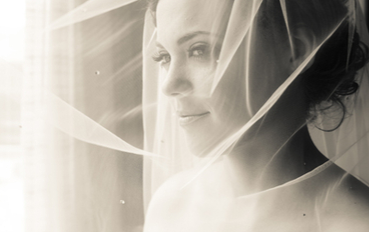 stl wed_faves_Raskas-Kelley.png
Lindsey Raskas married Nathan Kelley on August 17 at the Four Seasons Hotel St. Louis.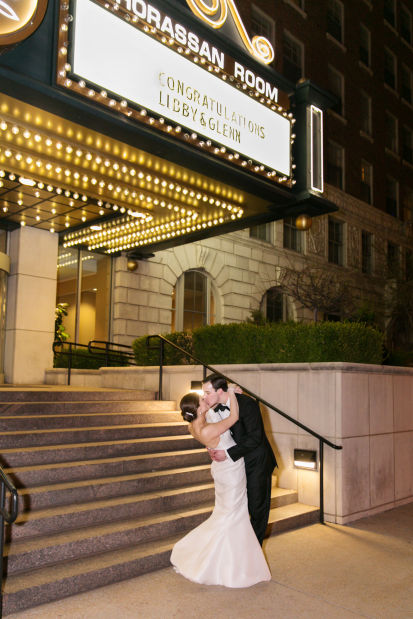 stl wed_faves_Sallaberry McGowan.jpg
Glenn McGowan dips his new bride, Libby Sallaberry, outside their Chase Park Plaza Khorassan Ballroom reception.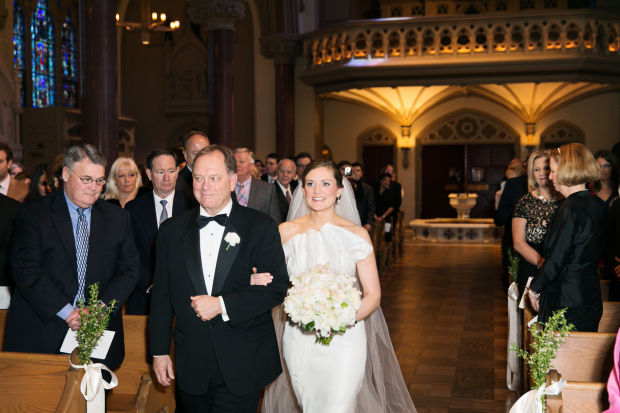 stl wed_family_Sallaberry McGowan.jpg
Arnaud Sallaberry escorts his daughter, Libby, down the aisle at St. Francis Xavier College Church.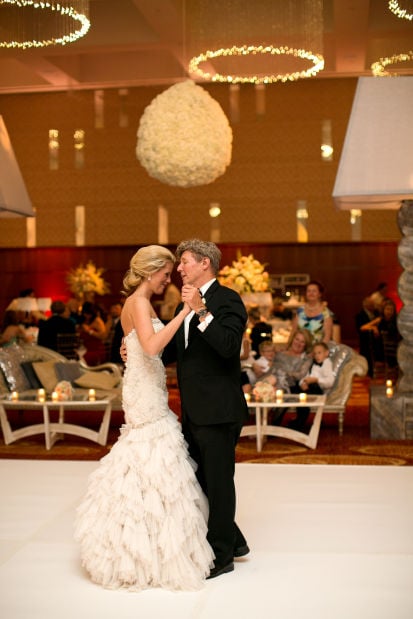 stl wed_family_Braudis-Roper.jpg
New bride Lisa Braudis enjoys a dance with her father at her wedding reception at the Four Seasons Hotel St. Louis.
stl wed_family_Goldstein-Domhoff.jpg
Bride Sarah Goldstein smiles with her parents, Paul and Nikki, at her wedding to Benjamin Domhoff.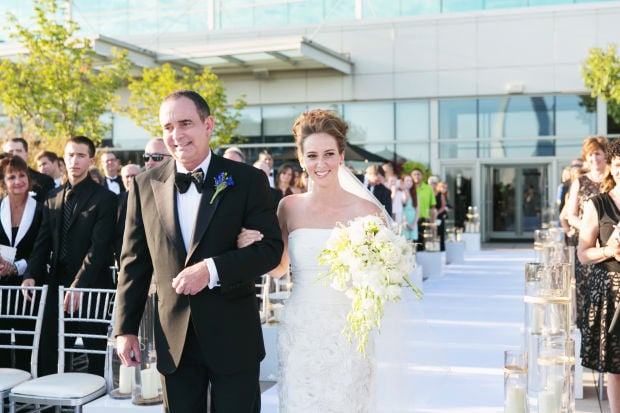 stl wed_family_Quinn Herich.jpg
Jeffry Quinn accompanies his daughter, Becca, down the aisle at the Four Seasons Hotel St. Louis.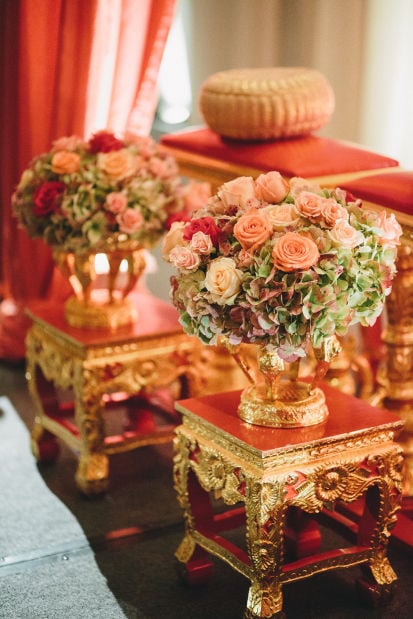 stl wed_flowers_mercer-soonattrakul.jpg
Arrangements from Artistry Florist add elegance to Melissa Mercer and Woody Soonattrakul's May wedding.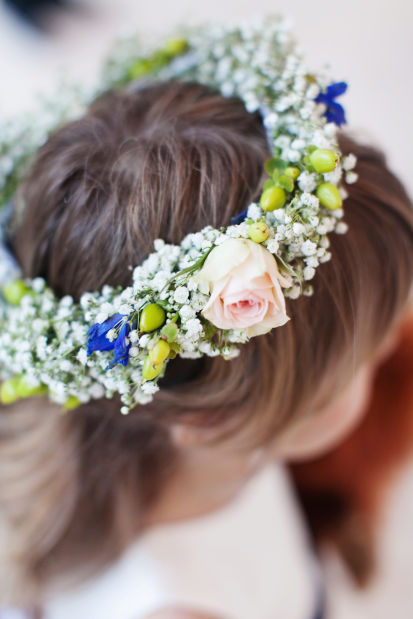 stl wed_flowers_Quin Herich.jpg
Flower girl Vivianne Herich wears a floral crown created by Festive Atmospheres at the wedding of Becca Quinn and Phil Herich.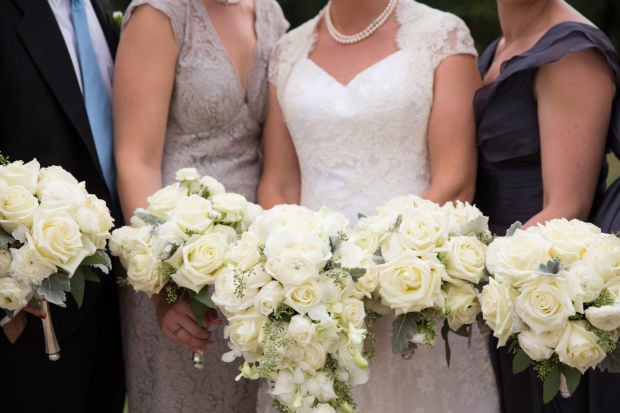 stl wed_flowers_Rubin-Schlansky.jpg
Festive Atmospheres designed the white rose bouquets for Rebecca Rubin-Schlansky's marriage to Michael Vredenburgh.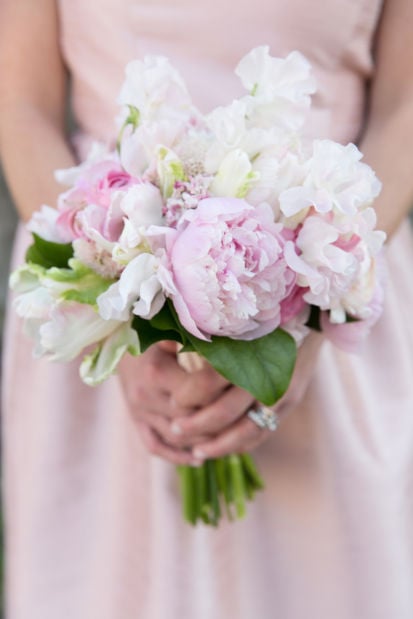 stl wed_flowers_sallaberry mcgowan6.jpg
The bridesmaids' bouquets designed by Bloomin' Buckets added romance and femininity to Libby Sallaberry's wedding to Glenn McGowan.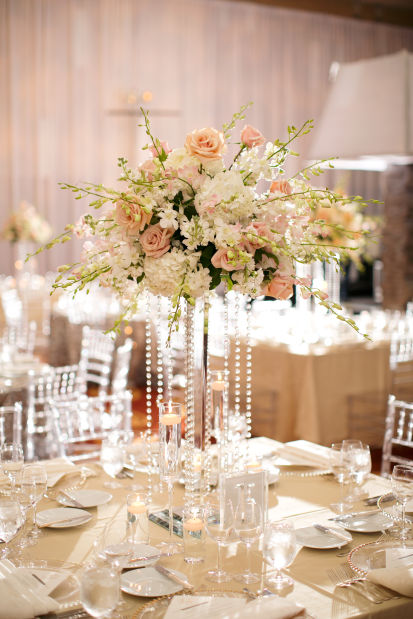 stl wed_flowers_Braudis-Roper.jpg
Bella Fiori designed the intricate centerpieces for Lisa Braudis' and Jeff Roper's nuptials.
stl wed_flowers_Goldstein-Domhoff.jpg
These woodsy arrangements from Artistry Florist line the aisle at The Ritz-Carlton, St. Louis wedding of Sarah Goldstein and Benjamin Domhoff.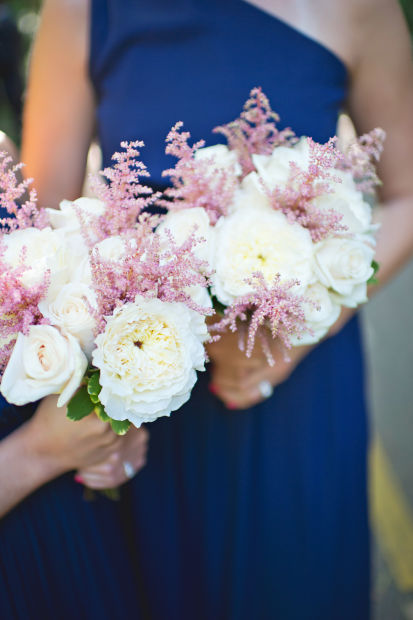 stl wed_flowers_Martin-Gardner.jpg
Sisters Floral created the white and pink bouquets for Kari Martin's and Justin Gardner's September 14 wedding.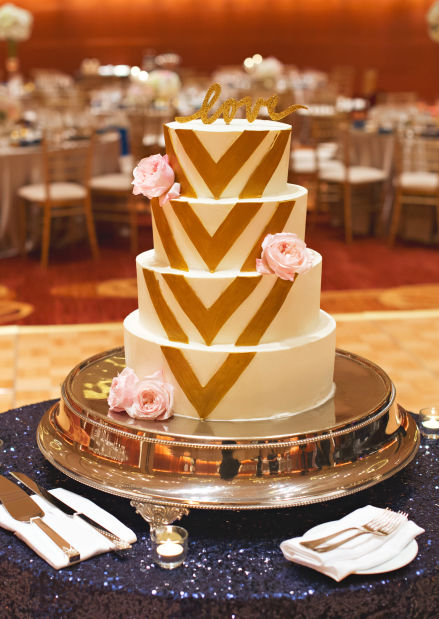 stl wed_cakes_Martin-Gardner.jpg
Gold chevrons enhance this cake by the Four Seasons Hotel St. Louis at the wedding of Kari Martin and Justin Gardner.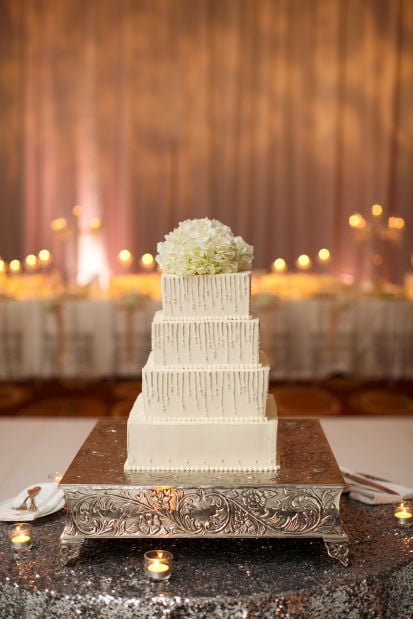 stl wed_cake_Braudis-Roper.jpg
An elegant cake from the Four Seasons Hotel St. Louis was on display at Lisa Braudis and Jeff Roper's reception.
stl wed_cake_Goldstein-Domhoff.jpg
The Ritz-Carlton, St. Louis provided the cake for Sarah Goldstein's and Benjamin Domhoff's October wedding.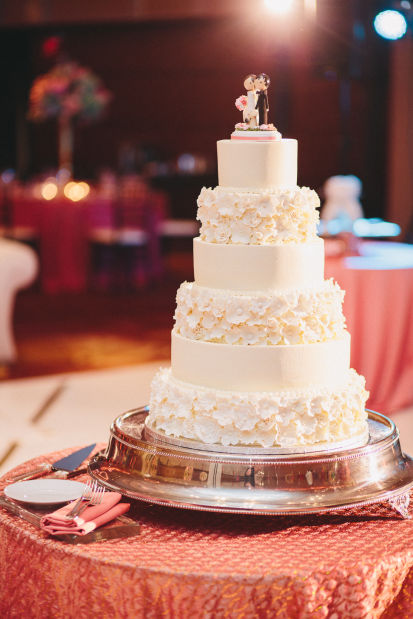 stl wed_cake_mercer-soonattrakul.jpg
The Cakery designed this stunning tiered cake for the marriage of Melissa Mercer and Woody Soonattrakul.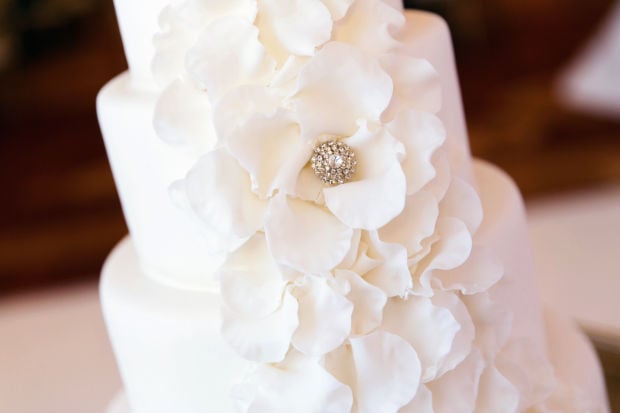 stl wed_cake_Quinn Herich.jpg
Simone Faure of La Patisserie Chouquette created this elegant cake for Becca Quinn and Phil Herich's September 7 wedding.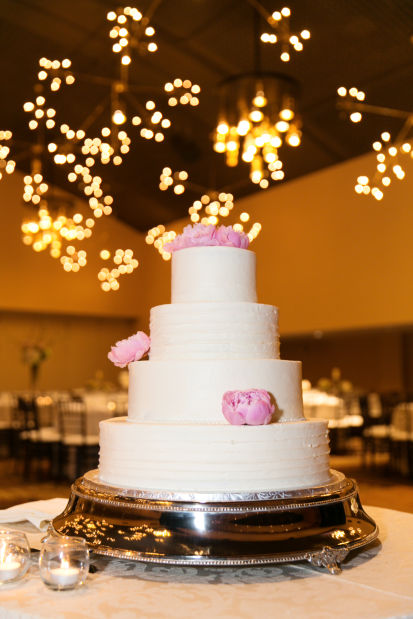 stl wed_cake_Sallaberry McGowan.jpg
Pink flowers adorned the Cakery cake at Libby Sallaberry and Glenn McGowan's wedding.